Globally, Pantone is the authority when it comes to colour management. Founded back in 1962, it created a standard language for accurate colour communication between designers and printers. It has now expanded its product range to include physical and digital tools useful to all industries.
How can Pantone help me?
Pantone colour references ensure that everyone from designers and manufacturers to retailers and consumers can agree with the chosen colour. There are many different Pantone tools available which help designers and manufacturers to communicate about colour accurately.
However, accurate colour reproduction and communication requires the right Pantone book, for the industry and the type of product. Using a book from the Graphics PMS range to design and manufacture clothing or homeware will cause manufacturing issues. Likewise, a printer will expect a PMS reference for brand logos rather than textile colour references to match.
Choosing the right Pantone books will enhance your design inspiration with a collection of coordinating and complementary colours.
A common question that our Pantone specialist, Georgina Boulter, often gets asked is, "which Pantone book should I buy?" The quickest answer is that it depends on what you need the book for! You need to ask yourself, "What type of product am I designing or making?". For example, catalogues and leaflets, textiles, footwear and accessories or industrial products all need different colour standards.
Another question to ask is "how do I and my supply chain want to work?". Pantone books come in many forms some portable others not, and some have removable chips or swatches which you may find useful.
Obviously budget is also a consideration, however, the right tools for the job can save time and the cost of reworking in the future. If price is your primary consideration, go to our Clearance section when you have identified the right type of book. Full of brand new older versions, often bundled with the new colour supplements at bargain prices!
This blog will explore the different Pantone ranges and the available products, including features and benefits to guide you to the best product for your project.
What are the different Pantone ranges?
The ranges that will be discussed in this blog are as follows:
Pantone Matching System (PMS) range (including Plastics)
Fashion, Home & Interior (FHI) range
Let's start by looking into what the PMS range has to offer.
PMS Range – For Graphic Designers & Printers
The Pantone PMS range is ideal for graphic designers and printers to select and match colours for creation of logos, packaging, or marketing materials. These can be used on printed materials such as paper or film or for web-based products and plastics.
Colours are bright and are printed on optically brightened paper stock by sheet fed offset method. While the PMS range is often referenced for licensed artwork especially for placement printed garments it should not be used to match the base yarn or cloth. The colours can be too bright to achieve on the base material with dyes and pigments and it is difficult to colour match to the shiny paper. Therefore, if you are specifying colours for clothing or home textile product the FHI range should be used instead.
The main products in the PMS range are all available as easily portable fan Guides on both coated and uncoated paper. Some of them have corresponding Chip Books with tear out chips ideal for attaching to artwork or presentation boards.
1.1 PMS Basic products – Pantone Formula Guides & Color Bridge Guides
Formula Guides coated and uncoated – use these to choose, compare, and communicate colour concepts for logo designs, signage, and packaging. Can be accurately reproduced using Pantone Spot Inks, ink formulas are printed under each colour.
Color Bridge Guide (Coated) – graphic and print designers who are process printing can easily visualise Pantone coated Spot colours side by side with their closest, industry-standard CMYK equivalent. CMYK percentages and RGB/ Hex codes are given. Color Bridge Guide (Uncoated) – same as the coated guide but printed on uncoated paper stock.
Need both Color Bridge Guides? It is more economical to buy these as a set of coated and uncoated.
Important: In December 2022 Pantone added 224 colours and 5 new base inks to their PMS range. Read our blog to find out more Here's what has changed.
We do have stock of Guides and Chip books containing the new colours and for a limited time can supply Supplements for the Color Bridge Set and Formula Guide and Solid Chips containing just the new colours if your books are in good condition.
1.2 PMS Speciality products – Pastel & Neon's & Metallic Guides
Pantone Pastel & Neon's & Metallics Guides are the perfect solution for designers needing eye catching colours and effects for packaging and signage, etc.
Pastel & Neon's Guide – in this guide are additional Pantone Spot Colours which are great for dynamic, bold and eye-catching designs.
Pantone Metallics Guide: this guide provides 655 economic metallic colour options for printing and packaging. Use to create luxurious and show stopping designs without resorting to foil stamping.
If you need a full set of Guides or would like the corresponding Chip Books as well, several cost-effective bundles are available. The Reference Library provides the full set of products on a stand ideal for a Graphics studio. Whereas the Essentials and Portable Guide Studio both come with a handy carry case.
1.3 Pantone Plastic Chips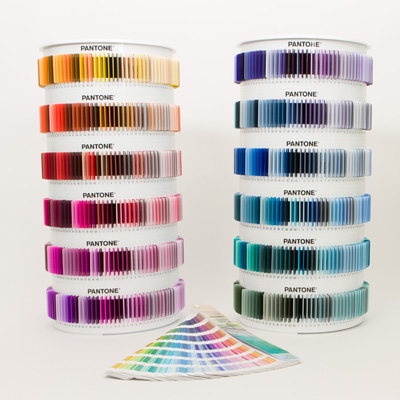 Pantone also offers a range of Plastic Chip products for accurate and effective colour communication of plastics. Suitable for those working with plastics for signage, packaging and masterbatch for industrial or domestic product, these are engineered standards.
Plastic Standard Chips – use these individual chips for seamless and accurate colour matching between plastic products, print material, hard goods, and textiles. A very limited stock is held here but they can be ordered on your behalf. They are available in both PMS Coated colours and FHI Textile colours, to order contact pantone@verivide.com
Plastics Standard Chips: Tints and Tones Collection: Are you looking for the best neutrals in plastics? This collection contains a carefully curated range of cool and warm shades, which provides designers working in plastic and other hard materials with a wide selection of high demand "neutral" colours.
Plastic Chip Color Sets: These sets are supplied in colour families, each set features a selection of 100 plastic chips from one colour family, ideal if you already have a colour in mind. All match to Pantone's graphics (PMS) colour system meaning you can match plastics to your brand or packaging colours.
Plastic Standard Chips Color Collection – this collection is a set of 1,755 Pantone Plus Series spot colours as Plastic Standard Chips. The collection comes as three carousel towers which rotate for ease of finding the colour you like.
2. FHI – Fashion, Home + Interior Range – For apparel, home textiles and interior designers
The FHI range was developed to contain a complete range of neutral, pastel, dark and trend colours ideal for textile products such as apparel, home textiles and carpets. Initially the products were standardised on dyed woven cotton as colours produced by this method can be reproduced on multiple different fibres and substrates.
The flat surface makes both instrumental and visual colour matching easier than using optically brightened, shiny or textured standards. Later a selection of speciality colours was added on knitted Nylon and knitted Polyester. The Cotton TCX products have also been produced on paper by a lacquer coating method paper TPG products. The paper TPG should be used on hard goods such as footwear and accessories but are sometimes used for initial colour selection for fabric. We recommend checking the true TCX standard at the earliest opportunity.
2.1 FHI standard products – Cotton Swatches, Passport, Planner, Chip Set and Swatch Library


These products are ideal for textile designers and manufacturers, the Cotton products have the suffix TCX for Textile Cotton.
Pantone TCX SMART Color Swatches – SMART swatches are individual cotton colour standards for colourists, product developers and designers working in apparel, soft home, and textiles. The swatches are double-layered, 100% cotton poplin, loose-format fabric, stored in a UV and dust protecting bag. Designers can use them for mood boards and sharing with clients whereas production and QC teams use then for colour approval of lab dips and production.
Passport: the Passport is the perfect size and format for designers and students who want access to inspiration and visualisations anywhere. The concertina format in chromatic order enables easy selection from the full range of Pantone FHI colours. Cross-reference your inspiration when comp shopping or at client meetings.
Planner: – Handy binder with removable pages, the Planner is suitable for designers and in-house colourists who need to visualise and specify colours.
Chip Set:  Versatile set containing larger format removable cotton chips to aid design inspiration by allowing palette building during design meetings.
Swatch Library: The ultimate set of TCX colours in 5cm x 5cm loose leaf swatches ideal for a retail office they can be used for mood boards or in colour approval (if kept in pristine condition!)
2.2 FHI Speciality products – Polyester Swatch Book, Nylon Swatch Ring & Skintone Guide
These products are ideal for those working in the sports, swim, lingerie, and athleisure sector and also add a pop of colour to clothing and homeware.
Polyester Swatch Book: this set includes 203 unique, forecast-driven colours for both designers and colourists who work with Athleisure, Sportswear, Lingerie and Hosiery. It offers an easy-to-use portfolio of achievable colours in all-new, redesigned binder format. The colours are also available as individual SMART swatches for sharing with your suppliers and customers. The large individual swatches are official colour standards.
Nylon Bright Set:– Want all 21 Nylon bright fluorescent colours? They are all available in one handy ring set. These bold and striking neon colours are ideal for apparel use in swimwear, outerwear, activewear etc. The colours are also available as individual SMART swatches for sharing with your suppliers and customers. The large individual swatches are official colour standards.
The SkinTone™ Guide supports designers and product developers of Lingerie and Hosiery with production of skin tone-coloured products. Extremely useful also for showing the appearance of sheer coloured products over a full range of skin colours. Recently updated with 28 new tones to be more inclusive than ever. This guide is a superb tool for a wide range of applications requiring skin colour. Ideal for matching skin tone of models on product packaging, it is also useful for toys, medical prosthetics, and cosmetics.
2.3 Textile Paper Green (TPG) products
The TPG products are paper with the coloured areas formed by applying a Nitro-cellulous coating. This produces an opaque finish more like woven cotton than the vibrant and shiny coated offset printed PMS books.
Designed for colour specification and matching of non-fabric home goods, accessories and footwear they can also be a cost-effective alternative to the FHI Cotton products for apparel start-ups and freelance designers.
Please note it is not recommended to switch between TPG and TCX within a supply chain as there may be metamerism between them, colours only match under D65. Additionally dark and saturated colours do not build-up to the same saturation and depth on paper as the dyed cotton. We therefore recommend apparel designers only use TPG products for inspiration. Purchase Individual TCX swatches to confirm the colours before specifying to suppliers.
There are several format options to buy the colour collection on TPG paper including Fan guides, chip books and a combination set. Alternatively the Paper Traveler concertina format is ideal for designers on the move. Additionally, individual colours can be bought as A4 sized sheets.
Paper book Formats
 Color Guide: 2625 TPG colours in two portable guides, colours arranged chromatically for ease of finding.
FHI Color Specifier:  Two ring binders containing 2625 TPG colours which are arranged chromatically for ease of finding.
FHI Color Specifier & Guide Set: Two Chip books each with a pocket holding the corresponding Color Guide contain 2625 TPG colours in both formats enable you to select your colours from the guides and attach the tear-out chips to your artwork or mood boards.
Paper Traveler: 2626 FHI TPG colours arranged in an accordion format. This product is currently the only Pantone product which includes the Pantone Color of the Year 2022 – Very Peri 17-3938
TPG Sheets: Large (A4) individual sheets of TPG colour ideal for visualising the colour in life-size or for sharing with your clients.
2.4 Metallic Shimmers for FHI Accessories, Footwear etc – Textile Paper Metallic (TPM) products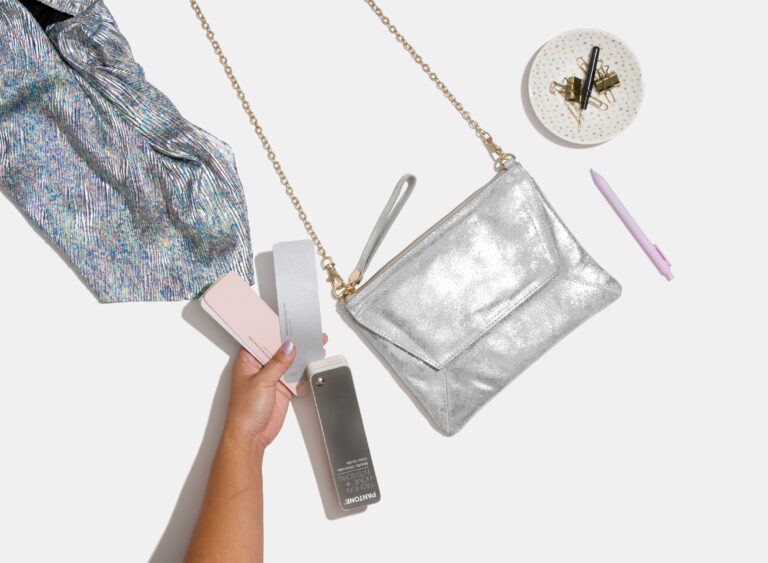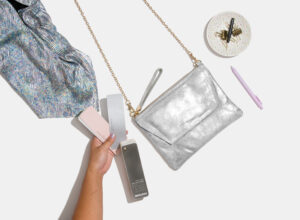 Made by a Nitro-cellulous coating method rather than by offset printing these paper products have an opaque appearance which is easier to match with pigments. They add brilliance and a lustrous finish to accessories, home electrical products, and technology products. Containing 200 unique colours with pearlescent and metallic finishes this collection meets market demand for glitter. Published in two handy formats fan or chip book or in a cost-effective combined bundle.
Metallic Shimmers Color Specifier – a binder of handy removable paper chips in the latest metallic colours, ideal for building palettes and mood boards, and of course attaching to your artwork and design drawings. The Metallic Shimmers Color Guide: – this portable guide provides design inspiration, highlighting the increasing importance of metallic finish in both fashion and product design.
Metallic Shimmers Color Guide & Specifier Set – contains both the Guide and Specifier in one handy set.
Coated Colors Set – if you need both the TPM and TPG colours you can get both in this cost-effective bundle.
Digital Tools
The Pantone Connect App is the ultimate digital tool, use to access digital references for every Pantone colour library. Export Pantone colours to Adobe programs to ensure consistency and accuracy in branding, fashion, and product design. Pantone Color Match Card facilitates colour capture using a Smart Phone and works seamlessly with the Connect App. Pantone Connect supplies useful tools including colour cross reference from one Pantone library to another. Essential for capturing and matching colours from products or digital files.
Conclusion
The range of Pantone books is abundant with a variety of materials and formats to provide every possible solution in all industries.
We hope this blog helped you to determine which Pantone book is right for your needs? Maximise the efficiency of your design and manufacturing process with the right choice.
There's so much more for you to browse at our online shop.
If you have any questions, please contact Georgina via email at pantone@verivide.com or telephone on +44 (0)116 284 7790.