What has Changed?
Now updated with 224 new PMS colours the Pantone Graphics system also features five new eco-friendly Pantone base inks.
The new colours are displayed on separate pages found at the front of the books on pages S1C to S32C or pages S1U to S32U
At the same time other products in the Graphics range have a fresh new look with new covers (but not new colours).
State of the art lithographic offset printing using a market leading printing press
The colours are fully compatible with overprint varnishes, aqueous and UV coatings to prevent scratching and comply with labelling requirements
All Pantone colours are now produced with vegetable oils and contain no hazardous substances (Defined by OSHA, EU, GHS)
How can I buy the New Colours?
The new colours can be found in the new version of the Formula Guide Set, Solid Chips Set and the Color Bridge Set as well as in the collections containing these products – Portable Guide Studio, Essentials, Reference Library, Solid Guide Set and Solid Colour Set. The new versions of the individual Color Bridge Coated and Color Bridge Uncoated are also available.
Supplements containing the new colours are available for a very limited time! The following Supplements can be purchased from VeriVide: Formula Guide Supplement, Solid Chips Supplement, Color Bridge Supplement 
Bargains can be found if you buy one of the older versions (brand new, unopened) and bundle it with a supplement. Do this and you get all the colours for a fraction of the price and your product isn't old as it was printed in the second half of 2022. We have done this for you in our clearance section
What is the same?
Pantone has maintained the use of the same supplier and quality of paper stock.
For pre-existing colours the master digital data has not changed (established in 2010 or date of launch for colours added between 2012 and 2019)
Pantone colour appearance is stable and consistent with the digital libraries
Why New Colours now?
Pantone have updated the formulation of the base inks in response to environmental concerns and legislation, the new five base inks are vegetable based and barium free
Customer feedback about gaps in the existing PMS colours
Trend information about colours which will be prominent now and in the future
Which new colours have been added?
The new colour reference numbers are 6001C to 6224C
More neutrals – browns, greys and olives especially dark neutrals
More blues, greens and violets especially less saturated options
Subtle pale and mid tones of corals, pinks and aquas
How can I use the new colours?
The new colours are ideal to be used in Packaging especially Luxury Packaging
More colour choice when your client is looking for a refresh of their Branding.
Where can I find the new colours?
5 new Pantone base mixing inks are available – ask your printer to purchase the new inks and they will be able to match the new colours
Integrate Pantone Connect into your digital workflow, to bring the physical colours printed in the books into your design software. Adobe Creative Cloud has a plugin to integrate once you have a Pantone Connect Premium subscription.
Buy a new Pantone book and start selecting colours today.
Review the graphic below to check how old your current book is and how many colours you are missing!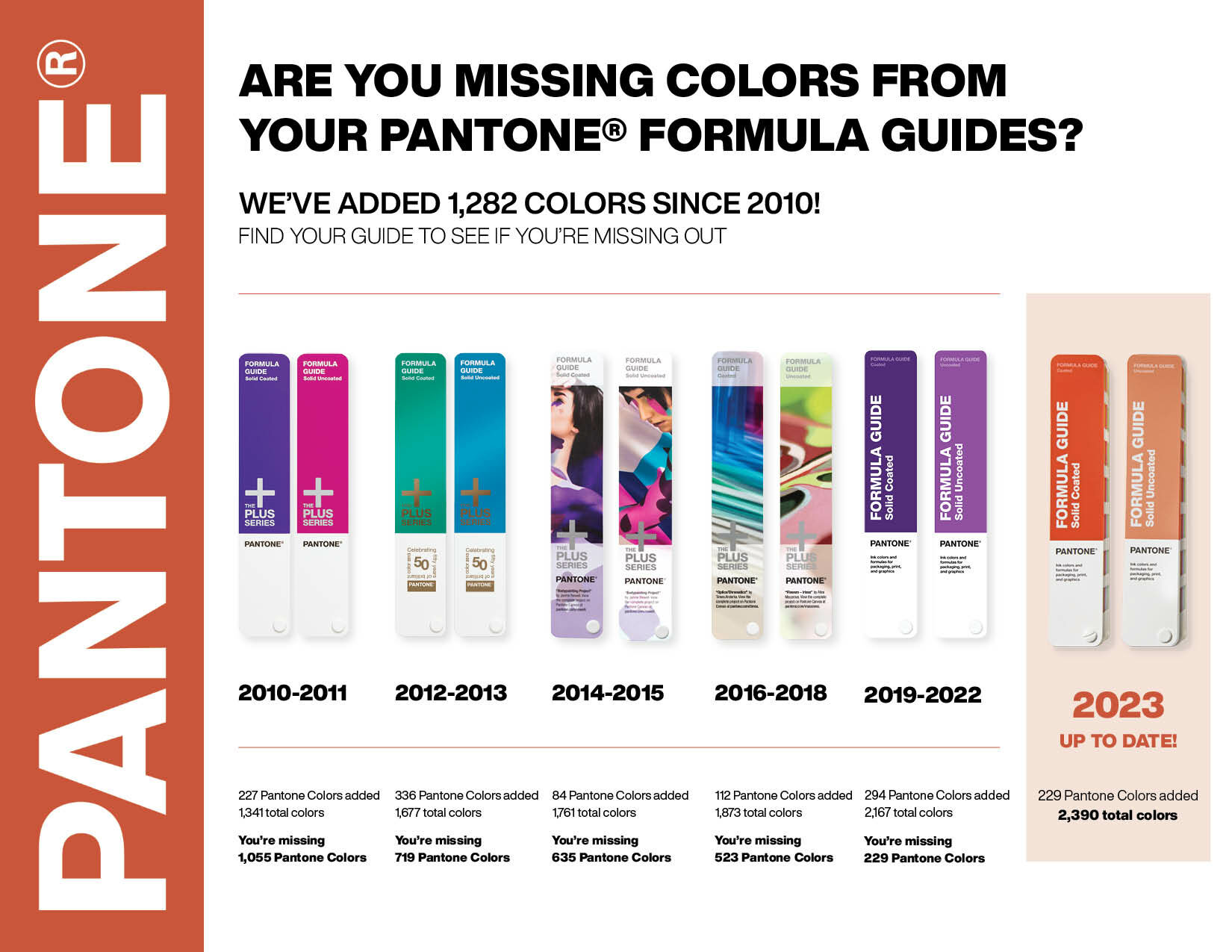 For further information on VeriVide's range of Pantone Colour Products please talk to Georgina Boulter at VeriVide +44 (0)116 284 7790 or email pantone@verivide.com