Last week VeriVide exhibited at ITMA 2023 in Milan. This highly anticipated exhibition served as a comprehensive showcase of cutting-edge technologies. It was brought to life by an impressive gathering of 1,709 exhibitors and over 111,000 visitors from 143 countries.
The top six visitor arrival countries are Italy (29%), followed by Turkey, India and Germany (6% each), France (4%) and Brazil (3%).
We had a fantastic seven days of introducing the dawning of a new era in vision-based colour assessment with our industry leading tuneable All-LED technology.
VeriVide showcased three new game changing products- including our all LED UltraView and VisionView light booths. We also introduced the concept of Twinned Colour Technologies using DigiEye and VisionView. Products are imaged in DigiEye at source and the image and colour data is transmitted to the buying offices instead of shipping the samples. This saves both time and cost in the buying cycle.
Our ITMA stand was very busy with many people, who have the traditional VeriVide CAC lighting cabinets, keen to see the features of the new UltraView light booth, as well as DigiEye software for digital non-contact colour and appearance measurement.
The stand received lots of compliments for its eye catching design and clear messaging. The sales team were pleased with the open layout with product pods spaced apart. This enabled them to provide product demonstrations to multiple groups at the same time.
We were also pleased to meet with several of our global distributors to give them training in the new products. Some of them even assisted on the stand during busy times! Thank you to N G Labtec, CVG and Tecknoserve Co. for your help.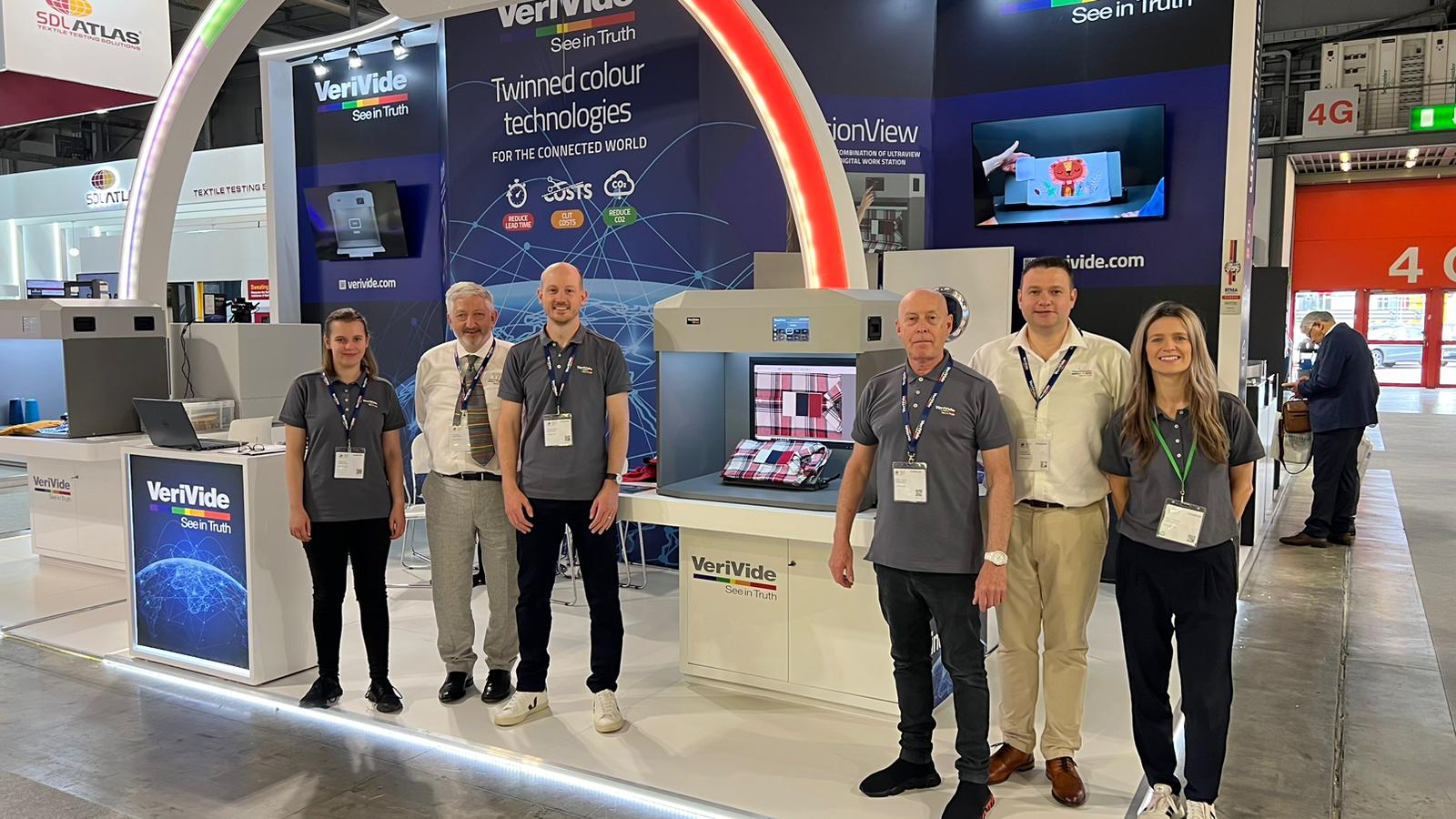 The VeriVide Team from left to right Shauna Tew, Paul Dakin, Stephen Tongue, Russell Thorpe, Adam Dakin, Carla Goulding
ITMA Daily News
VeriVide were also featured in the WTIN ITMA daily newspaper, the article is reproduced below and you can also listen to it here.
For more information on UltraView, VisionView or DigiEye contact the team on sales@verivide.com or call us +44 116 2847790