The VeriVide team are back from Techtextil & Texprocess 2019 armed with an abundance of exciting new information and contacts from one of the year's most high-profile events.
The bi-annual Techtextil event is the leading international trade fair for technical textiles and nonwovens, showcasing the latest innovations in colour assessment, and VeriVide were in Frankfurt to soak it all up.
With 1,818 exhibitors from 59 countries, and 47,000 trade visitors from 166 countries, Techtextil & Texprocess 2019 organisers said this year's event was the largest and most international trade show edition to date.
VeriVide owner John Dakin and colour management specialist Russell Thorpe were our representatives for the four-day event.
VeriVide occupied a shared space on the British Textile Machinery Association (BTMA) pavilion, where John and Russell proudly demonstrated our DigiEye, DigiView and DigiGrade products along with our new CAC-LED point of sale cabinet – and it's no understatement to say that visitors to our stand were impressed with what they saw.
In fact, we were sought out by a world-leading hi-tech company who were so keen to talk to us that we were top of their list of people to see.
Techtextil 2019 was a fantastic opportunity for us to showcase our systems, our business and our staff to a wide range of people who visited from all over the world. We've got a winning product, and we want to do everything we can to make sure its profile remains accessible, and this was an ideal place for people to see our systems in action.
Techtextil visitors were keen to see what DigiEye can do
We were able to demonstrate how our products can be used and how the benefit of our technology can be invaluable to manufacturers, retailers and designers.
For example, although this was purely a textile show – it was specially attended by clients outside this industry who came to see us, we used our standard DigiEye system there and then to test how VeriVide could help one particular company who manufacture a dehydrated potato product. If the product over-dries it can change to a yellow colour – we were able to demonstrate how to measure this colour change using DigiEye.
Artificial grass was a big theme during the event, and again we were able to show how our systems can measure the grass, while we were also able to demonstrate how, in the medical supplies industry, we can get the colours just right for products such as braces for knee, arm or elbow. People want a skin tone colour, which is difficult to do – we were able to show just how our systems can achieve it.
We were also actively involved in showing how our products can be used in consumables, in lingerie and underwear, and in the automotive industry, particularly matching leather and plastic colours, and even paintwork.
Russell said: "The whole event was a very positive experience for VeriVide. People wanted to see our systems in action and we were able to do that.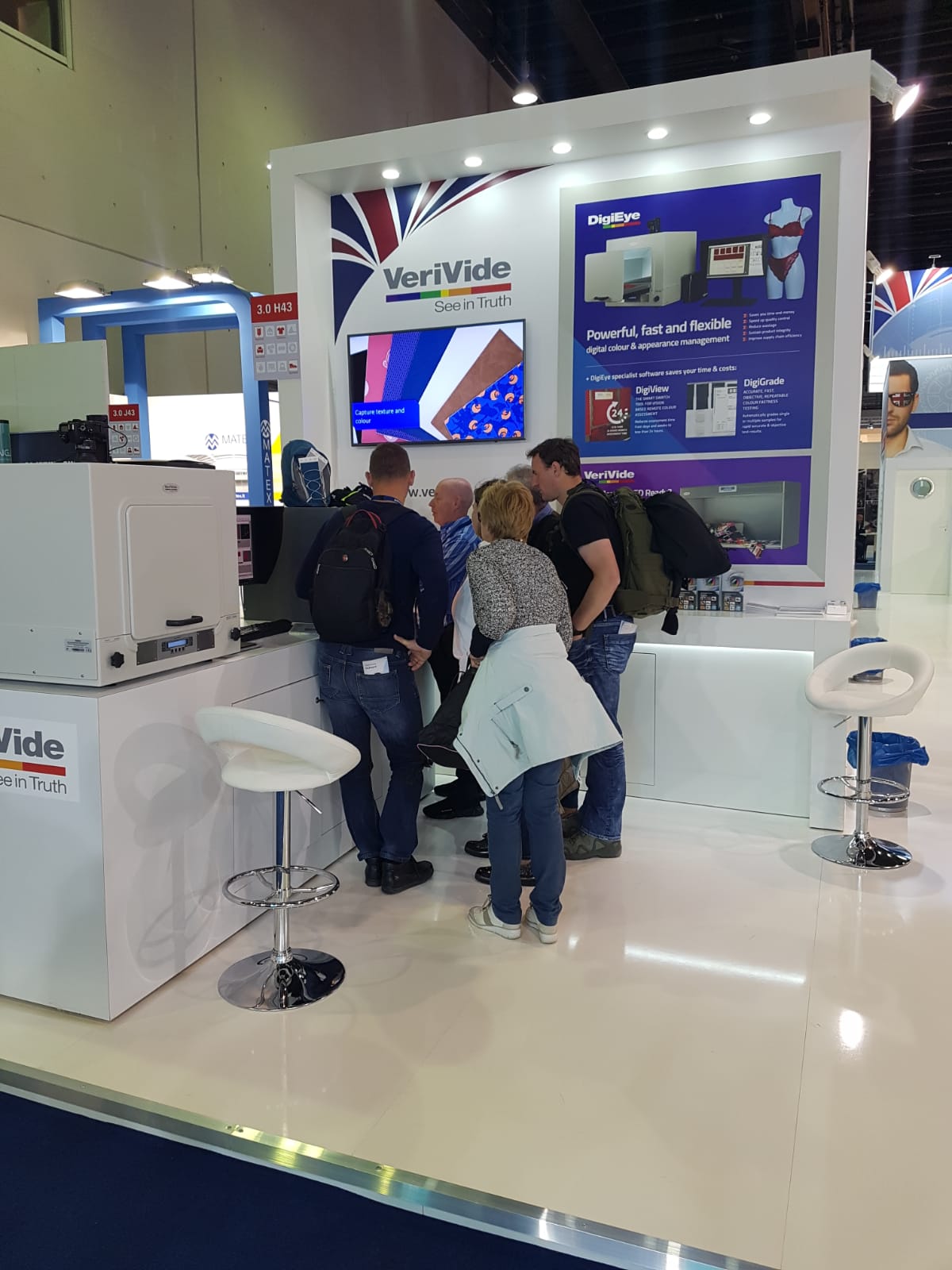 "We came back with around 30 strong leads, some companies arranged to send us samples to measure, and many said they would come to visit us here at VeriVide to see further how our products work.
"Overall, it was time very well spent not only for us but, looking ahead, also for our customers. We'll definitely return to Techtextil when it's next held in two years' time."
Urban Living – City of the Future
The event also showcased how textile innovation can already improve the way people live together in urban surroundings today.
Specifically-chosen innovations from a range of fields including architecture and construction, mobility, medicine and clothing, were shown in a disruptive architectonic landscape.
Almost 70 percent of people are expected to be living in metropolises and megacities by 2050, according to the United Nations.
What does this mean? Experts say it will pose challenges for living and mobility concepts, as well as food supplies and health services provision.
Functional apparel with smart functions could start to play an even more important role in people's everyday lives in the future.
Techtextil & Texprocess 2019 dedicated an exhibition space to life in the city of the future with the 'Urban Living – City of the Future' special event, made possible by collaborating with Dutch creative industries.
New for 2019 – The Techtextil Forum
The Techtextil Forum was introduced for the first time this year, providing an opportunity for an interactive exchange of ideas and information between exhibitors and trade visitors, as well as researchers and developers and users.
Accessible to all participants of the trade show free of charge, the Forum provided an opportunity to attend a range of expert lecturers and get involved with discussions for widely different arears of application.
Techtextil Innovation Award 2019
The Techtextil Innovation Award 2019 highlights outstanding new and further developments in the field of technical textiles, nonwovens and functional apparel fabrics.
Open to exhibitors and visitors, winners are selected by a jury made of experts from across the globe.
This year saw the following categories and winners:
Sustainability – this category had two winners. First winner was a working group comprising Comfil (Denmark), Chemosvit Fibrochem (Slovakia), the Fraunhofer Institute for Chemical Technology ICT (Germany), the Technical University of Denmark and Centexbel (Belgium) for fully bio-based, self-reinforced polymer composites based on PLA fibres. The second winner went to PICASSO, for the development of a coloration and functionalisation process for garments based on natural extracts from residues and/or species of mushrooms and plants, as well as enzymes
New Technology – Robert Bosch GmbH and H. Stoll AG were presented with the award for a knitted sensor glove
New Application – this year the award went to the German Institutes for Textile and Fibre Research Denkendorf and Beira Interior University in Portugal for a space-saving inductive charging coil for hybrid and electric vehicles
New Material – Award went to Portugal's Sedacor cork processing company for CORK-A-TEX, a new yarn made of cork.
Sustainability – a major topic covered this year
Sustainability was a major topic for this year's Techtextil & Texprocess. Attendees were able to find the exhibitors who were showcasing their approach to sustainability on the Fair Guide and by using the filter function under 'Sustainability' on the app.
In addition, many lectures and discussions taking part in the Forum were devoted to sustainable textile innovations.
Some photos from the event