Happy New Year! We thought we'd start the year bringing it back to the core of VeriVide; the lighting cabinet is where we begun almost 60 years ago.
In this piece we will look at the two of our most popular cabinets, the Colour Assessment Cabinet (CAC) and Colour Control Cabinet (CCC). Both of the VeriVide product ranges, CAC and CCC, are made to provide controlled and consistent viewing conditions.
Our CAC cabinets are an elongated cube shape and are for the assessment of 2d and 3d products like clothing, plastic components, food, automotive components etc. Usually print companies only use them if they are assessing small sheets of labels or in their ink rooms where they are mixing the ink formulations under D65 daylight.
CAC cabinets are fitted with 4 or 5 light sources, usually D65 daylight, one or two store lights, UV and F Tungsten Filament (however sometimes D50 Daylight replaces one of the store lights) so that the items being assessed can be assessed against a standard under a variety of different light sources to highlight any manufacturing problems and to ensure that the colour will be suitable in any lighting that the product will be seen in by the consumer.
CCC cabinets are especially made for the printing industry and are taller cabinets to accommodate large sheets of printed paper or card, the largest model CCC 150 can just about accommodate two sheets of B1 size side by side or one sheet presented landscape, whereas a CCC 120 is suitable for B2 and B3 sheets of paper. In comparison, the CCC cabinets are not as deep as the CAC range because they usually only have a sheet of card and a small Pantone book or similar in them rather than a 3D object.
CCC cabinets are fitted as standard with a single light source, D50 Daylight which is a requirement of ISO 3664:2009, but they can also be fitted with additional light sources such as store light or D65 Daylight if required.
CCC cabinets are also fitted with a feature that is unique to VeriVide, a concave viewing deck (curved back) which ensures that the angle between the printed image and the observer's eyes is made to minimise specular reflection from the print which is especially important if there is a glossy surface. Specular reflection is the white glow you can see when light bounces off a glossy surface and if this is present it interferes with your ability to see the true colour of the print. The CCC cabinets viewing deck is magnetic so that small magnets can secure the prints in place leaving hands free for holding the colour standards or recording observations.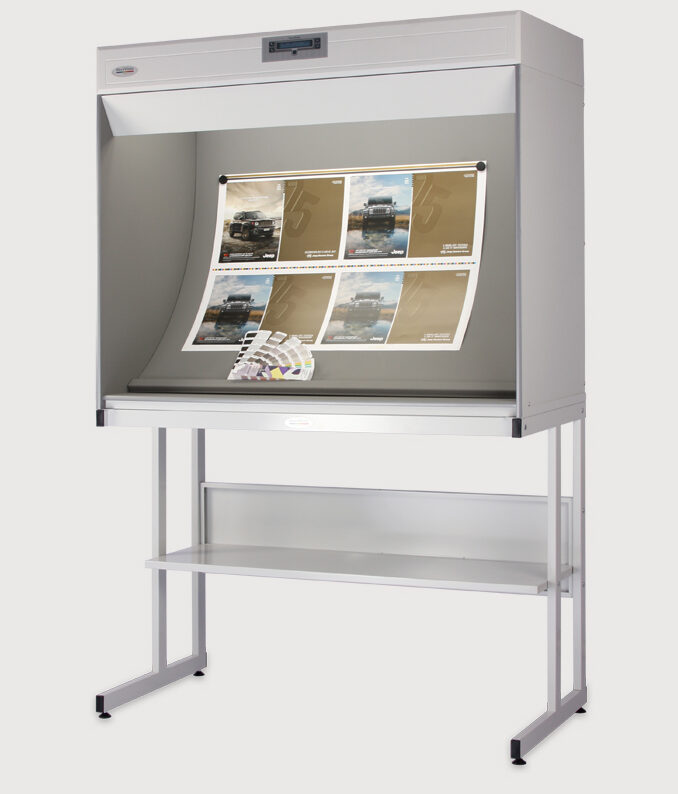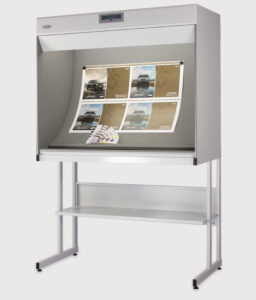 If you would like some more information on our lighting booths, please do not hesitate to contact us at sales@verivide.com.