If you read our previous blog, you will know two weeks ago (20th – 23rd March 2018) we were exhibiting at Anuga Foodtec 2018, which is organised by Koelnmesse.
Chief Operating Officer of Koelnmesse GmbH, explained: "The concept of Anuga FoodTec is unique and successful. The renewed growth across all key figures clearly underlines this. This year's increased number of visitors was above all attributable to the rise in the number of trade visitors from abroad. We were particularly able to register significant growth from the countries China, Italy, Korea, Poland, Russia and South America. The huge interest from the international guests and the high quality of the visitors shows us that the alignment and concept of Anuga FoodTec do justice to the demands of the trade fair participants."
"Anuga FoodTec 2018 presented an array of technological innovations from the entire spectrum of the food and beverage industry," commented Dr. Reinhard Grandke, Managing Director of the DLG (German Agricultural Society) and Chairman of the Advisory Board of Anuga FoodTec, on the excellent standing of the leading international trade fair. "The extensive specialised programme on the highly relevant key theme, resource efficiency, offered the international audience numerous opportunities to systematically learn more about the optimisation of production processes – always with the aim of consuming less energy and water and reducing the waste of food. In Cologne, the latest scientific findings about food technology were once again linked up with the requirements of business practice in an exemplary way."
This year, not only was there an increase in the number of exhibitors but also visitors. Visitors came from across the globe (152 countries) to inform themselves about the innovations and developments in the supplier industry.
During the event, visitors had the opportunity to attend a range of conferences, guided tours, lectures, demos etc. The people behind the programme were the German Agricultural Society (DLG) and they really had thought about every detail.
The tagline for this year's Anuga Foodtec was, 'ONE FOR ALL. ALL IN ONE'. Visitors were taken through the entire food and drink production cycle, experiencing live individual solutions and holistic, cross process concepts across all stages of production.
There were five exhibition segments in total:
Food packaging
Safety and analytics
Food processing
Food ingredients
Services and solutions.
We were exhibiting our digital, non-contact, colour assessment system; DigiEye, which is an essential part in the production process. With DigiEye not only can you measure the immeasurable, but you can also conduct the following:
Laboratory analysis
Laboratory research and development
Instrumental measurement
Instrumental quality control
Colour stability analysis
Photographic standards
Tolerance management
Visual inspection
Multi-sample evaluation
Day before the event
We arrived in Germany a day before the event kicked off so we had time to set up our stand. What do you think?
We also had to give time to Russell Thorpe (DigiEye technical specialist) to take some photos of the iconic Cologne Cathedral. Such a stunning building.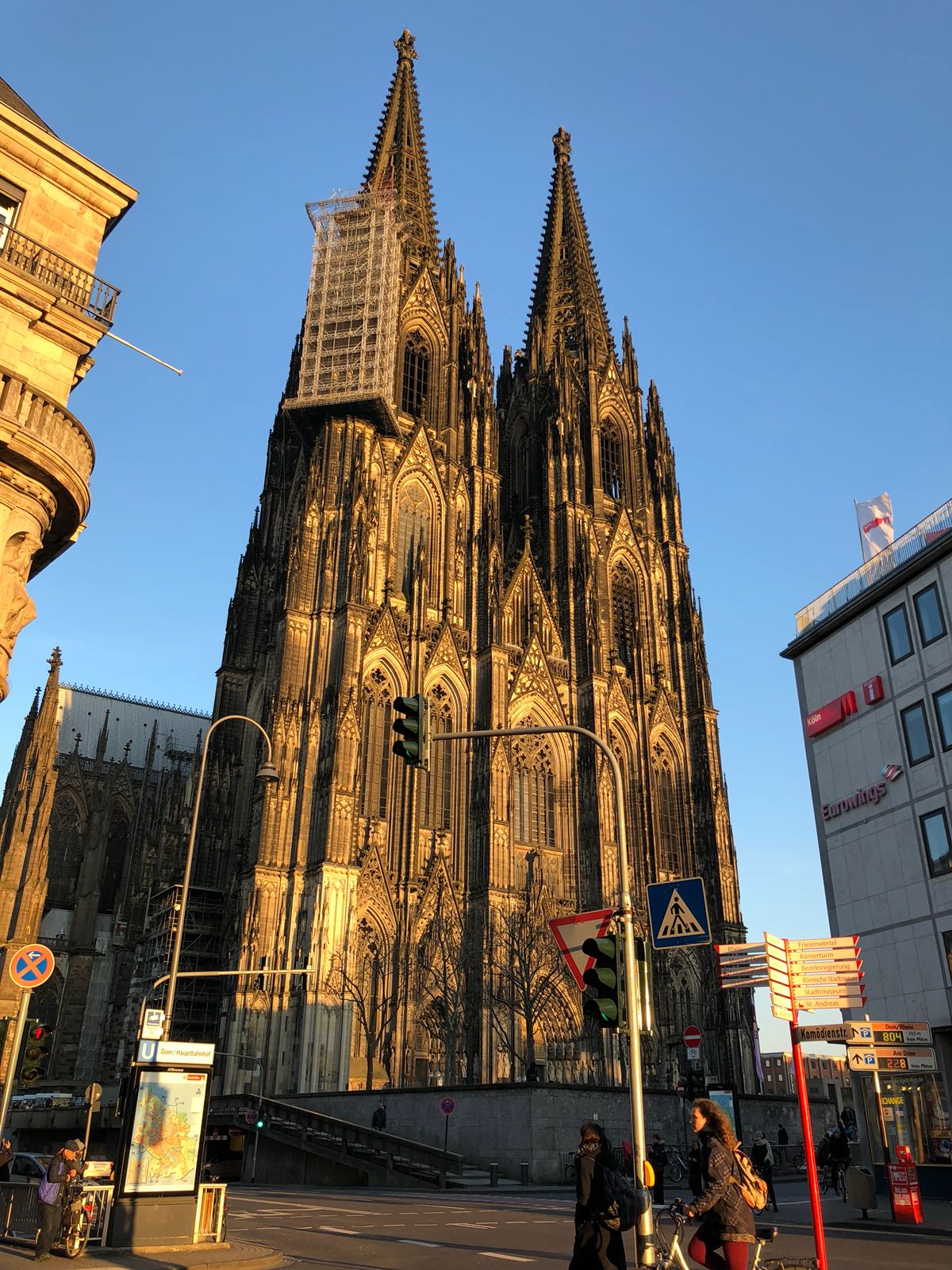 Day 1 of the event
Here are pictures of the team that manned the stand for the 4 days. Russell Thorpe, Adam Dakin (Lighting Sales Manager) and Sophia von Gehlen (who works for our German distributors, Carl von Gehlen).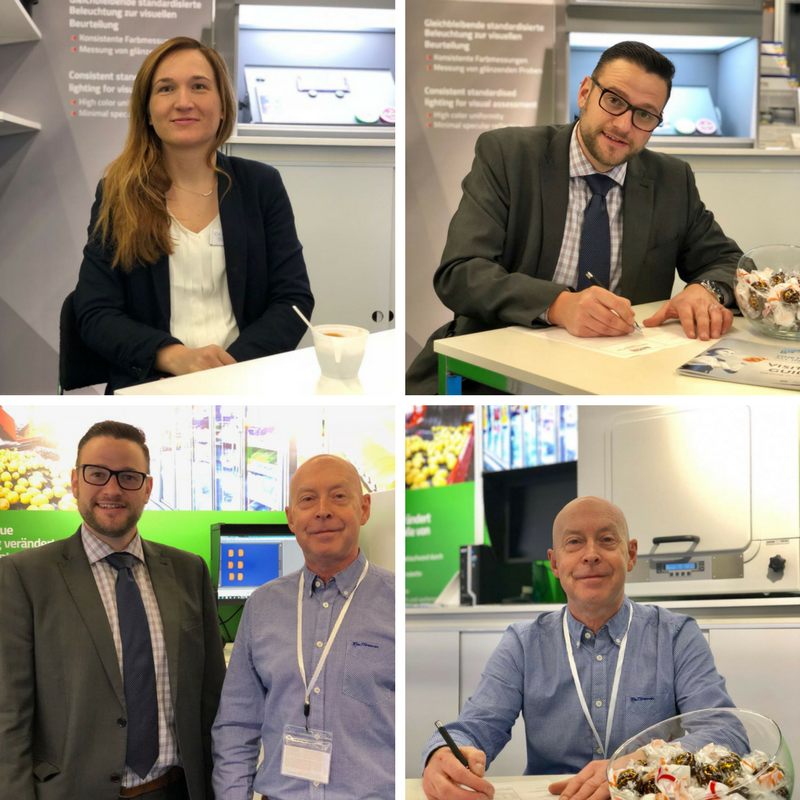 We did catch Russell red handed trying to steal the biscuit samples, which we needed for demos with visitors.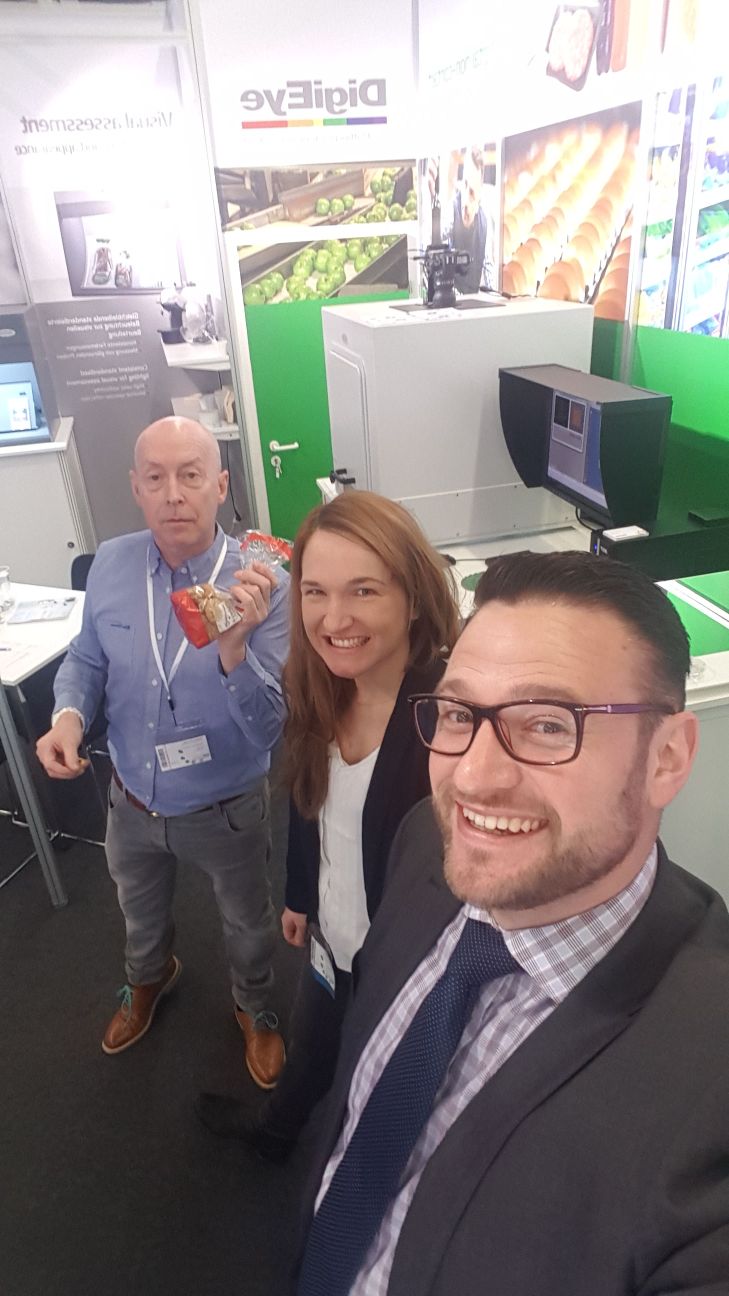 A producer of natural colourants in Germany uses DigiEye to assess the colour of difficult substrates, such as small sweets and confectionery, and multicoloured items that cannot be measured using a spectrophotometer. We took sweet samples to show visitors this process.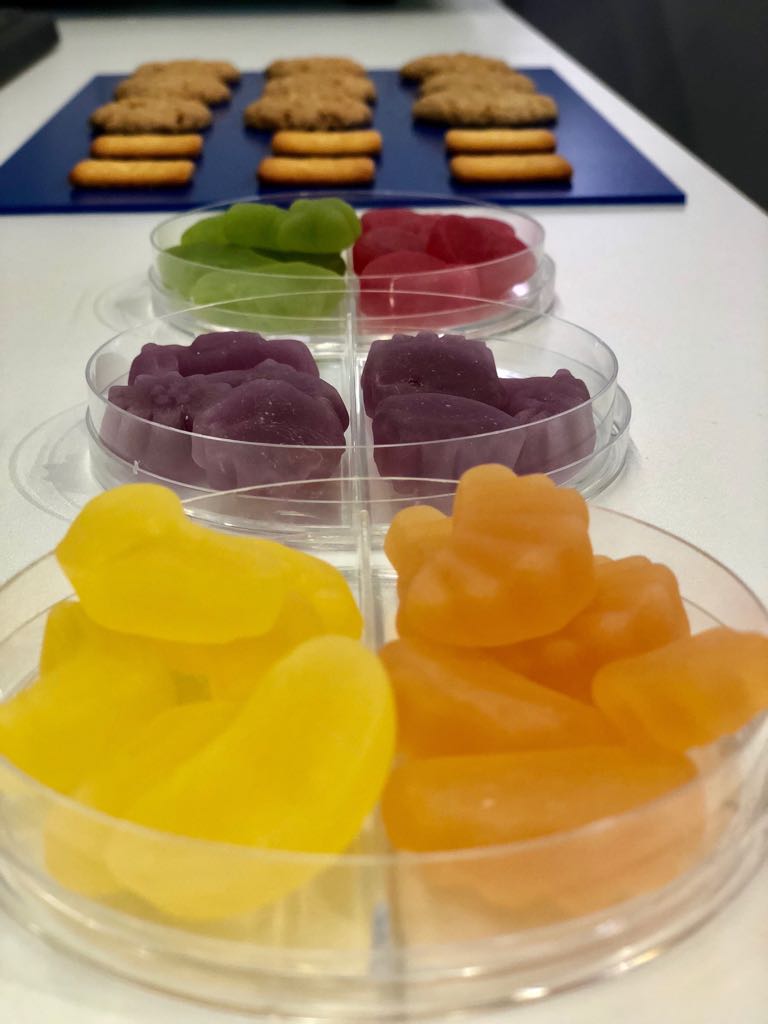 Exhibiting at an event in Germany, gave us a great opportunity to catch up with the team from Carl von Gehlen and give DigiEye training to the staff. Below is an image of Russell training Lutz and Helena from the company.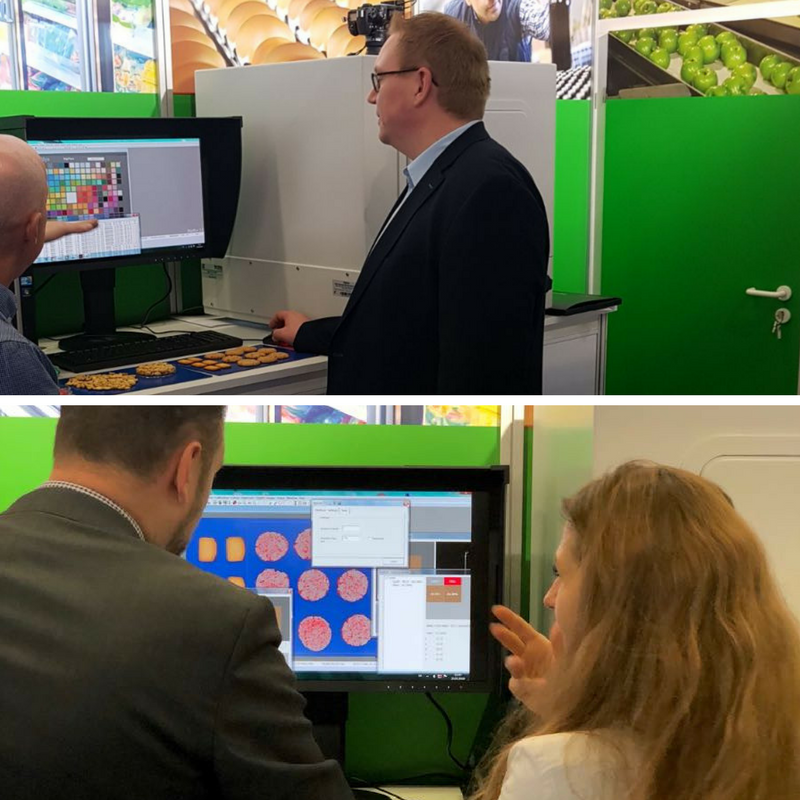 Day 1 was a real eye opener of just how many different food and drink manufacturing companies there are in the industry. We had a company based in Uganda who visited us to measure the levels of dryness in their dry fruit. Making sure there was just the right amount of moisture to enhance taste for consumers.
Then there was a guy who worked for a well-known french fries company who wanted to know how DigiEye could address their complex potato issues including, measuring the percentage of potato eyes in a batch, obtaining colour data from cooked and uncooked products, analysing colour change during the process of taking a chip from the fryer to packaging etc.
We also had interesting visitors from a coffee and tea manufacturer, who were particularly interested in measuring batch consistency with their coffee beans. They were also interested in how DigiEye would classify beans by variety and fermentation levels to help them assess the extent to which different process affect colour.
It wasn't just food and drink manufacturers. Someone visited our stand from a tile company who wanted to learn more about how DigiEye could help in their processes. They produced tiles that were being used where food production and preparation was taking place.
All in all a very interesting first day!
Day 2 of the event
We arrived bright and early at the venue for day 2 of Anuga Foodtec 2018. Day 1 was so busy that we wanted to give ourselves a head start. We're guessing it wasn't very warm in Germany Adam?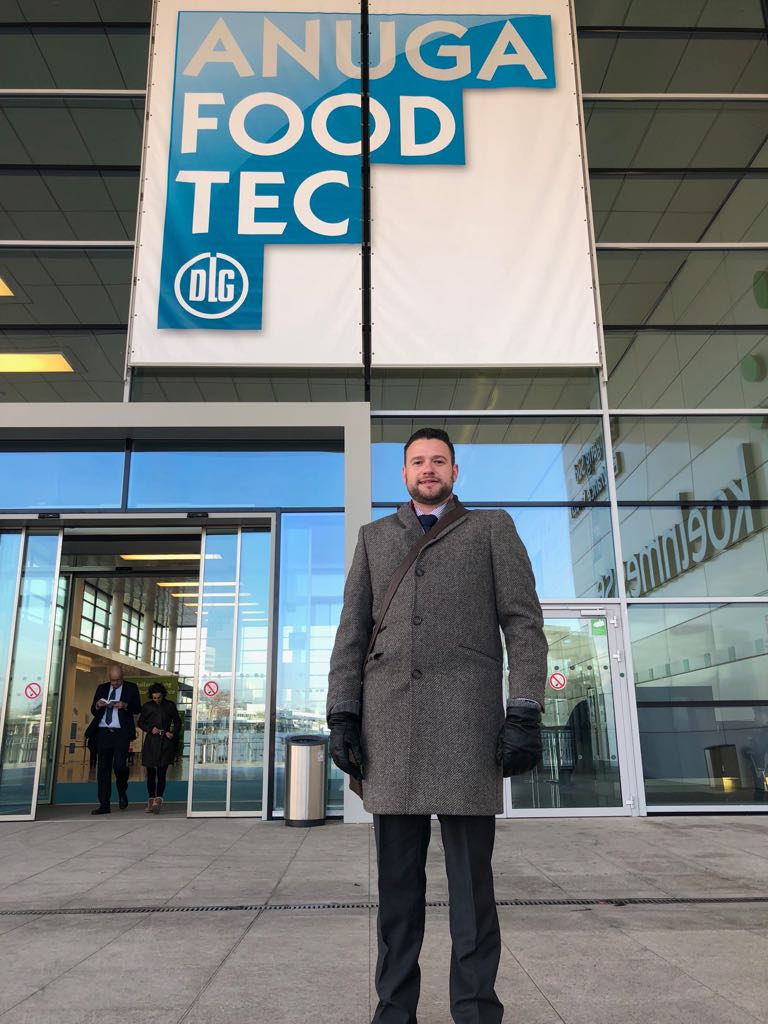 Due to large number of visitors at our stand, we decided to slightly rearrange the layout to add more space and open up it up for better access.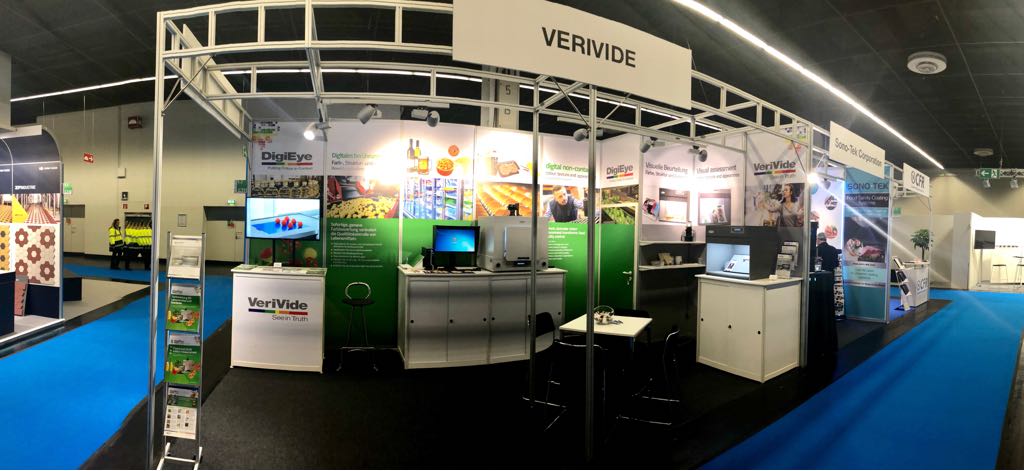 We had overwhelming interest from several producers (in Mexico, Morocco and South Africa) of olive oil who were interested in colour measurement, colour purity, percentage of sediments and shelf life determination.
Liquid is always tricky to accurately measure but not with DigiEye and news spread quickly that we could measure olive oil and it wasn't long until we had a camera crew filming our stand. Very exciting!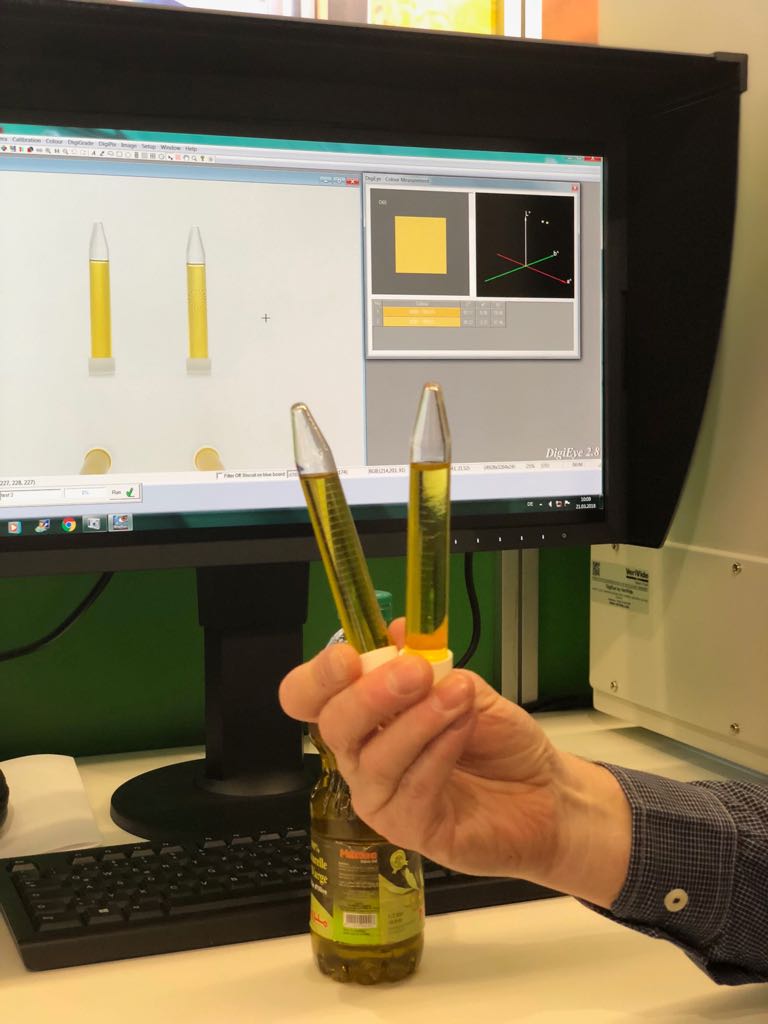 We had interest from Italian peanut producers. Sophia demonstrated what they could measure with DigiEye including percentage of roasting, packaging colour and colour stability.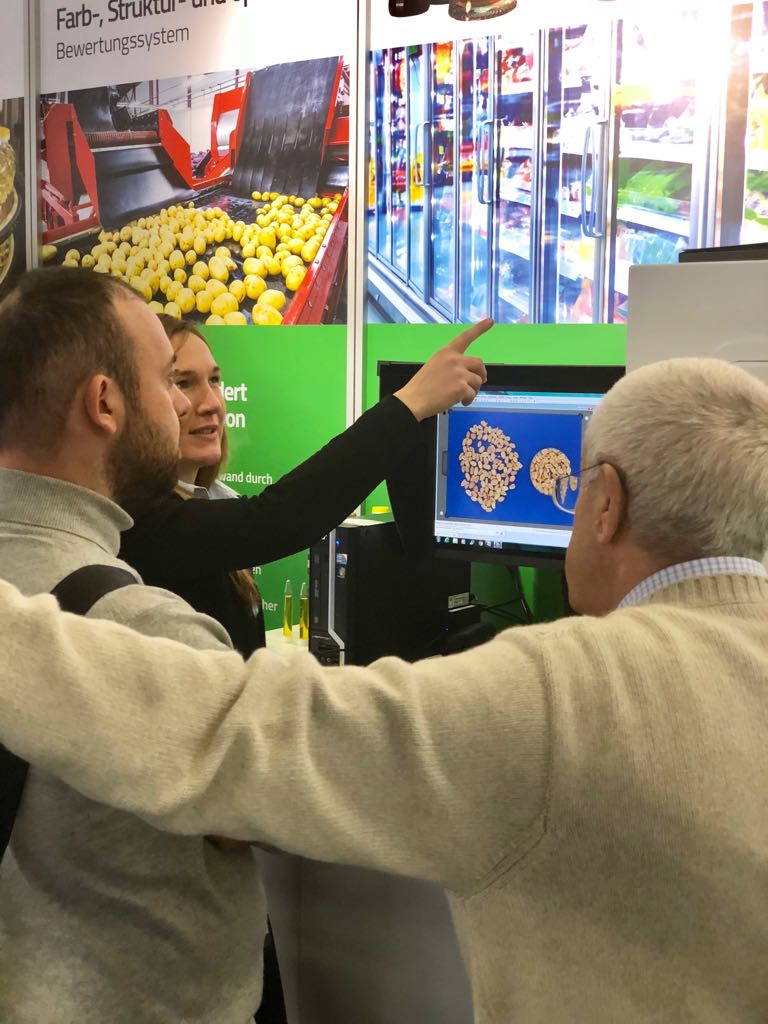 Wednesday night we decided to do some sight-seeing. The team was in Germany, it would be rude not to! Are those beers big enough Adam? Those beers were for research purposes only, we promise! We needed a sample to measure in our DigiEye the next day…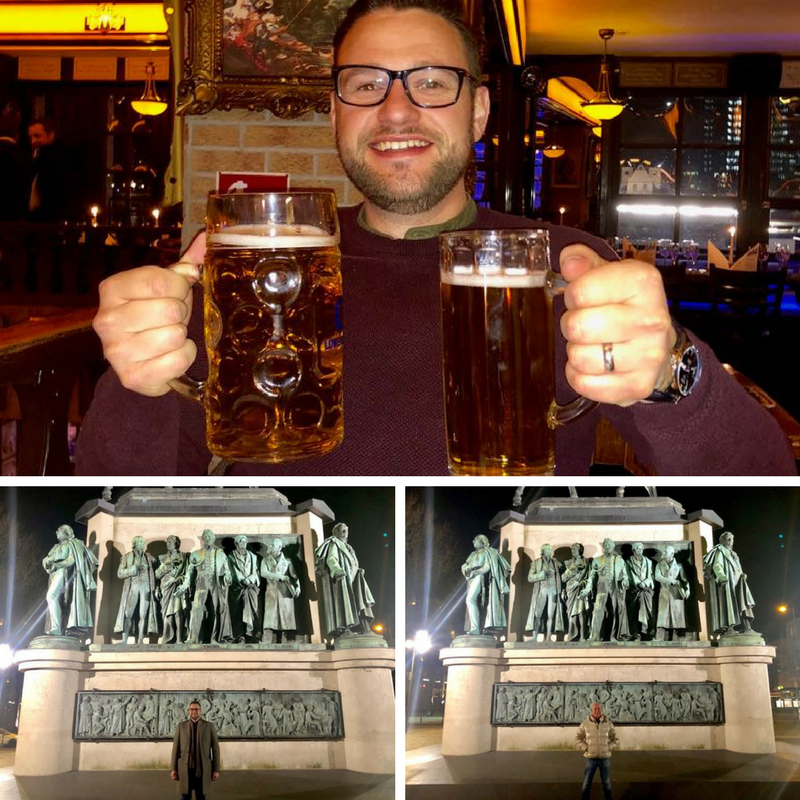 Day 3 of the event
Too early for a slice of cheesecake? During the morning of day 3 we were measuring strawberry cheesecakes for a major manufacturer, testing the colour stability of the strawberry filling. They were also interested using DigiEye to analyse shelf life, as they were looking into how this could be prolonged using as few additives as possible.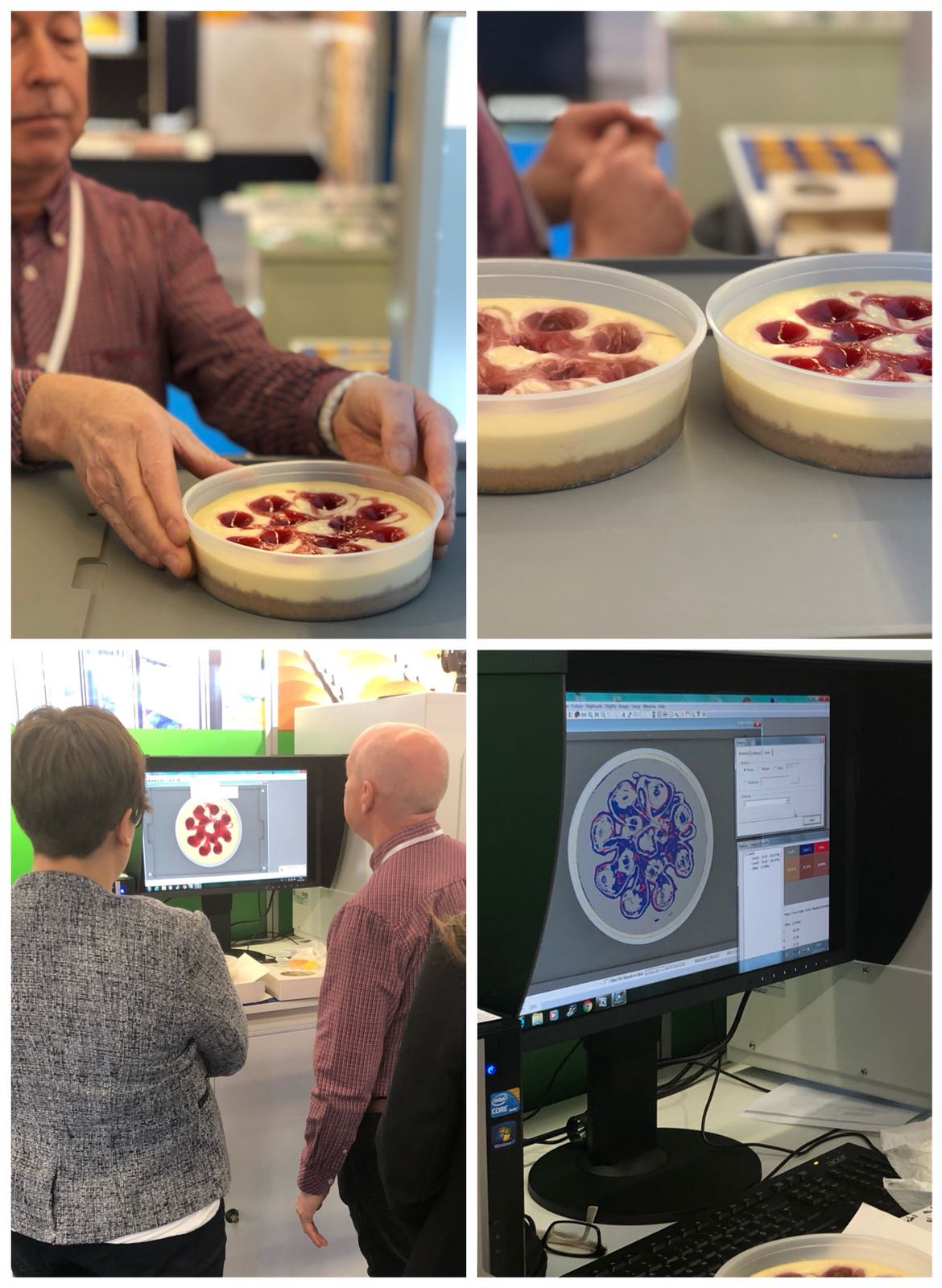 During the end of day 3, we had visitors from a large food group based in Germany, who wanted to come and learn more about DigiEye and how it could be incorporated into their processes. They did look very smart!
Day 4 of the event
Whilst it is no secret that fat is one of the key ingredients that makes salami taste so good, manufacturers are mindful about the amount of fat content and are always looking for ways it can be reduced. Here we are showing how DigiEye can measure the amount of visual fat content as well as colour and quality.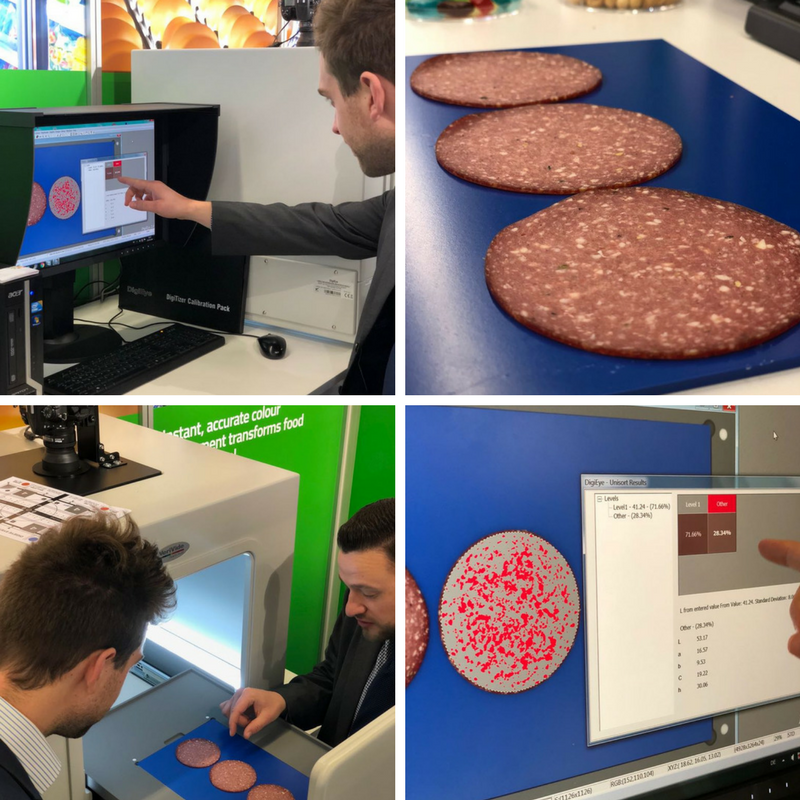 We had to leave the stand at 3pm, to give us enough time to get to the airport on time to travel home. We left the stand in the very capable hands of the Carl von Gehlen team. Before we left, Russell had time to show a bakery company how DigiEye can help in controlling the level of bake across their range. We also showed how by imaging the bake at different times, they would be able to find a standard to use as a reference point. Lastly we demonstrated how DigiEye can generate and communicate photographic reference standards for quality assurance.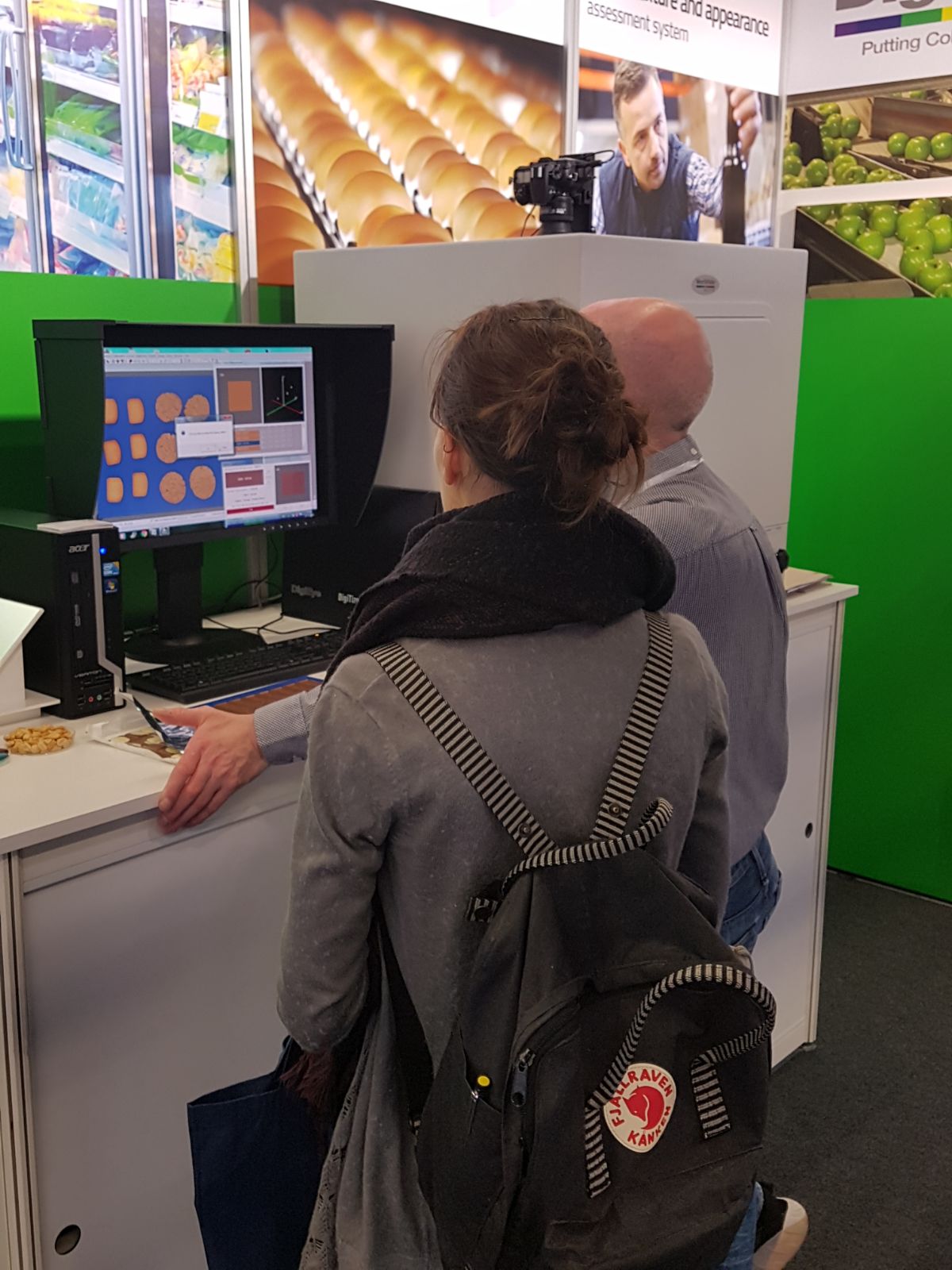 If you would like to talk to our team about how you could incorporate DigiEye into your food and drink manufacturing process please get in touch either over the phone +44 (0)116 284 7790 or email enquiries@verivide.com.