Limitless creativity with the new Pantone sustainable colour array for the fashion and home industries.
Can't find your colours in the current Pantone Fashion, Home + Interiors system? Looking for a sustainable workflow?
You need PANTONE® Color Panorama!
PANTONE® Color Panorama expands the PANTONE® FHI textile system of 2849 fabric colours to 6000 colours by adding 3152 New Colours in a sustainable colour system.
Which Colours have been added?
Pantone have listened to designers and have curated a set of colours to fill in gaps found in the existing colour ranges. These are at least 1.5 dE cmc away from any colour in the TCX system or from each other providing noticeably different colours. Have you used the Cotton TCX, Polyester TSX and Nylon TN colour ranges and still can't find the right colour?
There are many more options available in the low chroma colour areas such as beiges and greys. Pantone also added colours to the frequently used colour families such as blues and a great selection of bright colours and darks. Browse the media link below for a taster of the new colours.
Sustainability
The PANTONE® COLOR PANORAMA system is also our answer to the demand from customers to start working with colour in a digital and sustainable way.
With Pantone you can work in a hybrid model as the 2625 PANTONE® TCX colours are available in stock in more than 20 Pantone and dealer global warehouses and in book format.
The 3152 New Colours come to you in two digital formats, including an extension to Pantone Connect and are digitally available immediately. Physical concept cards on Cotton are available on demand within 48 hours (excluding shipping) if required.
Panorama provides easily accessible extra colours for Designers and Colourists which can then be ordered individually in a sustainable way ON DEMAND!
With Color Panorama go directly to your design software and work with the colours wherever you are. No more waiting until you are in the office to search through the Pantone books and minimize the Carbon Footprint by NOT shipping unnecessary colour cards around the globe.
Achievability
Unmanaged expectations of the achievability of colours creates extra rounds of lab dipping which is not sustainable. This adds extra costs for shipments, increases waiting time and wastes manpower. Be wary of choosing colours from a synthetic fibre colour system if your product is going to be made in a natural fibre such as cotton as many of these colours will not work on a natural fibres, lacking saturation. As cotton rarely shows as much lustre colours will appear much duller. Likewise selecting colours from bought samples and vintage outlets can be dangerous, without the knowledge of the type of dye used or any extra processing makes success in matching unlikely.
All Pantone Panorama colours have been successfully dyed on cotton using commercially available dyes so you have certainty that your selected colour will be achievable by your suppliers.
Speed
Do you currently have Custom Colours developed when you cannot find a suitable shade in the TCX book?
Color Panorama is a much faster and far more economical alternative to Custom Colours with a swatch readily available to review in less than one week. Match all colour inspirations from
physical samples or even an image to a ready-to-produce colour. Avoid guess work and disappointment and eliminate colour development costs and extra lead time.
When you are ready to use the Panorama colours in production, 10 Engineered Standards with QTX values can be ordered for sharing internally and with your supply chain.
Contact us to learn more about the new 3152 achievable colours in the Pantone Color Panorama range.
We'll share:
how to access this extended library
how to work digitally with your team, across all departments and with your supply chain;
how these colours are achievable and which substrates are available for sampling;
why this flexible solution not only leverages your creativity as a professional but also helps you to decrease your ecological footprint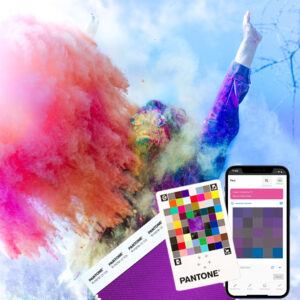 If you have a large team of designers or buyers and want to know more then please contact Georgina on telephone 0116 284 7790 or at pantone@verivide.com to arrange a one to one session for your business.