The demand and popularity of composite materials is continuously increasing. Automotive and aerospace are two of the main industries that use composite materials, like carbon fibre, resins, fibre reinforced polymer, glass fibres and thermoplastic which can be found in wheel rims, seat shells, door sills, fuselage panels, wings.
Other industries as well have embraced composite materials too, used in safety equipment and, sports and outwear (in bicycle frames, tennis rackets, shoes, protective headgear), and in buildings and construction (in shower stalls, bathtubs, bridges etc).
Why are composite materials so popular?
Composites are at least two combined materials but with superior properties of the traditional constituents and they extremely "versatile and efficient".
The strength, durability and the light weight of composites are the primary reasons that have become so popular and gained higher demand not only for technical use but also for commercial products. However, the key challenges that manufacturers deal is the high production costs and slower production cycles because of their complexity.
The importance of appearance and colour quality control!
For cutting edge industries as composites, quality control is a crucial factor to sustain success. There is higher demand for appearance and colour quality control in composites for commercial distribution (outerwear, sportswear, safety wear, retail, automotive coatings and textiles) than in technical composites used in other industries, in which the composite is likely to be hidden or incorporated under a covering.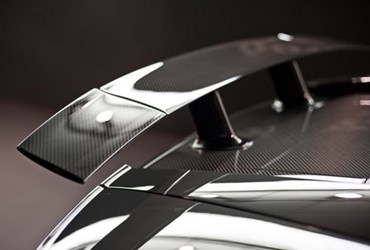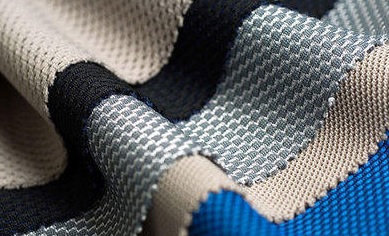 When combining materials in the manufacturing of composite, certain colour changes will take place. Colour changes can be contributed to chemistry changes or physical/optical effects when combining two or more materials together. The degree of colour change can be temporary, for example until full chemical curing takes place or be permanent caused by the actual process (heat, pressure, degradation etc.).
Capturing the appearance of technical textiles and composite materials plays significant role and affects also the final colour of the product. Complex and woven fabrics or difficult finishes such as gloss, sparkle, and metallic coatings make the quality control procedure more difficult. However, determining your products consistency will enable you to manage better consumers' expectations, protecting your brand's reputation.
I am sure that improving your supply chain efficiency is also a major priority for you, saving time, wastage and production costs. What is the next step? Manufacturers should invest in new innovations for more efficient and faster quality control procedure.
How to save time and cost in quality control procedure!
VeriVide's DigiEye is a complete solution for technical textile and composite manufacturers. DigiEye gives fast, objective and consistent results, helping you determine product quality, consistency or safety by seeing the product or sample in a manner that is far superior to the naked eye.
DigiEye captures the product digitally and its software can assess colour and appearance instantly, repeatedly and accurately for every kind of engineering fabrics, fibres, and reinforcement and composite materials, maintaining also image archives which are useful for future considerations.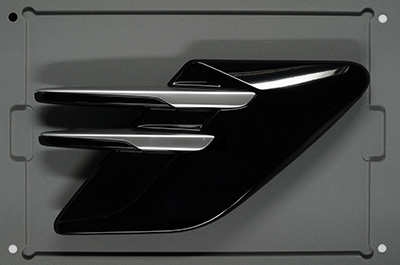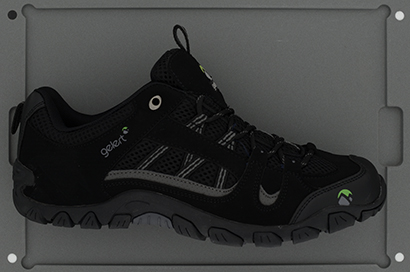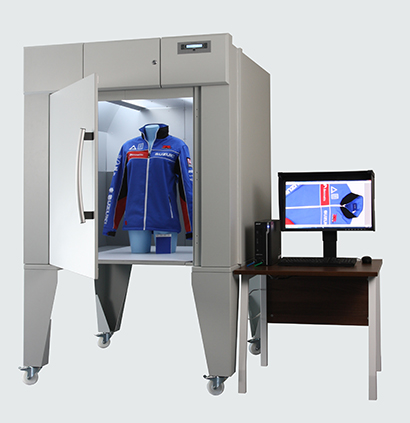 Let's have a look how DigiEye can actually see through the product, providing accurate results about product's integrity.
In the following example our Application Specialists test two samples of engineering fabrics in the DigiEye to check the quality of their appearance.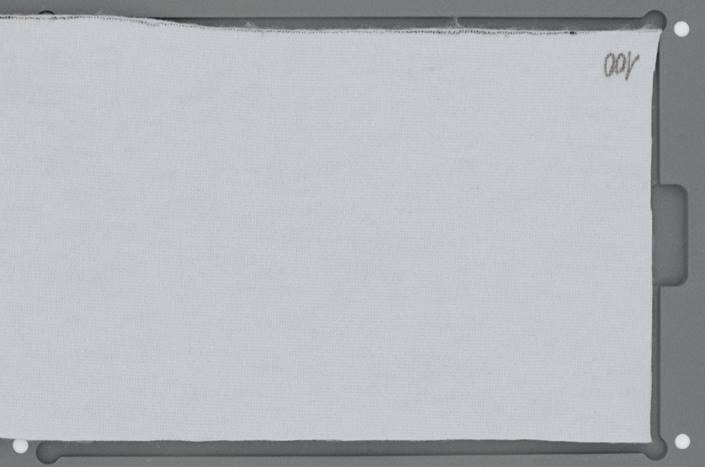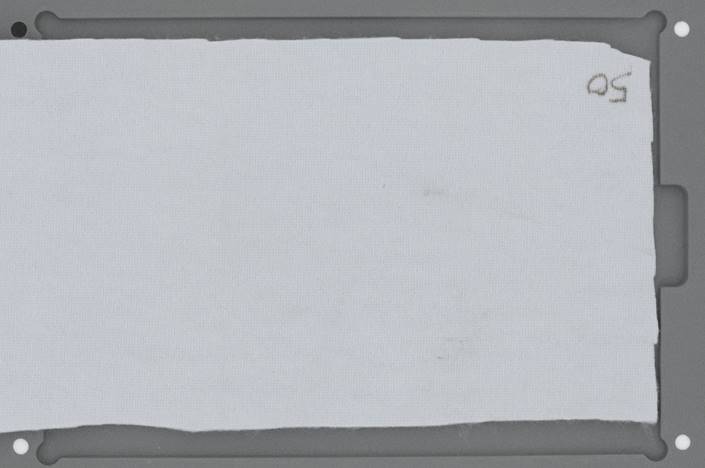 The two samples were imaged in the 1300mm DigiEye cube with a backlight and then DigiEye's software was used to separate the thick and thin areas of the samples. The different thicknesses across the sample appear as different colours which enable us to separate those colours and quantify the amount of each colour (thickness).
Looking the following picture you can clearly see where the sample has thicker and thinner areas and the software will provide you the percentages of each colour.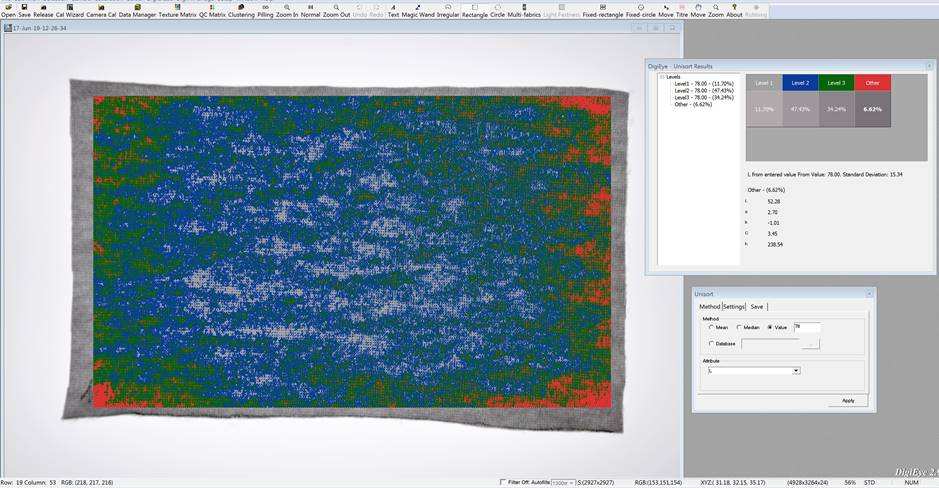 Quality defects and deterioration have a great impact on your final product's appearance and with DigiEye, you can detect them even from early stages in the manufacturing process, reducing wastage.
Dyed fibres embedded in a polymer matrix will appear different from the source fibres, and the process used for manufacturing this will greatly affect this. DigiEye can assess the changes in the process and provide data that will help in determining the best process.
Many manufacturers and brands use DigiEye, as it enables them to capture colour and texture together, eliminating mistakes in the design stage, prototyping and manufacturing stage as well as in the final quality control and allowing more accurate measurements and readings to succeed the desired quality & colour consistency of your final product.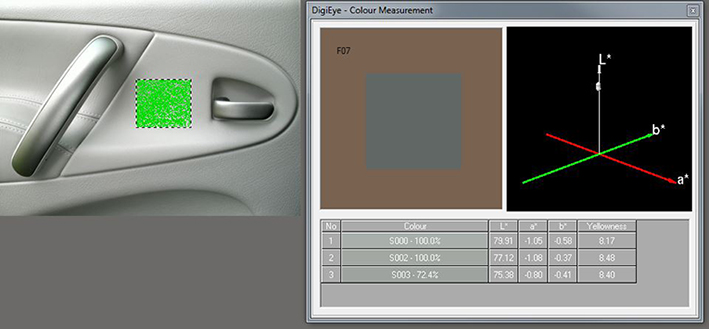 Finally, in the same family of DigiEye software, DigiView is the must-have software to save time and speed up the quality control, as you can share data in real time from anywhere, either from the same building or from another continent. DigiView is the smart swatch tool that allows users to compare colour differences, giving plenty of data to enable accurate quality control analysis.
If you have more questions about VeriVide's DigiEye or DigiView, our Applications Specialists are here to help you.