A common question we get asked is why are Pantone books so expensive? We explain why and what the added value of using them is. With Pantone books and other products having price tags ranging from the hundreds to the thousands we understand why the question is asked.
What is so special about Pantone and their colour system? Why do companies use Pantone colours instead of simply cutting up samples or sending bits of their inspiration (yes we have received feathers and tie dye before!) What about creating colour on screen using hex? And are colours mixed by other companies really that inconsistent?
Colour is a serious business…

Ensuring colour consistency is a serious business and Pantone have got their colour system down to a science and true art.  When using Pantone, you are paying a premium for the assurance that the colour you see on the swatch in front of you is the  colour that can be reproduced on your material.
The colour ranges are developed by the Pantone Color Institute headed by Leatrice Eiseman (pictured).
Pantone own the Intellectual Property of the colours and their associated names and numbers, they also ensure that their products are globally available so no matter where in the World the product is manufactured it is possible to accurately match to a Pantone colour.
The Pantone Fashion, Home and Interiors fabric system is more expensive than the printed paper Graphics system but don't forget that 2850 individual colours have to be dyed on fabric and then cut precisely to make each book. Large batches of cloth are dyed and are then subjected to strict quality control, which not only eliminates any batches that are not evenly dyed, but also ensures that each achieves a DE reading of less than 0.5 from the Master Standard and is also the same side of the standard as previous batches.
Cloth that is approved is then cut down to size and mounted into the various swatches and cotton book formats so that you can be sure that your individual swatch (wherever in the World it is purchased) will exactly match to the cotton chip in your book.
Value is far greater than the price tag
Pantone may seem expensive, with many people not 100% understanding what they are paying for and why. Georgina, our Pantone and colour expert often gets asked if she can send a customer a swatch or a paper chip-free of charge.
It takes a substantial amount of time, effort and resource to produce an accurate colour reference system. Designers need to see past the cost, as the value they receive far outweighs the price tag.
In particular by using the Pantone SMART fabric colour swatches a retailer or brand can ensure speed to market and greater accuracy in colour matching of the fabrics and trims because once a swatch has been purchased the dyer can access the Spectral data for the colour to use in match prediction and quality control systems. The use of an official Pantone swatch together with the spectral data can enable the number of lab dip attempts to be reduced to only 2 or 3 from up to 8 attempts without these tools saving time and money both in the lab and on sending samples by courier for the retailer to check.
Paint brands are guilty…
We believe that paint brands are guilty. Guilty in making people believe that colour samples are cheap. Take a walk down to your nearest Dulux stockist and they will offer paint charts free of charge. This is probably one of the reasons why customers think they can get a Pantone swatch or chart free of charge.
Paint charts aren't cheap to produce; however, the retailer can recoup the costs in the price of the paint they sell. With Pantone, they are only selling the colour standard, not the products made from that colour so the same pricing model cannot be used.
How Pantone inks differ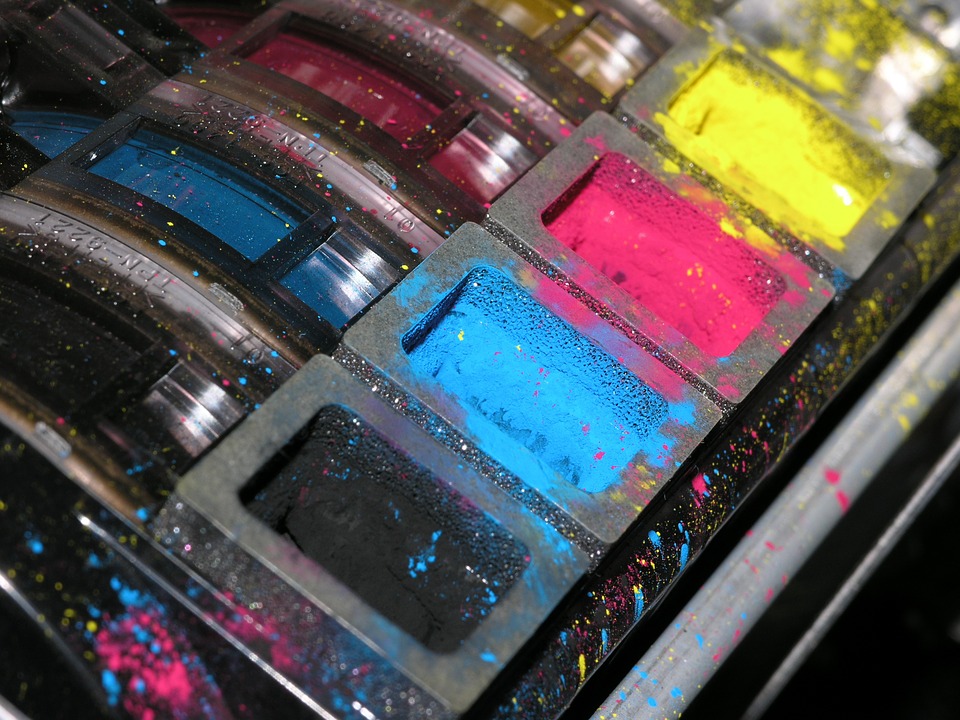 Often materials are digitally printed using CMYK inks, where each colour is printed using a mix of cyan, yellow, magenta and black. For example, to make purple you would mix red and blue together.
CMYK is a very small colour space and using only four inks causes inconsistency because if only one of the four varies by a small amount the results will be visible to the human eye. With CMYK you can print something one day and then print the exact same file a week later and the colours may look different.
This issue happens for printers all the time. Take for example a company getting a roll up banner printed. One week the marketing department sends designs for a banner to be printed using their brand colour in hex form. The next week they decide they want another banner, using the same designs. When the banners are put next to each other they look different shades.
Pantone inks are mixed specially by the printer, using a different method, ensuring the colour comes out consistent each and every time. Pantone can be used for many different applications. An obvious example would be to keep a company's branding and logo consistent. However, Pantone can also be used in textiles, interior design, fashion design and even metallics and fluorescents.
There have and continue to be instances where a company will trademark a Pantone shade so that no one else can use it. Here's a list of businesses who have successfully trademarked a Pantone colour, Tiffany's blue is included.
How are Pantone PMS spot colours created?
Colours created using CMYK are mixed during the printing process, however, Pantone "spot" colours are created prior to the printing process. The Pantone PMS system is created using Base Ink colours and in addition to the standard bases, there are seven Basic Metallic inks, seven Basic Pastel inks and seven Basic Neon Inks.
The Pantone "spot" colours are created from a combination of two, three or four of the Basic Ink colours and the Formula Guide shows the ink recipes (formulas) for printing the spot colours on the standard paper stock. The colour achieved will be affected if the paper, weight, base colour and finish differ from the Formula Guide but a simple check will establish which adjustments need to be made.
The new PANTONE® SIMULATOR can show how a Pantone spot colour will appear on 28 different packaging materials taking the guesswork out of adjusting the colour.
Spot colours are also like paint in the way they are applied by the printer in a flat uniform layer before printing. Other printing methods, such as CMYK, use tiny halftone dots. This difference makes spot colours like Pantone more consistent.
If you were going to paint a wall in your house purple, which would get a more consistent result buying a bucket of purple paint to paint the wall, or mixing a bucket of red and a bucket of blue as you went along?
Amazon, eBay making Pantone cheaper
You may have seen people selling Pantone products and books cheaper on places like Amazon and eBay. Surely it makes sense to buy them from here rather than Pantone or one of their distributors (like us here at VeriVide).
We would recommend against this. You don't know what you are buying from sellers on places like Amazon and eBay. Firstly, how can you be sure that they are official Pantone products? Secondly the sellers could be selling very old and out of date products. Pantone are continually updating their products.
Pantone have updated their formula guides 5 times since 2010, meaning that if you buy an old guide you could be missing up to 1000 colours!
Colour Standardisation through Pantone [Video]
Something you probably didn't know about VeriVide…
Did you know that there are only a few official Pantone distributors in the UK? We have the proof, click here. It's in alphabetic order so we are at the bottom of the list!
However, what the list on the Pantone website doesn't tell you is that VeriVide are the only UK stockist of Pantone fabric swatch standards so if you try to purchase swatches from anyone else they will have to come to us to purchase the swatches for you or bring them in from overseas!
We also hold stock of the full range of Pantone products ready to despatch your order the same day if it is placed before 1.30pm.