The curtain has just come down on the 91st Textile Institute World Conference and, with VeriVide a proud headline sponsor of the prestigious event, it was every bit the success we anticipated.
The annual conference is the major date in the textile-world calendar. It is the flagship event of the Institute and the last 91 years have seen it grow into the huge, global occasion that it is today, with speakers travelling from every corner of the world.
VeriVide were honoured to play our part, and we were delighted to take the opportunity to meet up with some of our valued customers, rekindle long-standing friendships and showcase our company to the many people who attended.
We had an exhibition area, and attendees who looked around the university were able to be introduced to our laboratory.
An Honour to be a headline sponsor
The conference is held in a different location anywhere around the world every 18 to 24 months, but always at a venue that is relevant to the textile industry. So, while it can be in China one year, or Singapore the next, the 2018 event was hosted by the School of Design at the University of Leeds (July 23-26).
VeriVide have a long-standing history with both the School of Design and the Institute, of which we have been members of for some time. It was a happy coincidence that the university should host the conference this year.
We are proud to be associated with the Institute, and the chance to sponsor this event was a marvellous opportunity.
It was also an exciting opportunity for us to forge even closer links with the School of Design, with whom we have established a burgeoning working relationship.
The University of Leeds has a rich history with the textile industry. The School of Design, which can trace its origin back to 1904, is recognised as a leading textile centre for education and research, and attracts students and visitors from all around the world.
Our commitment to the textile industry
The conference theme of 'Integrating design with sustainable technology' focused on identifying and establishing interdisciplinary engagement in the textile manufacturing and retail industry through the various fields of technology, design, sustainability, research and economy.
It has come a long way since two Manchester men – George Moores and John Henry Lester – founded the Institute in 1910, when they became convinced the textile industry could be effectively attained through the co-operation of forward-looking men and women in the industry.
That is an ethos that is close to our hearts at VeriVide. We are constantly committed to supporting the UK textile industry by offering solutions to our clients' colour assessment needs and by supporting young talent.
Indeed, VeriVide recently made a ground-breaking donation of two DigiEye colour imaging systems and two colour assessment lighting cabinets to the School of Design to aid students in their learning and development.
What did we learn?
The theme of 'Integrating design with sustainable technology' has evolved out of a recognition that there are clear synergies when design and sustainable technology are effectively integrated, to produce commercial solutions for better aesthetics and functionality.
The textiles industry is diverse, and to maximise success the whole value chain needs ongoing innovation and investment.
The conference drew heavily on the application and use of textiles in all aspects of everyday life, and there was a mine of useful and illuminating information to gather.
There are new, exciting developments in textiles happening all the time. New processes are improving existing applications and the inventiveness and resourcefulness of the textile community is helping our own and other industries every day.
We heard from high street giants John Lewis on 'Reinventing Britain's favourite department store', with some great insight from their representative David Mallinson on what was implemented to change the business from a technical perspective.
And we were particularly interested on the engineering of 3D-printed haute couture fashionwear, with Dr Ramachandran Rajagopalan explaining an exciting application for new technology.
He spoke how, in future, 3D printed items will rely on products such as DigiEye to ensure colour matching.
What were our key takeaways?
One of the points that really stuck out for VeriVide during the conference was hearing how shareholders and consumers are increasingly concerned with the environmental impact of the supply chain.
A product such a VeriVide's DigiEye can hugely cut down on shipping miles, with the ability to transfer colour information, or make colour decisions, when the supplier is in China, or Sri Lanka or anywhere around the world.
It's something that some of our clients have already used when it comes to tasking colour. By using DigiEye, you don't have to ship standards around the world. You can take an image, send it via the internet and it appears on colour screens.
Designers and buyers are embracing it because of the amount of money and airmiles that are used by shipping standards around the world. They can take an image in Bangladesh and within an hour it can be viewed on the other side of the world and have a complete turnaround, giving that remote colour appraisal.
For VeriVide, this focus reaffirmed our commitment, and the commitment of our clients, to driving sustainability in textiles.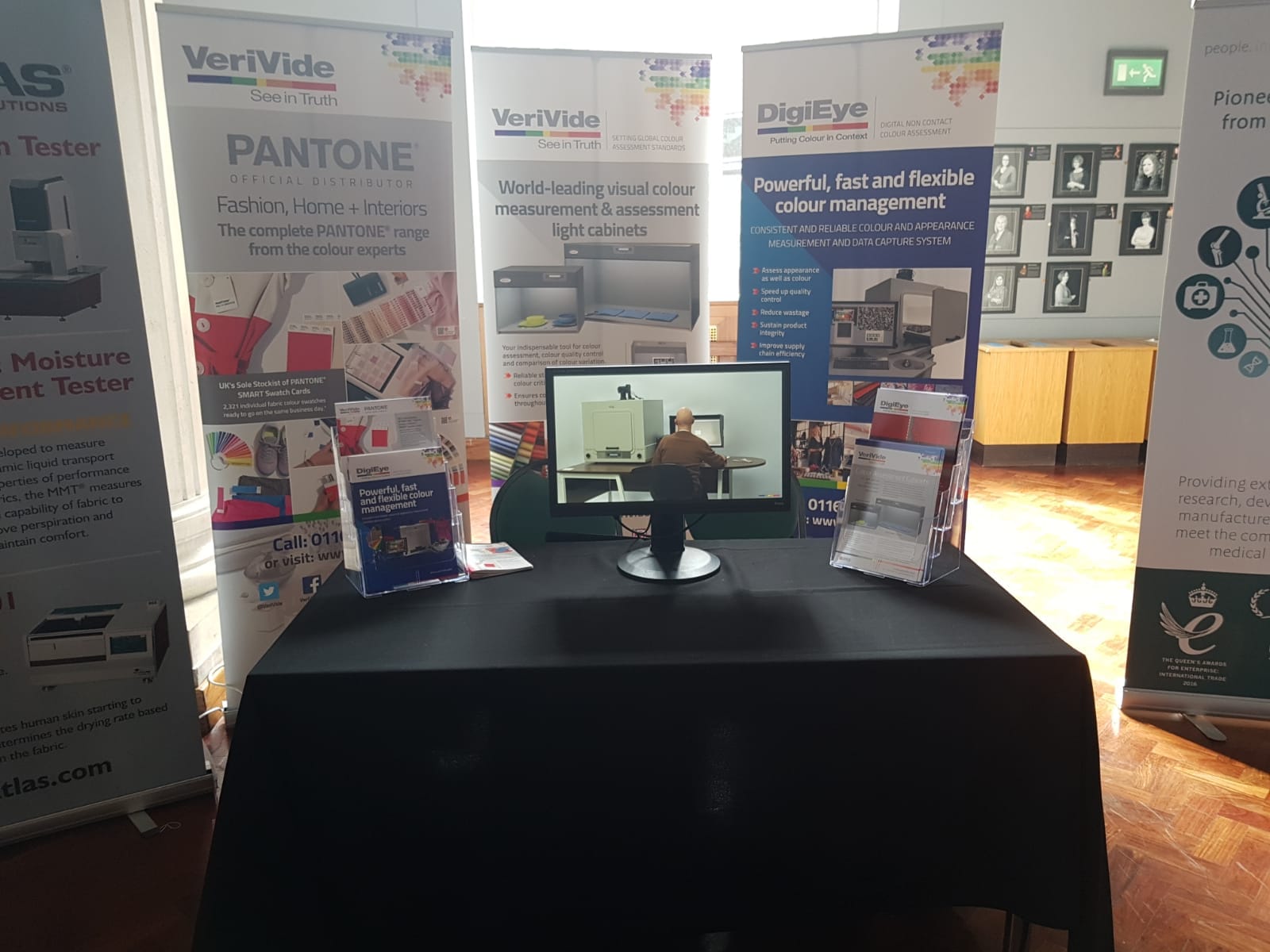 Textiles is one of the most innovative industries worldwide, with applications in a variety of other industries such as medicine. Remaining at the forefront of innovation is a key part of VeriVide's mission statement, and this will be reinforced with our forthcoming product launches.