As we have witnessed the postponement of many trade shows which we would take part in and travelling still remains a challenge, we decided to go digital.
We are excited to announce that we will be exhibiting virtually in the Innovate Textile & Apparel Virtual Trade Show on 15-30 October.
If you are missing, as much as we are, the atmosphere of the exhibitions and the connection with people from your industry, you can join us.
We know how you feel, it is new to us too… No handshakes and tangible brochures, no physical demonstration of our products, no face-to-face meetings.
However, you can have those digitally (except for the handshakes). Virtual shows have shaken up all the industries, providing a new, convenient, and flexible way to connect with people from your sector, avoiding the transportation and accommodation expenses. Without concerns about social distancing, virtual exhibitions ensure us that we keep ourselves, you, and your colleagues safe.
If you are interested in the new way of connecting with people, you can check the benefits of the virtual trade show below.
Innovate Textiles & Apparel Virtual Trade Show
The Innovate Textile & Apparel Virtual Trade Show is organised by World Textile Information Network (WTIN) and it provides a huge opportunity for manufacturers specialised in apparel and the engineering textile industry to showcase their products and reconnect with their audiences.
The Virtual show is FREE for all visitors who want to attend and the platform will be open 24/7 from 15 to 30 October for you and your colleagues to browse our brochures, videos and schedule a video chat with us at a convenient time for both parties.
The Virtual Show is categorized into two main Halls, Technology and Materials, in which you can browse the sub-halls depending on your interest. VeriVide's Virtual Booth will be presented in the Testing Hall and Software Hall under the main Technology Hall.
Register for the Innovate Textile & Apparel Virtual Trade Show
What the Free ticket includes
Here is a list of what you get with the free ticket for the virtual trade show:
Unlimited attendance of seminars and conferences related to the textile industry
Access to academic research
Open access to all booths, video meeting and live chats with exhibitors within the platform
Does it sound interesting to you? If yes, feel free to register here.
Take control of colour quality & appearance
Colour is an important indicator of a product's quality and is an essential part of a brand's reputation and identity.
If colour is an important asset for your business then visit our Virtual booth in the Testing or Software Hall to learn how you could transform your business and the way you communicate, reproduce, and assess colour across your supply chain.
Digital Colour Measurement & Assessment
We will be exhibiting the latest developments to the colour and appearance measurement with DigiEye which can revolutionise the colour and appearance digitisation and visualisation process, from apparel and footwear to complex, non-woven and multi-colour fabrics.
If you want to improve and speed up the colour development and approval process, DigiEye is VeriVide's innovative equipment that enables you to make colour critical decisions within minutes, saving money, time and making your production flow more sustainable.
With DigiEye you can instantly highlight and communicate visual inconsistencies, contamination, and continuity issues.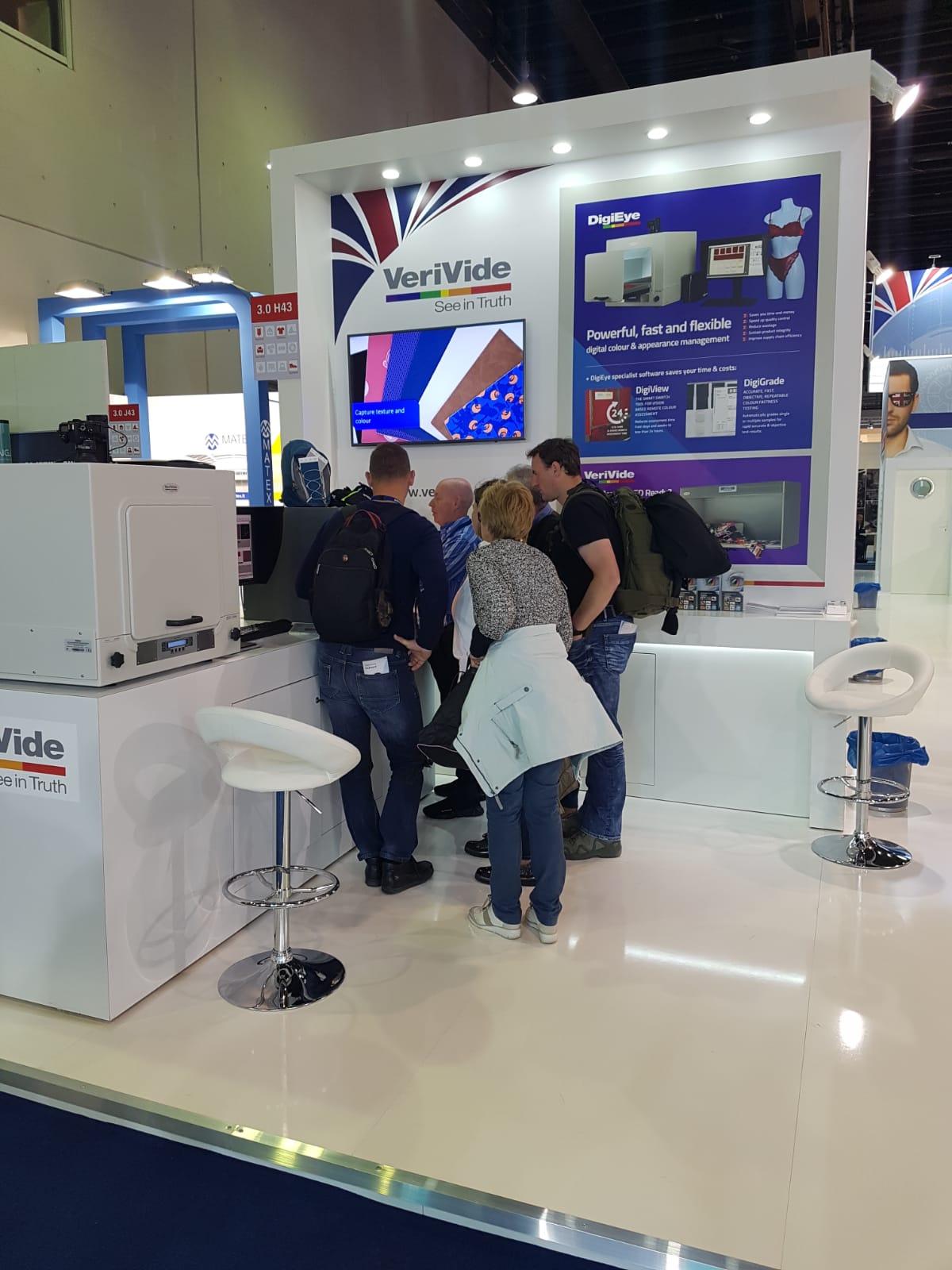 Visual Assessment – Colour Matching & Evaluation under LED
As LED lighting is widely used from small and medium-sized retail stores (e.g. groceries and clothing stores) to larger spaces (car showrooms and home stores), it is crucial to assess the colour of your products under these new lighting conditions.
Colour is influenced by different light sources and ultimately if a sample matches with the standards under a Fluorescent point of sale lighting, it does not mean that it will match under LED point of sale lighting.
Our Colour Assessment Cabinets LED POS help you assess colour under a consistent and standardised environment to examine exactly how the products are going to look in the store lighting and make objective and reliable colour decisions.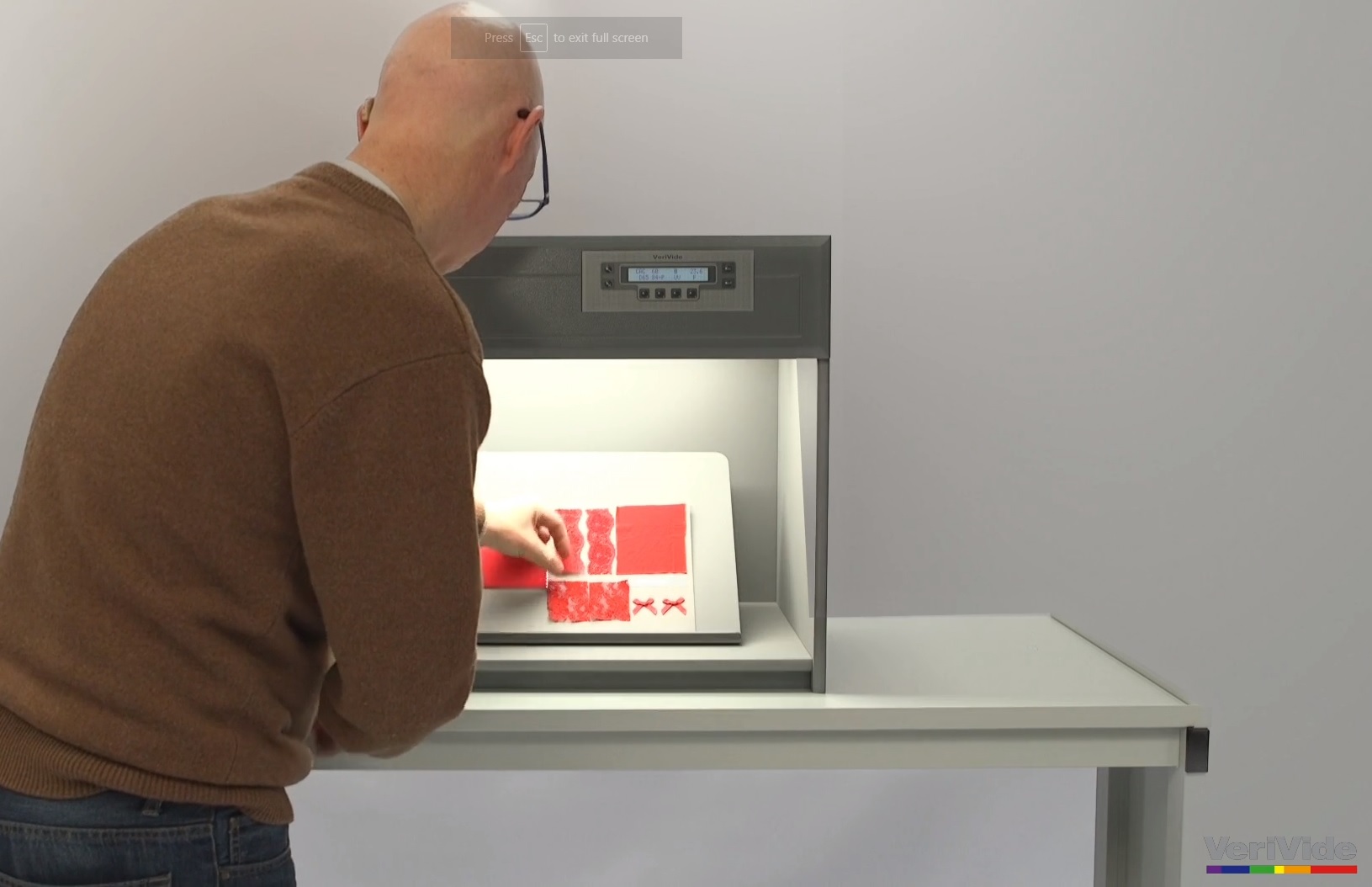 Register for the Innovate Textile & Apparel Virtual Trade Show
To book a virtual demonstration or for more information contact our colour and lighting experts at enquiries@verivide.com or visit verivide.com.