VeriVide are delighted to be supporting North Print and Pack 2013 being held at the Harrogate International Centre, situated right in the heart of Harrogate, the North Yorkshire spa town.
NorthPrint is an invaluable opportunity for us to engage with existing and potential customers within Graphic and Printing sector and to listen and respond to the Colour Assessment Lighting needs of the Printing & Packaging industry.
And as an official Pantone distributor, we will also be available to offer practical advice and demonstrate the most suitable products, from Pantone's Graphic & Print range, to meet the demands of the industry.
We will be located on Stand C310 and will be sharing our stand with Pantone.
DATES
The event is on from Tuesday 14th May to Thursday 16th May from 10:00 am to 17.00 pm each day but with a finish at four in the afternoon on the final day.
WHAT WE ARE EXHIBITING
VeriVide have been supplying the Graphics and Printing industry with ISO compliant lighting equipment, for approaching five decades.
We will be showing our FENESTRA proofing console which delivers a new level of excellence for visual proofing with unique features creating an even illumination of the copy deck and an unobstructed view. You visual proof will meet the same exacting standards as your digital output.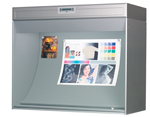 Also on our stand will be our COLOUR CONTROL CABINETS, which are used extensively with the Graphic Arts and Printing industry. These cabinets offer standardised viewing conditions for colour assessment of ink weight, register and dot gain and have an unique concave viewing deck eliminates specular reflection, allowing accurate colour and quality control.
We will also be on hand to discuss our COLOUR ASSESSMENT CABINETS which are an indispensable tool for colour assessment, colour quality control and for comparisons of colour variation. They offer unparalleled light sources consistency, helping to highlight product quality issues, such as Metamerism.

We also think you will be interested in our Benches and Plan Chests. These Plan Chests are available in two widths both of which have five drawers suitable for storing proofs and approved standards to A1 size. The wider 150 cm plan chest also has a side cupboard.
PANTONE
We are an official PANTONE distributor and will be available to offer advice on the best Pantone products to match your needs and budget. This includes colours in solid, pastel and metallic and Solid Colour to Process Colour Conversion plus tools to specify exact colour at every stage such as Monitor Calibration and capture technology which sets new standard for accuracy and versatility in a portable device.
This year Pantone are celebrating their 50th Anniversary with a special, limited-edition publication of PANTONE PLUS SERIES for graphics and multimedia and we will have special offers on our stand to celebrate their 50th Anniversary.
Two of the Pantone products on our stand at North Print and Pack 2013 will include: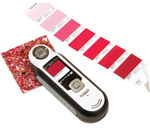 CAPSURE – RefRM200PT01
Capsure is an easy to use portable device to measure and record the colour of any surface, such as a plain piece of fabric or metal or a small multicolored print and then matches it accurately to any of the 8,000 Pantone colors stored within the device.
It is designed for professionals in fashion, home, interior, industrial and graphic design, contractors or paint retailers.
COLOR BRIDGE GUIDES – Ref GP4102
The Pantone Color Bridge is used by digital printers and graphic designers; it allows them to see if the colours their customers are requesting are achievable in CMYK printing. It shows a representation of best achievable colours with percentages of the CMYK values. These Guides are available in Coated or Uncoated versions.
It is a 'Bridge' between the Pantone matching system colour and what is actually achievable by CMYK inkjet printing.
For further information please contact Georgina Boulter 0116 284 7790 Ext 201   g.boulter@verivide.com
GETTING TO HARROGATE
And if you are thinking of visiting – Harrogate lies off the A1, with excellent access to the A1/M1, just to the north of Leeds. Less than 200 miles from London and Edinburgh and served by a fast train service from both cities. Leeds Bradford International Airport is only 20 minutes away.
STAYING IN HARROGATE
And if you want to stay in Harrogate the exhibition venue sits right in the heart of Harrogate, within easy walking distance of around 4,000 bed spaces and over 100 restaurants and bars.