Is colour critical to your business? Do you employ Colour Assessment practices for your products?
If the answer is yes for both questions the below information is useful for you.
Adopting colour management solutions is crucial for all brands and manufacturers who care about their products' quality and try their best to fulfil customers' needs and expectations. Colour inconsistencies not only cause delays in the production line but also risk the brand image and reputation.
The colour matching procedure remains challenging for many retailers and manufacturers, as in many cases it is difficult to ensure consistency of colour of multiple batches and product components throughout a supply chain.
The personnel, responsible for colour, are called to make constantly critical decisions, answering the following questions: Have we (or the manufacturer) achieved the same colour as our standard? Does the sample match previous batches or is it acceptable to the standard but differing from previous batches and/or the other components?
Colour must stay objective to the whole process from the specification stage to prototyping and final production. Each person in your supply chain must see and speak the same colour language, from designer and colour experts to manufacturers and suppliers. Human eyes are amazing tools but with limited objectivity, as everyone perceives colour differently.
Adopting innovative colour management solutions, such as DigiEye system, helps you to see colour in truth, as it provides colour data for colour analysis, evaluation and instant communication.
Traditional Vs. Digital Colour Assessment
With conventional methods, the colour approval of samples passes through the following stages:
Supplier/Manufacturer prepare the colour submission
Supplier/Manufacturer send by post or courier the submissions to the Quality Management team of the retailer/ brand
After 5 days*the brand/retailer receives the samples and evaluate them under controlled Light Cabinet, concluding to the approval or rejection of the samples.
*Depending on supplier's location – Post time from Bangladesh to UK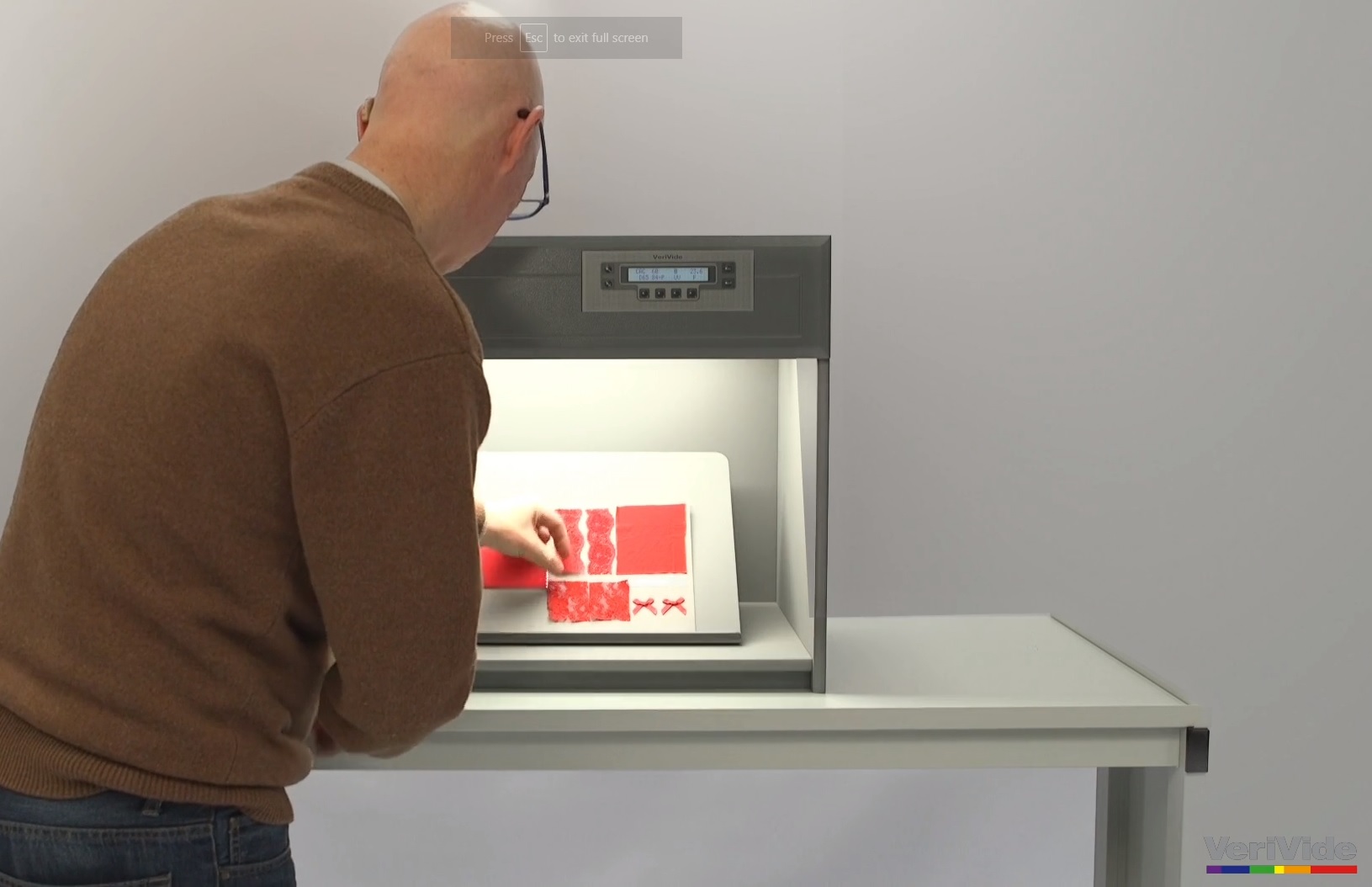 Image: Colour assessment under VeriVide's Light Cabinet
Colour matching can be a very time-consuming and costly process using traditional methods and sometimes testing of multiple colour submissions is required to make a final decision which takes weeks or even month.
Best Practice for Visual Colour Assessment
The market demands a more efficient and flexible approach, simplifying the process of colour assessment through digitization. Digital colour assessment is the peace-of-mind solution for supply chains.
DigiView system is the smart swatch tool which offers remote, vision-based colour assessment, making the approval/rejection of colour submissions an easy and quick procedure. Designed to save time and money, large and forward-thinking UK retailers and brands have already embraced it, making DigiView a mandatory equipment for their sourcing offices.
There is no need to send colour submissions by post or wait one week until you make the decision. The procedure with the Digiview system is simple and successful to achieve accurate colour matching, following the below steps:
The supplier/manufacturer places the submissions with a colour standard in the DigiEye cube. The samples and the standards are imaged by the high-resolution camera with our unique calibration process
Colour calibrated images are sent to viewing stations anywhere in the world in the same day where the Buying Team (retailer) opens the images
The Buying Team has many adjustments tools available, enabling them to cut and copy-paste standards and move items across the screen. Thus, retailer can instantly and accurately evaluate if the colour of the samples and the standard is matching and make final decisions.
Image: Remote colour assessment under VeriVide's DigiView System
Considering the size of DigiEye cube, the remote colour assessment is applicable to liquid, food and non-food items from small sizes such as lab dips, leggings and footwear to large items such as safety jackets, tiles, carpets, helmet and skeleton bikes.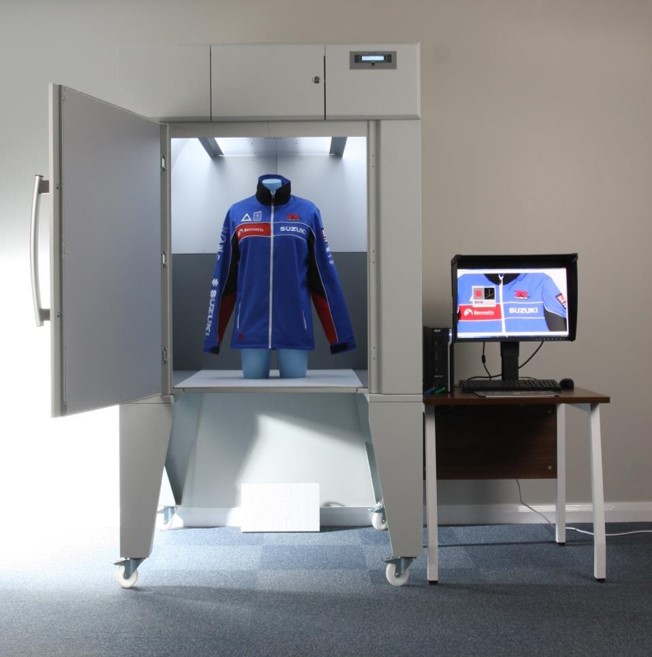 Image: VeriVide's DigiEye system – 1300mm cube (available also to 700mm cube)
"Both Buyers and Technologists are loving this easy and accurate new way of working!" Claire Brealey, Womenswear Technical Manager (Clothing), Next Retail (Head Office UK)
Evaluating colour digitally, some common problems of the traditional visual assessment can be overcome. One common issue is that colour experts should rest their eyes regularly which become less sensitive if they stare the same item for more than 10 seconds at a time. It is also more challenging to identify colour differences in darker colour samples than lighter ones. On the contrary, visualising the colour data with DigiView you can truly see how the colour looks like.
3 ways that Remote Colour Assessment improves supply workflow
Saves you precious time. We know that retailers can have many lab dyes and print strike-offs to approve during the day. Evaluating and making colour comparisons between the samples and the standard with traditional methods is time-consuming which can take at least 5 to 7 days. Digital colour assessment is a far speedier way for your manufacturing workflow where the Buying Team approves or rejects samples within 24 hours.
Provides flexible workstations. DigiView provides remote colour assessment possibilities, meaning that workstations can be portable using PC/Laptop together with a supported Eizo CG (Colour Grade) Monitor. The software is easily installed, and the communication is based on standard internet protocols, so as long there is a broadband, there's a solution to working from home, at a separate office or factory visit, indeed anywhere you need to. Also, the accurate colour data allows even amateur teams for 'self-approval' decisions without the supervision of experienced Colour Experts.
Makes supply workflow more sustainable. Shipping colour submissions is not only time-consuming and costly, but it has huge environmental impact too. According to Data Gov UK (2018) *, one of the largest emitting sector of UK greenhouse gas emissions comes from transportation. Now brands and retailers save money, time and shrink their carbon footprint by sending the samples digitally.
4 simple steps to adopt DigiView to your supply chain
If you have suppliers already using DigiEye in the supply chain, you can easily adopt the technology by installing DigiView Systems. DigiView is basically a colour calibrated workstation consisting of an Eizo CG (Colour Grade) Monitor and easy to use software.
We will help you define how many workstations you might need. You can start by using one station and gradually build up a fleet of stations to maximise the time savings offered by DigiView. The more submissions you have going through DigiView, the more time and cost savings will be realised.
We provide the hardware; all you need is a PC which is usually supplied by your own IT partner or in-house team. There is nothing special regarding the PC Specification, it needs only a dedicated video output using HDMI or DP (Display Port) and to be connected to the internet or your internal network.
Your PC is connected to an Eizo Colour Grade Monitor, either Eizo CG248 or CG279 Type monitors that we are currently using. These advanced monitors offer very stable colour calibrations which give confidence to users to adopt this colour technology.
Following the UK government guidelines about social distancing, we can help you install the software easily using telephone guidance or other on-line applications such as Team Viewer, Skype and Webex. We can also offer on-site installation and training where locations and situations permit. The software license is controlled by a security dongle key.
Once the software is installed and the system connected, you are ready to immediately receive incoming colour submissions for remote assessment.
VeriVide's team can still support and give you advice for any colour challenge or any question you may have by email to enquiries@verivide.com  or by phone to +44 (0) 116 284 7790.
*Data Gov UK (2018), Provisional UK greenhouse gas emissions national statistics, available from https://assets.publishing.service.gov.uk/government/uploads/system/uploads/attachment_data/file/790626/2018-provisional-emissions-statistics-report.pdf