In our increasingly digitalised world, digital colour values are indispensable to product designers, interior designers and architects. RAL have responded and recently announced the launch of digital colour libraries for all three RAL colour palettes to meet the demand for digital colour. Now it is possible to integrate colour with materials at a much earlier stage in the design process.
The digital colour libraries contain colour values in both RGB and Lab values with colour and file names in English. Enabling colour integration into selected software programmes such as Adobe Creative Cloud e.g. Illustrator, Photoshop and InDesign, Allplan or Corel.
Why use RAL Digital
Designers in all disciplines will benefit from the RAL Digital libraries. Architects and interior designers can select colour for both interior and exterior materials. Product designers will be able to create a digital prototype to test different colour options before manufacture. Graphic designers can embed RAL brand colours into logos, printed materials, and websites to produce a uniform corporate design.
Designers are able to create their designs digitally using RAL colours to test different colour combinations, effects, and harmonies.
The digital designs are complemented by presentation boards with RAL colour samples or physical products. Digital work with RAL Colours is quick and easy using the download files, enabling creative professionals in architecture, interior design, product design and graphic design to use RAL COLOURS throughout their entire workflow.
How do you download the libraries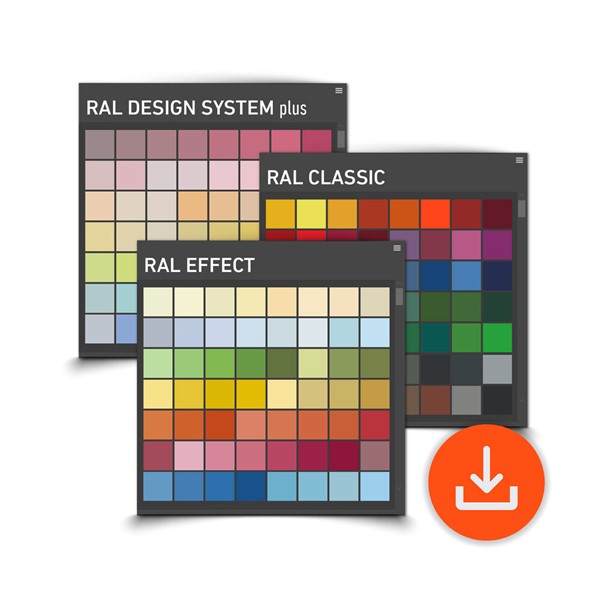 All three RAL colour libraries – RAL CLASSIC, RAL DESIGN SYSTEM plus and RAL EFFECT are available individually or can be downloaded as a set. For technical reasons, digital colour libraries can only be provided via the RAL COLOURS webshop.
To download the RAL Digital Libraries please follow the direct links according to which library type you need. Current cost is 24.50 Euros for an individual library or 49.90 Euros for the set, so if you need at least 2 libraries, purchasing the set is the most cost-effective option.
You will need to create a customer account with RAL before downloading the colour libraries. Once saved to your computer they can be imported into the software application following the instructions for import in that application.
Lab values are more precise colour values than RGB therefore we recommend the Lab values are integrated into the software and if necessary, then converted into RGB within the software package.
More detailed information about the digital colour libraries can be found on the RAL website: https://www.ral-farben.de/en/ral-digital-colour-library
Advantages -Holistic Design with RAL
Working with RAL colours throughout all project phases is now possible – from digital design and planning on screen to the final production.
Access more than 2500 RAL colours to find the right shade for your project.
Gain inspiration with the RAL annual colour trend report, visualise and sample with a RAL colour fan, then digitally plan the design using digital RAL colour libraries. Mood boards can be made with individual colour samples and production matched to a primary standard card.
File formats are compatible with leading graphic design programmes.
Individual colour palettes can be created for projects using RAL colours.
More efficient design work – colours options quickly tested and confirmed suitable or not.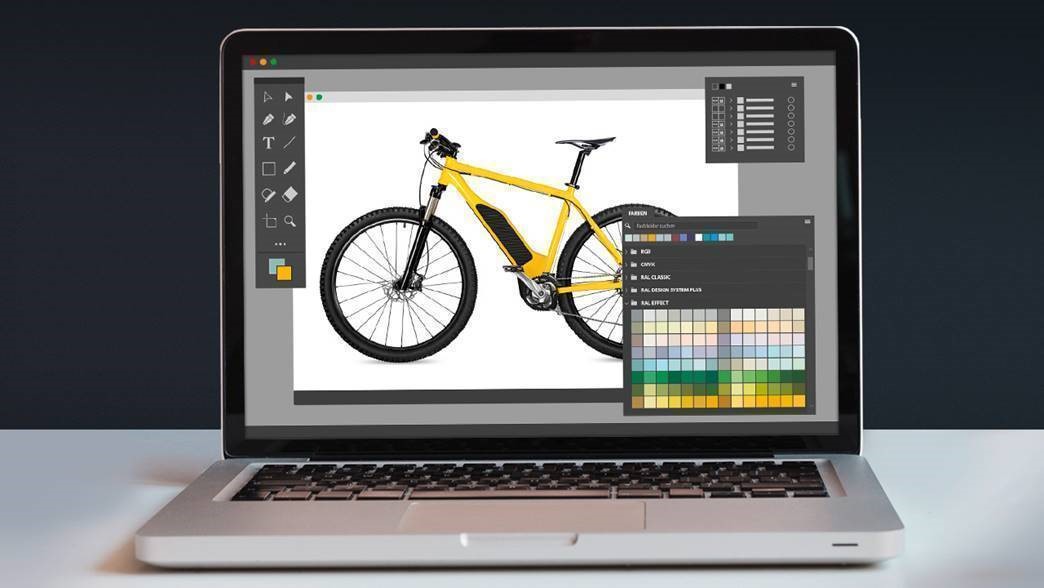 Challenges
The RAL colours are only accurately displayed on a calibrated monitor.
Digital images only show an approximate version of a RAL colour. The screen settings and the graphics software used can both affect how the colour is displayed. Your clients should check a physical sample of the colour, (either RAL book or card or actual product material) before making a final decision.
Another reason for making a final check against a physical RAL colour sample, is that not every RAL colour can be reproduced correctly in all colour spaces. Some colour spaces such as CMYK are smaller and more limited.
The digital colour libraries were developed only for visual, design purposes and are not spectral data for colour matching production.
Download the digital RAL colour libraries now and start digital design in RAL colours!
For more information on RAL products contact Georgina Boulter by email ral@verivide.com or telephone +44(0)116 284 7790