Yes, we can officially announce that Pantone has decided which colour will be crowned Colour of the Year 2017!
Which colour has been lucky enough to be chosen? Greenery (15-0343 TCX) was chosen and crowned by Pantone.
Greenery (15-0343 TCX) has been described as being a fresh and zesty yellow-green shade that evokes the first days of spring when nature's greens revive, restore and renew. This shade represents flourishing foliage and the exquisiteness of the great outdoors. The attributes of this colour encourages those exposed to is to take a deep breath, oxygenate and reinvigorate.
What Pantone's Executive Director says about Greenery
Leatrice Eiseman (Pantone's Executive Director) stated, "while Serenity and Rose Quartz, the Pantone Color of the Year 2016, expressed the need for harmony in a chaotic world, Greenery bursts forth in 2017 to provide us with the hope we collectively yearn for amid a complex social and political landscape. Satisfying our growing desire to rejuvenate, revitalize and unite, Greenery symbolizes the reconnection we seek with nature, one another and a larger purpose."
Eiseman further stated, "The tangy yellow-green speaks to our desire to express, explore, experiment and reinvent, imparting a sense of buoyancy," said Eiseman. "Through its reassuring yet assertive vibrancy, Greenery offers us self-assurance and boldness to live life on our own terms, during a time when we are redefining what makes us successful and happy."
Greenery – the Colour of Innovation
Shades of green are so often related with environmentalism and nature, however, due to its boldness, vigor and modernity it also unifies tech and innovation. Many brands have used this eye-catching shade of green to express their energy and pioneering spirit that is the essence of entrepreneurship, in their logos.
Greenery and Fashion
Greenery is known as nature's neutral. Merging undertones of cool blues and vibrant yellow, it is a great harmoniser and complements a wide range of palettes. Just like in nature, Greenery can add a dash of colour to both accessories and footwear or can add a bold accent to a pattern.
Greenery and Home Interiors/Architecture
Greenery (15-0343 TCX) can provide a room with respite and breathing space through living walls, terrariums, wallpaper, paint and furniture. When this colour is used for interiors is can add a pop of colour whilst also creating the illusion of bringing nature inside.
Greenery and Beauty
For those wanting to display boldness and vitality, Greenery (15-0343 TCX) can add a confident splash of colour to hair, lips, eyes and nails. Known as a camouflaging base for natural beauty looks, use of green in makeup is often seen in colour-correcting trends.
Greenery and Food/Beverages
Today, there is a big focus on healthy foods and holistic living. Greenery (15-0343 TCX) is prominent in many of these food trends including; matcha, seaweed and avocado. Greenery can also provide an appetizing backdrop for food, emphasising the freshness of dishes.
Greenery and Graphic Design
Due to green being found in nature, this shade of colour has the perception of being inherently good and healthy for you, whilst also being organic. It is an ideal shade for graphic design as people respond on a visceral level, for example, if used in packaging the sight of green can convey the message of freshness.
About the PANTONE Color of the Year
Every year Pantone crowns a particular shade colour of the year. Secret meetings are held where representative from various nation's colour standards groups get together and decide which colour is should be. They take into consideration current trends and prolific events in that year and after 2 days of presentations and debates a colour is chosen.
Past Colours of the Year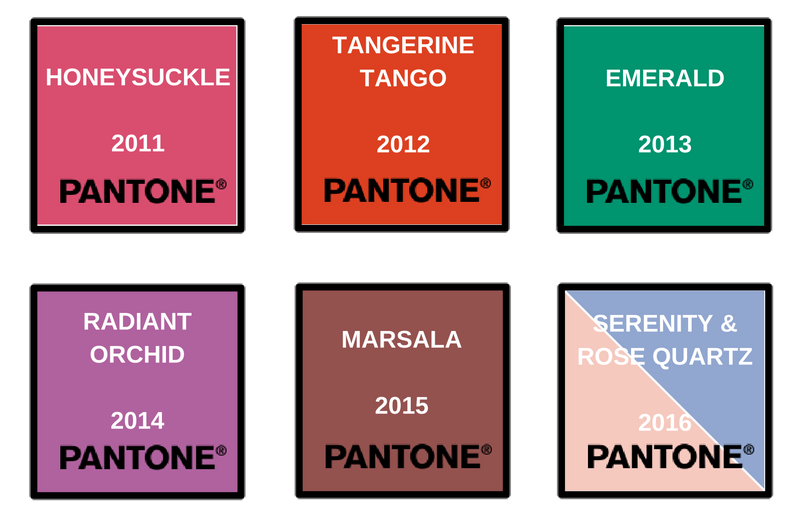 About Pantone and the Pantone Color Institute
Pantone LLC Incorporated, is the global color authority and provider of professional color standards for the design industries. Pantone products have encouraged colorful exploration and expressions of creativity from inspiration to implementation for more than 50 years.
Find out more about the Pantone Color Institute
Want to get hold of the Greenery 15-0343 Pantone Swatch? Email enquiries@verivide.com