At the end of 2015, Pantone introduced 210 new colours to their Fashion, Home and Interiors colour system. This was the result after leveraging international trend-spotting intelligence in conjunction with consumer and client colour research.
The research found that there needed to be a focus on significant market needs for colours that were unavailable in the range and the evolving consumer tastes needed to be addressed. The answer? New colours to be introduced.
The addition of the 210 new shades brings the total selection to 2,310 colours and offers designers the most relevant colour palette, specification tools and global colour solutions. All of which can be used throughout the product development process, starting with the inspiration stage right through to realisation.
How do I get my hands on the new colours?
Most Fashion, Home + Interiors products can be updated by purchasing a supplement which contains the new colours presented in the same format.
Below is a list of products where supplements are available that include the new colours:
Important – these products will only be available while stocks last! When they're gone, they're gone! Once the supplement stocks have sold out, to get your hands on the new colours, you will have to buy the latest version of the product and not just the supplement, which will end up costing more.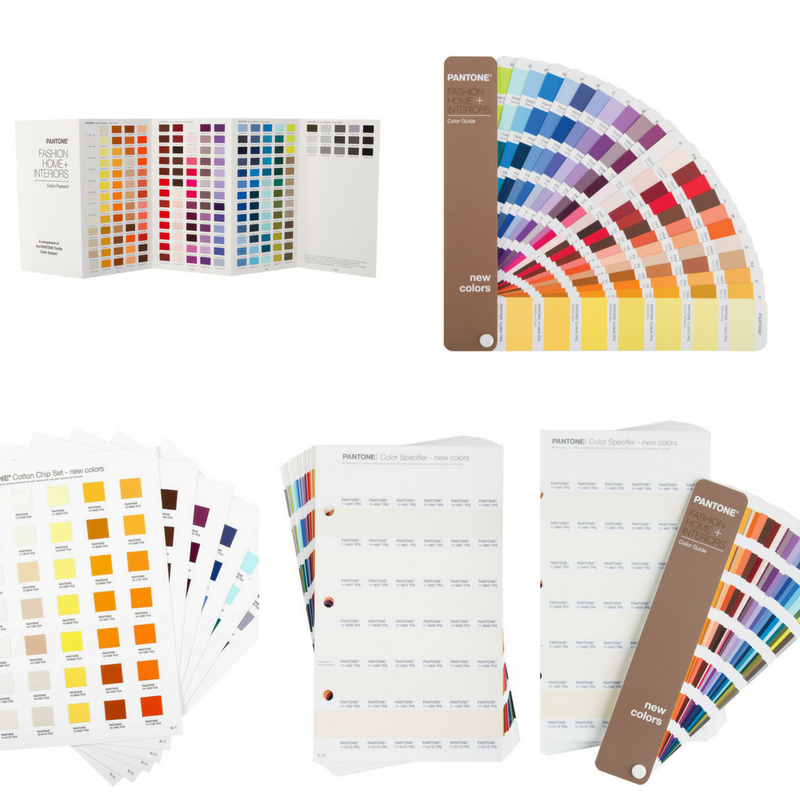 How were colours affected?
The orange family had its range expanded to include hot and radiant tones as well as deeper and more golden orange shades. New intensified blacks were introduced to the range as colours of luxury, such as Black Onyx 19-4003 TCX and Black Beauty 19-3911 TCX.
The blue family introduced more nuanced blues incorporating varying degrees of watery, vibrant aquamarine blues, along with chambray blues. To evoke emotions of calmness, there were new takes on classic navies and ethereal shades. With the rising popularity of pink, Pantone introduced a wide range of pink shades, varying from softer colours such as Love Potion 18-1951 TCX to more vivacious colours such as Pink Peacock 18-2045 TCX.
New reds were introduced that conveyed sultriness and elegance, yellows were enhanced to embrace true and orange yellows, and more pungent yellows were welcomed to the palette to portray an exotic vibe.
Other shades that were announced included earthy browns, natural and synthetic greens, vibrant red-based purples and both warm and cool tones for neutrals and whites.
Executive Director of Pantone, Leatrice Eiseman, commented, "the colors that are influencing design today have evolved to reflect shifting societal views, new technological innovations and a truly global outlook. With the ability to interpret the influence of color on overall consumer psychology, we have enhanced the utility of our Color System to enable the design community to stay on the cutting edge of color selection."
Global Director of Marketing at Pantone, Mitchell Cole, commented, "with the advent of fast fashion, and continued pressure on shortening product manufacturing cycles, Pantone's off-the-shelf color system with immediate, global availability is more relevant and economical than ever before."
Reasons to buy the supplements
They are many reasons why it is a good idea to buy the supplements sooner rather than later:
Clients could end up asking for colours that aren't in your current system. Result? They may go elsewhere!
It is much more cost-effective buying supplements for example the Cotton Swatch Library Supplement costs £439.00 net which is approx £2.00 per colour compared with £10.00 for an individual SMART swatch.
Your current collection will be out of date meaning you are missing out on 210 new colours.
Once the supplement stock sells out the only way to get your hands on the new colours will be to buy the latest version of the product which will cost more.
​What now?
Earlier in the blog we listed all the supplements for products (including a link) that have the 210 new colours.
We have a limited number of these supplements in store, so once we sell out, that's it.
Check out our Pantone shop, where you'll find all of our products. You can also use the search feature on the website to find products.
​If you have any questions, please do not hesitate to get in touch via our contact form.