Pantone Trend Report: London & New York Fashion Week
A palette of colour that fuses our need for grounding and simplicity with our desire for uninhibited self-expression and breaking the boundaries
Published for the fashion industry by the Pantone Colour Institute™, the trend forecasting and colour consultancy, this season's report features the top ten standout colours as well as current takes on five core classics we can expect to see as fashion designers introduce new Spring/Summer collections.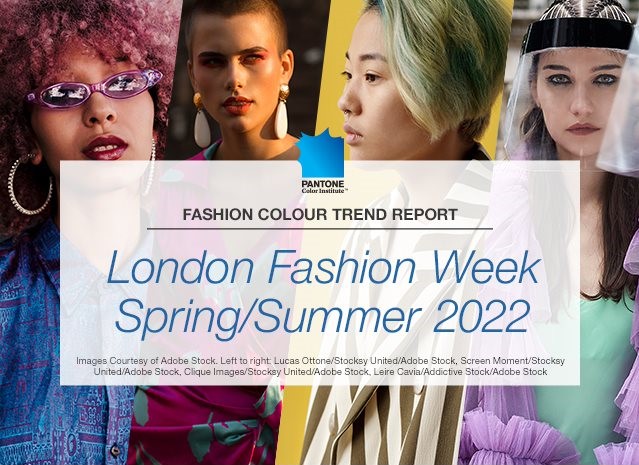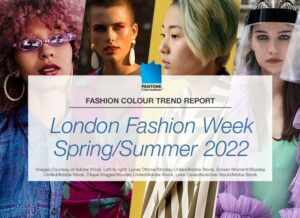 Promoting new sentiments of simplicity and spontaneity, colours for LFW Spring/Summer 2022 fuse our deep connection to nature and need for comfort and familiarity with light-hearted airy pastels and visually engaging brights. Capturing this theme of complement and contrast, these colours inspire playful creativity and unconstrained expression that is full of life.
"Our use of colour is connected to the cultural mood. As we explore a new future, we are looking for opportunities to do something completely different," said Leatrice Eiseman, Executive Director of the Pantone Colour Institute. "Colours that celebrate our desire to break the boundaries satisfy our fervent need for the playful creativity and unconstrained visual expression we are seeking as we enter into this time."
Trend report: Spring/Summer 2022 London Colour Palette:
Blending sentiments of simplicity and spontaneity inspires new forms of personalized expression.
14-5713 Cascade: Connected to cleansing waters, dreamy Cascade cools and refreshes
16-1349 Coral Rose: Vivid Coral Rose is a floral tone whose energizing presence brings a sense of excitement
18-4143 Super Sonic: Vibrant Super Sonic is electric in intensity
12-0825 Popcorn: Bright and cheery Popcorn radiates warmth to all who embrace it
13-2004 Potpourri: Potpourri is a light-hearted and carefree fresh pastel pink
17-1928 Bubblegum: Eye-catching Bubblegum sends a message of playfulness and positivity
18-1160 Sudan Brown: Sudan Brown is a naturally rich earth-baked brown tied to the great outdoors
15-0549 Fragile Sprout: Sharp and acidic Fragile Sprout is visually arresting
14-3612 Orchid Bloom: Orchid Bloom is reminiscent of our heightened love for nature's florals
18-1307 Coffee Quartz: Coffee Quartz, a flavourful brown that touches on both the basic and the glamorous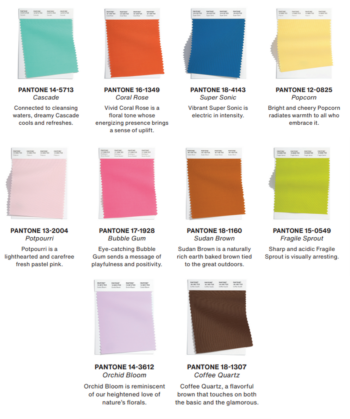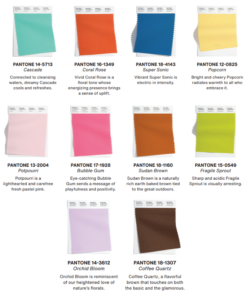 Trend report: Spring/Summer 2022 LFW Core Classics:
Classic, seasonless hues whose versatility express longevity.
11-1001 White Alyssum: Clean and clarifying White Alyssum cuts through the chaos, addressing our desire for easy and effortless simplicity
15-1304 Humus: Tasty Hummus, a pragmatic classic promoting a comforting mood of well-being
16-2616 Fair Green: Fair Green is a calming and restorative restful green
14-4104 Northern Droplet: Northern Droplet is a pale grey that instils feelings of tranquillity
18-4004 Poppy Seed: The silent power of deep grey Poppy Seed contains timeless familiarity




According to Pantone Colour Institute experts, colours for Spring/Summer 2022 New York reflects our aspiration for balance as we move into a different landscape. Colours that evince our need for comfort, clarity and security satisfy our urge to stay with the familiar. At the same time, free-spirited optimism and a feeling of new liberation is unleashed in dynamic, stand-out shades quenching our desire for spontaneity, excitement and joy.
"Colours for Spring/Summer 2022 bring together our competing desires for comforting familiarity and joyful adventure through a range of soothing and timeless colours, along with joyous hues that celebrate playfulness," said Leatrice Eiseman, Executive Director of the Pantone Colour Institute. "As we enter this new landscape where fashion rules no longer apply, hues for Spring/Summer 2022 allow us to mix and marry as we please, encouraging the exploration of new chromatic realities, and opening the door for personalized style and spontaneous colour statements."
Trend report: Spring/Summer 2022 NYFW Colour Palette:
Diverse and distinctive colours come together to create a palette blending comfort and familiarity with unexpected delight.
12-4401 Spun Sugar: Spun Sugar is a sweetened pastel with an airy nature
13-1513 Gossamer Pink: Soft and powdery Gossamer Pink has a light and tender touch
18-2042 Innuendo: High visibility Innuendo sends a tantalizing message
19-4151 Skydiver: Skydiver inspires us to new heights
14-0850 Daffodil: Joyful Daffodil connects us to the spontaneity of a spring garden
16-4118 Glacier Lake: Calming and cooling Glacier Lake conveys serenity and quietude
18-4728 Harbor Blue: Harbor Blue reflects our search for a safe space
18-1019 Coca Mocha: Tasty Coca Mocha warms the spirit
18-3324 Dahlia: Dahlia is a standout purple exuding a dynamic vibe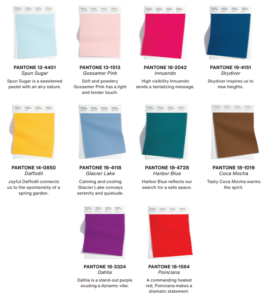 Trend report: Spring/Summer 2022 NYFW Core Classics:
Classic, seasonless hues whose versatility express longevity.
11-0602 Snow White: Snow White is a clean and pure white, expressive of our desire for simplicity and uninterrupted inner peace
13-0003 Perfectly Pale: A subtle sandy beige, Perfectly Pale speaks to the soothing comfort of a warm, inviting beach
16-6216 Basil: Sweet and savoury Basil emanates health and wellness
14-4104 Northern Droplet: Northern Droplet is a pale grey that instils feelings of tranquillity
18-4004 Poppy Seed: The silent power of deep grey Poppy Seed contains timeless