Pantone have recently issued their 50th Anniversary Editions of the popular Graphics products including the Formula Guide Set GP1401 and the Color Bridge Set GP4102.
These 50th Anniversary products can be easily identified by their vibrant metallic covers.
The guide sets are packaged in hard card cases to use for storage and keep the guides in good condition.
Each guide has a unique registration code stamped onto the back cover which entitles the purchaser to one free download of Color Manager software worth £43.00 – available to download on registration.
These and other Pantone products are available to purchase from VeriVide Ltd, we hold stock of a variety of Pantone products which are ready to be despatched immediately. Any non-stock items can be obtained for you from Pantone usually within 10 working days.
Color Bridge Set – GP4102
The Color Bridge Set provides side-by-side comparison of solid colour to closest process colour match, ideal for identifying if the Pantone spot colour chosen will work in digital 4 colour process. Coated and Uncoated guides are included.
The process colour chip is labelled with the optimum CMYK percentages to achieve the colour and the Spot colour is labelled with sRGB and HTML data for multimedia design rather than the spot ink recipe which is available in the Formula Guide.
Special Offer now on for limited period!
For more information or to purchase the Pantone Color Bridge Set  please visit our product page GP4102
Formula Guide Set – GP1401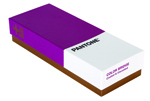 The Formula Guide Set includes the complete collection of 1677 Graphics colours printed on both Coated and Uncoated paper.
The colour chips are labelled with both the Pantone PMS number (followed by C or U to denote the paper type) and also the Pantone ink formulas for printing the colour on the same type of paper.
The Pantone Basic colours and Mixing Bases are also represented in the guides for reference.
For more information or to purchase the Pantone Formula Guide Set  please visit our product page GP1401 
Color Manager Software
All Pantone books include a code for a free download of Color Manager software worth £43.00 upon registration of the product.
For further information on VeriVide's range of Pantone Colour Products please talk to Georgina Boulter at VeriVide +44 (0)116 284 7790Extension 201 or email pantone@verivide.com
All trademarks are the property of their respective owners.