The Pantone 2013 Colour of the Year is a vivid, verdant green…..
Pantone 17- 5641 TCX EMERALD
Lively. Radiant. Lush
Most often associated with brilliant, precious gemstones, the perception of Emerald is sophisticated and luxurious.
Since ancient times, this wonderfully radiant hue has been the colour of beauty and new life in many cultures and religions.
It's also the colour of growth, renewal and prosperity – no other colour conveys regeneration more than green.
For centuries, many countries have chosen green to represent healing and unity.
EMERALD FOR FASHION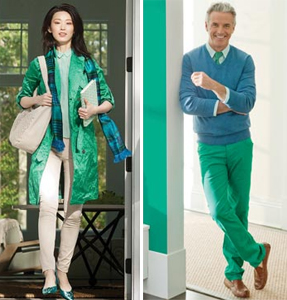 The prevalence of green has been steadily rising for several seasons, especially in the fashion and couture markets, and even on the red carpet.
Appropriate for every occasion, Emerald's classic elegance makes for striking and irresistible women's formal and every day wear as well as accessories. Emerald also makes a strong statement in men's sportswear, knitwear and ties.
Fashion designers featured in the PANTONE Fashion Color Report Spring 2013, including Tracy Reese, Nanette Lepore, Barbara Tfank, NAHM and Marimekko, are incorporating Emerald into their spring collections.
Balanced yet sophisticated, Emerald enlivens all colours in the spectrum and will continue to make a statement beyond spring and summer into autumn and winter.
EMERALD FOR BEAUTY
Equally harmonious on the cosmetic colour wheel, Emerald dramatizes all eye colours as it beautifully enhances green eyes, is compatible to blue eyes, emphasizes the green undertone in hazel eyes and intensifies brown eyes to make them appear deeper.
Emerald is also a perfect complement to peaches, pinks, roses, ruby reds and aubergines – offering a variety of lipstick and blush options.
For those who want to sparkle and stand out, 17- 5641 TCX Emerald is the perfect punctuation point in nail colour because of its complementary nature.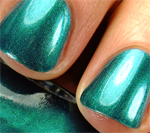 EMERALD FOR INTERIORS
Enhance your sense of well-being at home by rejuvenating the interior with Emerald paint, accents and accessories.
This jewel-like hue will create a luxurious feel in an entryway, powder room, dining room or study, and bring life to a living room as an accent wall.
Add a splash of colour to the kitchen and dining room areas with Emerald dinnerware, stemware and appliances. Enliven your home with bedding, pillows, bath towels and accessories in Emerald.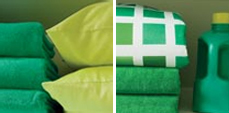 The Pantone Colour of the Year 2012 Emerald 17-5641 is one of the 2,121 shades which we stock, here at VeriVide, as exclusive UK stockists of Pantone SMART swatches.
17- 5641 TCX Emerald can also be cross-referenced to all other PANTONE Libraries including PANTONE PLUS and PANTONE Goe™ for graphic design.
Past Pantone Colour of the Years:
For further information on VeriVide's range of Pantone Colour Products please talk to Georgina Boulter at VeriVide +44 (0)116 284 7790Extension 201 or email pantone@verivide.com
All trademarks are the property of their respective owners.