Pantone have recently relaunched the Fashion & Home range of products to make them even more desirable and easier to use.
They have stylish metallic coloured binders and cases that are beautifully presented and can be proudly displayed on your desk.
These new Pantone Fashion & Home products are all available to purchase from VeriVide Ltd, who hold stocks in their office near Leicester for immediate despatch.
Features of the new products include greater portability, smaller folders making it easier for you to handle and a new budget product with removable swatches for creative flexibility.
The products contain 2,100 technically achievable colours for inspiration, selection and accurate colour communication for all fashion, textile, soft goods and interior design.
New – Cotton Chip Set FFC207
Designed with designers in mind, the new Pantone Cotton Chip Set offers a convenient desktop reference with added flexibility even if your space or budget is limited.

The Pantone Cotton Chip Set features 1″ x 1″ 100% cotton chips, mounted on non-optically brightened paper which can be removed using the handy chip removal tool included inside the two sapphire coloured binders. Chips are chromatically arranged for intuitive colour selection.
For more information or to purchase the Pantone Cotton Chip Set  please visit our product page FFC207
Cotton Swatch Case – FFC206
The complete collection of 2,100 colours is organised in a set of two stylish cases in a rich aubergine colour. Take them with you between the Design Studio and Production site or on a client visit if you need your exacting clients to pick out the shades they require.
Individual removable 1″ x 2″ swatches are catalogued in groups of ten in a chromatic arrangement within labelled envelopes – extra envelopes are provided to create your own palettes and presentations.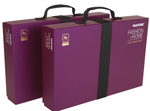 For more information or to purchase the Pantone Cotton Swatch Case please visit our product page FFC206
Cotton Swatch Library – FFC203
Pantone 's new, smartly designed Cotton Swatch Library inspires you to easily browse through hundreds of colours.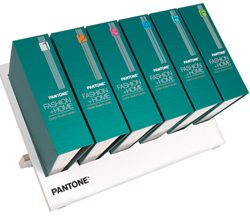 This is the indispensable, top of the range colour tool which is composed of six durable volumes displayed in a modern stand to protect your investment while enhancing your design studio.
The new die-cut swatch holder keeps more of the colour visible, while protecting against wrinkling and the swatches measure 5cm x 5cm and fit into their own numbered pocket.
For more information or to purchase the Pantone Cotton Swatch Case please visit our product page FFC203.
New! Cotton Planner – FFC205
Pantone's bestseller just got better! The new Cotton Planner now has the colours chromatically arranged for quick colour decisions and easy colour look up.
The single, convenient desktop volume is perfect for small teams and freelancers and with a value price and a handy size it is ideal for entry-level designers or as a quick reference companion to the larger format products.
Although only one volume it does contain samples of all 2,100 colours in the Fashion & Home cotton range, colour area is 2 cm x 2cm and the swatches are glued to the page.
For more information or to purchase the Pantone Cotton Planner please visit our product page FFC205.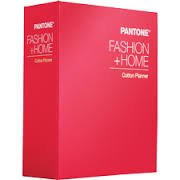 New! Cotton Passport – FFC204
The newly redesigned Cotton Passport now features the complete Fashion + Home Color System of all 2,100 colours– including all 175 new colours added in 2011 – in a new chromatic arrangement.
A convenient accordion-style format lets you see the entire PANTONE Fashion+Home Color library at a glance. The colour chip size is 1.5cm x 1cm and the swatches are glued to the page.
Perfect for designers on the move the Cotton Passport can be taken to client consultations, vendor meetings, fashion shows, trade events –even trendspotting and shopping. For a home office, smaller studio or satellite workspace, Cotton Passport makes a handy compact companion to our larger format PANTONE Color products.
For more information or to purchase the Pantone Cotton Passport please visit our product page FFC204.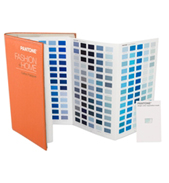 Smart Swatches
VeriVide are also exclusive UK stockists of Pantone SMART swatches, holding all 2,100 cotton swatches and 21 Nylon swatches in stock ready for immediate despatch.
Cotton (TCX) swatches are currently £7.79 each and Nylon (TN) swatches cost £10.50 each. Prices exclude delivery & VAT. Smart swatches may be ordered by emailing the list of colours required to pantone@verivide.com
Color Manager Software
All Pantone Fashion & Home books include a code for a free download of Color Manager software worth £43.00 upon registration of the product.
For further information on VeriVide's range of Pantone Colour Products please talk to Georgina Boulter at VeriVide +44 (0)116 284 7790 Extension 201 or email pantone@verivide.com
All trademarks are the property of their respective owners.