VeriVide Ltd is a member of the Made in Britain campaign and we use their flag logo on our products and on our website and documents. Since the company was formed in 1964 VeriVide's products have been designed and manufactured in Britain at locations within Leicestershire.
All VeriVide equipment is manufactured or assembled in our workshop in Enderby and where possible we source the materials from other UK companies preferably local to us. The woodwork and metalwork used to build the cabinets and benches is sourced from companies within 10 miles of VeriVide. Unfortunately certain components cannot be sourced within the UK but we do have ongoing partnerships with selected European manufacturers.
The Made in Britain marque supports & promotes British manufacturing enabling customers at home and abroad to identify British-made products.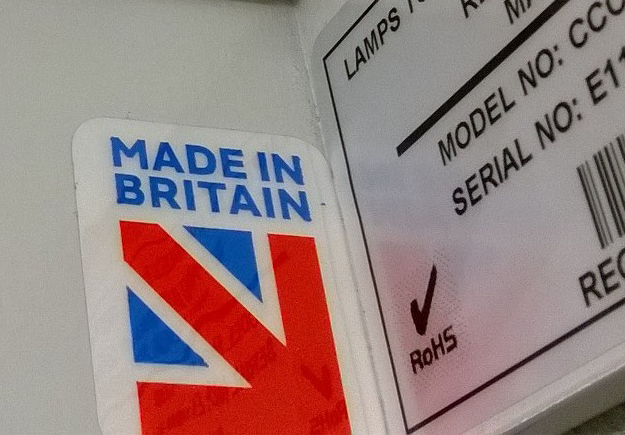 Member accreditation
All companies that apply to use the Made in Britain marque may be asked to submit written evidence that they manufacture their products in the UK.  By UK, we mean "United Kingdom of Great Britain and Northern Ireland".
The Made in Britain campaign adheres to advice on country of origin labelling included in the Trade Descriptions Act 1968 which says that the majority of production/manufacturing process must have taken place in the UK. Country of origin is therefore the country in which a product last underwent a treatment or process resulting in a substantial change.
Why the need for the marque?
There has been a substantial body of research showing that country of origin affects consumer evaluation of products, and this in turn affects purchasing decisions. Consumers treat 'Made in …' information as a signifier of quality and are more likely to select and pay more for a product made in a desirable location.
Research has shown that consumers want to buy British but are confused about the origin of products (particularly those sold in stores). In January 2011 cooker manufacturer Stoves
commissioned independent market research among 1,000 British adults. The results showed that half (48%) of those surveyed admitted confusion about which brands could still claim to be made in Britain, with international takeovers and moves towards Far Eastern production all contributing to an increasingly puzzled landscape. Two-thirds (67%) wanted an official seal of approval to show products made in Britain, while half (52%) thought British brands should bring manufacturing back to the UK. More than a third (37%) of those questioned stated they would buy British if it was easier to identify authentic made in Britain products.
As a separate poll by Which? in July 2011 asking "Would a Made in Britain logo help you buy British?" concurred with this result with 84% saying 'Yes it would' the Made in Britain campaign was born.

The Made in Britain logo is a recognisable badge for the UK consumer and also an identifier for exported products with many overseas buyers confident to purchase a product "Made in Britain".
Origin marking is very important for international trade – most countries and trading blocs have tariffs or customs duties which apply according to the source of the product. VeriVide are proud to declare that our products are "Made in Britain" and this marque helps us with our overseas marketing.
VeriVide products are currently available globally either directly from ourselves or through selected overseas partners, for more information on availability in a particular location please contact us.

Who's behind the initiative?
The Made in Britain marque is managed by a committee made up of MDs and CEOs of UK manufacturing companies as well as other supporters of British manufacturing. Together they have formed a not-for-profit company called Made in Great Britain Campaign Ltd.
The marque was designed by award winning British design agency The Partners.
It has already attracted the support of over 600 manufacturers across the UK who have signed up to use the logo and it has also received backing from a number of prominent MPs.
The main objectives of the Made in Britain campaign for 2015 are
To sign up more than 1,000 British manufacturers to use our award-winning marque.
Promote the campaign in the media and in retail spaces to showcase our members.
Support the sales & Marketing work of our members responding directly to their needs.
Follow the link if you would like to apply to use the Made in Britain logo