RAL launches a new product from the CLASSIC range – K6 Box
The RAL CLASSIC colour collection, considered to be the benchmark for global colour communication, contains 216 colours in a unique collection of relevance to all industries.
Following customer consultation, RAL identified a need for a product which stood between the small, portable, K1, K7 and K5 fan decks and the Primary standard cards. A cost effective, larger colour area to facilitate flexible design and stimulate creativity was required.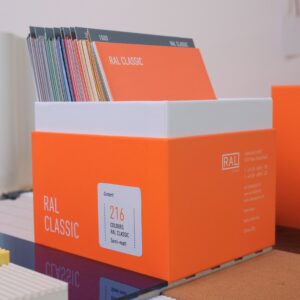 The result is a new design tool, the RAL K6 Box, this useful box contains all 216 RAL CLASSIC COLOURS as individual sheets in DIN A6 format. The box protects the individual sheets from light and dirt, extending life and enjoyment of the colour samples.
The RAL K6 Box facilitates professional colour design, stimulates creative processes and is perfect for creating collages, mood boards and drafts. Ideal for use by Architecture or Interior Design studios and by Industrial Designers to determine the right colour tone for your project.
Work Smartly!
The RAL K6 box enables development of colour combinations and precise colour definition.
The individual colour sheets are produced by a coating process to give a semi matt finish providing a realistic impression of the colour. The A6 size enables quicker colour decisions by your client which may be more difficult using a small fan deck. Use the colour samples by displaying on the wall to evaluate under different lighting conditions or wrap prototypes.
Watch the introduction to RAL K6 Box on YouTube now!
Work Creatively!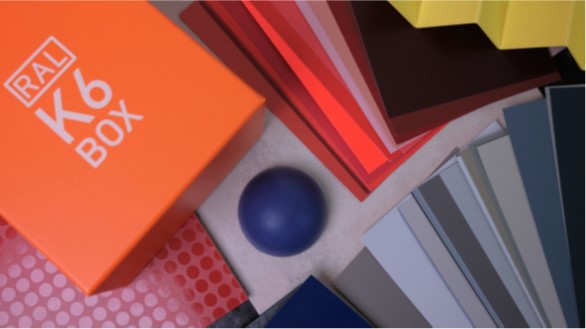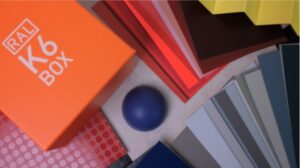 The RAL K6 Box can be refilled after each design project by purchase of the individual A6 sheets.
Creative processes with RAL Classic colours are now possible. Use A6 sheets by cutting up, sticking to mood boards or sending them to clients or suppliers. The A6 sheets are reverse printed with the colour name and reference number delivering accurate colour communication.
If you need even larger samples of RAL Classic colours then A4 sheets are available. Find them in the RAL K4 ring binder which has the complete collection or as individual A4 sheets.
Get creative now!
If you have any questions for our colour standard experts, please contact us on ral@verivide.com or 0116 284 7790.