Colour assessment innovation
Come and talk to us Hall E3, Stand H44
For any textile business pursuing accurate colour assessment, a visit to the VeriVide stand at ITMA Asia is a must.
VeriVide is a world leader in the design, development and manufacture of ligh
ting and imaging equipment for both visual and digital assessment of colour and appearance.
Best-in-class VeriVide products on working display at ITMA include:
DigiEye digital colour assessment systems
VeriVide is a pioneer in digital colour assessment and its DigiEye system is increasingly specified by major apparel retailers. DigiEye uses a calibrated digital camera for image capture and colour measurement to improve supply chain efficiency. It is simple to use and can be programmed to deliver, process and store exactly the data needed by the user.
DigiEye offers major advantages of speed, accuracy and repeatability, and is a step change from traditional – and largely subjective – methods of colour assessment. Most importantly, it 'sees' colour the same way the hum
an eye sees it – in full context, with the ability to focus only on what matters.
DigiEye systems can use normal file transfer methods to send data, and can communicate with other DigiEye systems anywhere in the world. This can considerably speed up quality assurance within the supply chain and reduce the scope for discrepancy.
CAC 60-5 light cabinet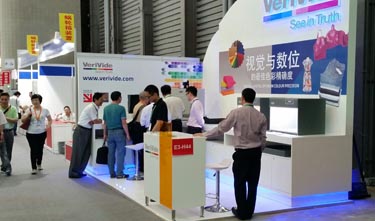 The International Standard for Visual Assessment.
5 illuminants: D65 Daylight, Cool White, 840P15, Tungsten Filament and UV.
Approved by Marks & Spencer and other major retailers.
DCAC 60-5 light cabinet
5 illuminants, dimmable: D65 Daylight, Cool White, Marks & Spencer Standard 840P15, UV, Illuminant A and Horizon.
Specified for the US market and approved by major retailers.
CAC-60-CU light cabinets
This new, patented version of VeriVide's CAC 60 cabinet – the International Standard for Visual Assessment – can condition textile samples prior to visual assessment to standard D65 illumination. Ambient air circulating through the cabinet brings the sample to a specified temperature and humidity, thus removing the need for a separate conditioning unit.
Already approved by Marks & Spencer and other major retailers, the CAC-60-CU unit offers cost-effective, environmentally friendly, low maintenance conditioning and is available in 600mm and 1200mm widths.
Pilling Assessment Viewers (PAV)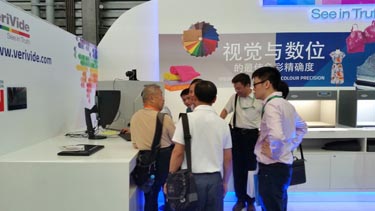 The PAV is a versatile unit that accepts the modified Martindale specimen head, enabling fabric to be assessed during testing while still mounted on the head.
It conforms to EN ISO 12945 Parts 1-3 and to all relevant BS, SN, ASTM and retailer pilling test methods. While the PAV is normally sold as a standard unit, VeriVide can also make them to customer specifications.
VeriVide – the industry innovator
VeriVide has long been known throughout the textile and apparel industries as the go-to specialist for any requirement in the field of colour assessment technology. Whether the need is for a class-leading product or a bespoke solution to a specific production or supply chain problem, VeriVide can always be relied upon to deliver.
'It's fair to say we've been the source of many significant innovations in colour assessment since 1964,' says VeriVide director Paul Dakin. 'But our mission has always stayed the same. We enable textile and apparel manufacturers to ensure that colour accuracy and consistency is one area of quality assurance they don't have to worry about.'
The current focus of VeriVide innovation is on faster and simpler digital assessment.
For example, new DigiEye developments for 2014 include more efficient ways to:
Measure blue wool samples for light fastness
Define a workflow to automate colour assessment with one mouse click
Accurately measure optic white and fluorescent colours
Quickly pinpoint and work with irregular small areas
'As a company we've always believed that we're as much about communication as technology,' says Paul Dakin. 'Giving great service starts with talking to people. And as so many of our products are innovations, we spend a lot of time explaining how they work and how valuable they are as an investment in better quality. Major retailers specify VeriVide products for colour assessment, but it isn't just about them. We're here at ITMA to show designers and manufacturers that they're the ones who stand to benefit most from using our products and expertise.'
Another key ingredient of the VeriVide success story is its strategy of staying relatively small and highly technology focused. As a result, VeriVide has ample resources to take on major projects with global roll-outs, but still cares about smaller companies with more modest or more specialised needs.
As a continuous innovator, VeriVide is also used to working with universities and research organisations. At ITMA Asia, VeriVide will extend an open invitation to literally anyone who wants to talk about the role of colour assessment in the textile industry.
But that is after all second nature to a company founded on researching a global problem and coming up with a world-beating solution. Much may have changed since its early days, but VeriVide is still at heart a pioneering technology company looking constantly for ways to improve quality, consistency and conformity in the textile supply chain.