VeriVide have been providing technical support to the AATCC* as part of the AATCC committee RA61 Appearance Retention Test Methods and recently donated a viewing board with LED illumination for an AATCC study into replacement lighting conditions for textile testing methods.
*American Association of Textile Chemists and Colorists
The AATCC test methods currently specify traditional light sources – a fluorescent tube and a 500-watt incandescent flood lamp but, due to regulation changes, these are increasingly difficult to source.
The goal of the project is to approve light emitting diode (LED) lamps that give the same test results as traditional light sources.
The AATCC have published a press release about the study and Adam Dakin, Sales Manager for VeriVide, contributed.
Adam spoke about why VeriVide works with AATCC committees. "At VeriVide we understand the importance of accurate and repeatable viewing conditions for visual and digital assessment. For many years we have supported the AATCC with specialised visual assessment equipment to assist with their textile test methods. So, we were pleased to be asked to provide our technical support and to develop an up-to-date futureproof solution for the appearance retention test methods."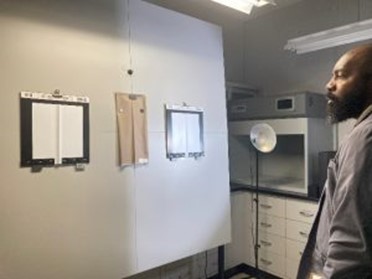 The donated Viewing Board was installed alongside the traditional Viewing board (also manufactured by VeriVide) to enable direct comparisons of test samples.
The AATCC committee will statistically analyse the data from the study and use it to make recommendations for additional studies and test method revisions. Labs that need new or replacement Viewing boards and lamps will soon have easier, less expensive, and more environmentally friendly options for evaluating fabric smoothness, seam smoothness, crease retention, product appearance, and stain release.
With our extensive knowledge in lighting and technical understanding of LEDS, VeriVide have also been asked to join the AATCC committee RA36 Color Evaluation Test Methods, who are also looking at LEDS. The committee is exploring ways to help retailers choose standard illuminants that represent what consumers see in their stores.
The VeriVide website has more information about Textile Testing Equipment or contact Adam on sales@verivide.com
The AATCC Press Release on LED Appearance is available if you wish to read more.