Amazing news! The Pantone report about colour trends and forecasting is NOW AVAILABLE to rock your design with fresh colour ideas and the most important trends for spring/ summer 2020.
The Pantone Color Institute's fashion Colour Trend Report Spring/ Summer 2020 was announced on 9th September and it is the absolute guide to next season, providing you with an overview of the most popular colours shown at London Fashion Week.
What attitude will your design have?
Determined, confident and invigorating? Or harmonious, comfortable, warm and sweet?
Whatever attitude you want to put in your design, you can achieve it with the new colour trends!
The new Pantone's colour palette for Spring/Summer 2020 will enable you to create a bold, spontaneous and creative attitude to your design. Pantone's main goal is to preserve the "heritage and tradition" enhancing it with "colourful youthful" notes.
It is time to boost your design with vivid, warm and multi-coloured combinations that will create an optimistic, energetic but also familiar approach to your design ideas.
The new colours that will be worn on Spring/Summer 2020!
"Spring/Summer 2020 is a story of colourful expression, as we see bold hues – each strong enough to stand on their own – brashly coming together to create more provocative colour statements," said Leatrice Eiseman, Executive Director of the Pantone Color Institute. "Strong and vibrant, this season's colour palette displays our determined desire for positivity and uplift."
Do you adore the dynamic fiery red, the luminous orange, the strong fuchsia or the classic blue? We love them all!  These colours express the desire for vibrant, confident, refreshing spring and summer clothes, swimwear or accessories.
However, Pantone doesn't forget the mysterious attractiveness of rich green, the easy-to-wear turquoise and the blossom pink which give harmony, comfort and warm attitude to any kind of design.
Have a look at the Spring/ Summer 2020 colour palette and we hope you will be as excited as we are!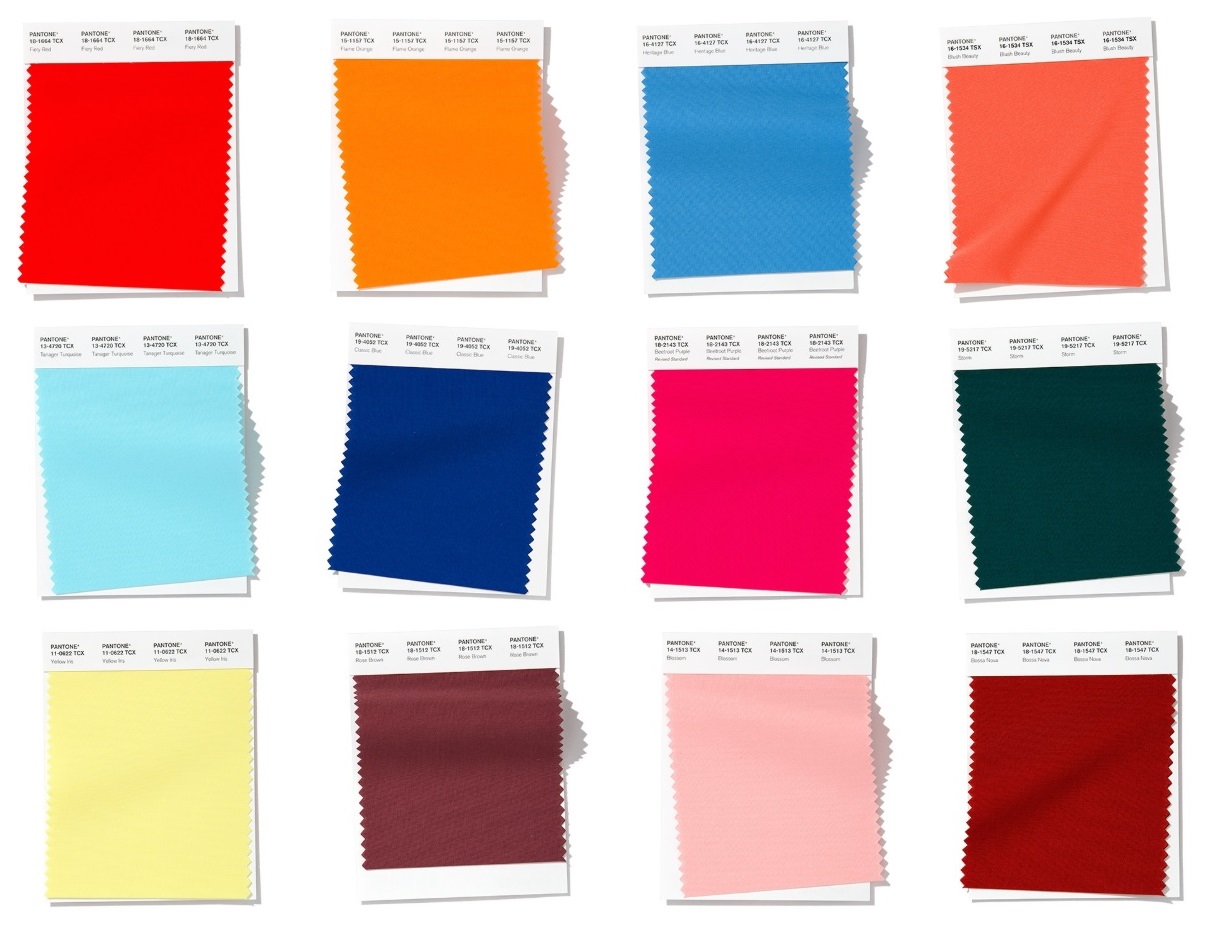 Don't neglect also the Spring/Summer 2020 Classics
The vigorous and vibrant colours of Spring/Summer 2020 need also the pretty and delicate attitude of classic colours.  The four core hues represent the classic palette for the upcoming season. All you need to complete your design ideas is to add the following colours:

We noticed that the London's colour palette for Spring/Summer 2020 is quite different from New York's fashion. London's colour trend represent a more vibrant, provocative and unconventional approach while New York's fashion colour trend presents more subtle colours along with some energizing and optimistic pairings providing a youthful update. According to a former writer and stylist Laurel Pantin, London fashion experiments with innovative and unconventional designs, exemplifying the fact that the London colour palettes are differentiated than NY fashion.
Now the only step that has left, if you have already started to visualise your future ideas, is to CLICK the colours' links you want and scroll down. The desired swatch will be waiting for you to add it to your basket.
Of course, if you have any questions for us do not hesitate to get in touch!