COMPLEMENT YOUR COLOR PALETTE WITH 203 UNIQUE COLORS ON POLYESTER: An expandable portfolio of unique polyester colors for apparel, textile and soft home design
SKU: FFS200
Today's fashion designers know that polyester is often the perfect complement to cotton when creating fresh athleisure and activewear garments. Polyester has greater wicking properties, keeps its shape better, and holds more saturated colors than many other fabrics. Plus, with more and more garments incorporating polyester and polyester blends, it's essential that your color toolkit keeps up with that demand. The Pantone Polyester Swatch Book features 203 on-trend, forecast-driven colors to spark creativity for designers and colorists working in apparel, textiles, and soft home goods. Offering brighter colors than cotton can achieve, it is considered an additional, complementary resource to our Cotton Swatch Libraries, essential for anyone working with polyester and polyester hybrids.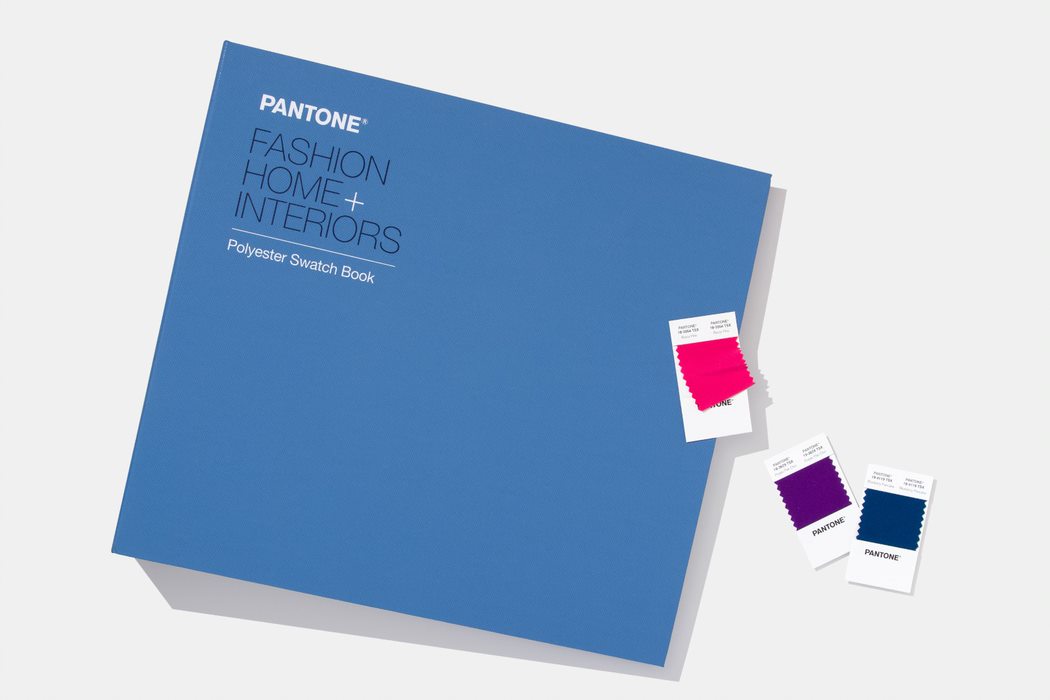 The Polyester Swatch Book has an easy-to-use binder format, pages feature 5 cm x 5 cm mini-swatches, secured, double layered, and affixed on unbacked 100% polyester fabric. Cascading pockets allow for easy visibility of 5 swatch cards per row and a full 35 colors per page, all in a handsome, lightweight binder. Swatch cards stay secure on the page until removed, with printed names on the pockets for easy identification and return.
If you design for apparel, textiles, or soft home goods, the Polyester Swatch Book gives you the extra colors you want and edge you need! 
Receive 20% off Our Polyester Swatch Book with the purchase of any of our cotton books until 30th July 2021
FEATURES
• Cascading pockets provide visibility of 5 swatch cards per row and 35 colors per page
• Swatch cards stay affixed to pages for easy transportation from design room to desk and beyond
• Swatch card names, printed on page pockets, allow for easy identification and return of swatch cards once removed
• Removable swatches facilitate seamless color selection, palette development and production coordination
• 'Mini-swatch' format helps secure loose sides of fabrics, so they stay better protected from wrinkling and folding
• Material: 100% polyester
COLORS
• Includes 203 trend-driven, neutral, bright, and pastel colors, dyed on 100% polyester fabric
• Produced on double-layered, unbacked fabric, on non-optically brightened paper cards for truest color representation
• Polyester colors are complementary to existing Pantone Cotton color palettes with no overlap, allowing designers to tell expanded, balanced color stories with multiple fabrics
• All Pantone Polyester Colors are formulated for achievability, repeatability, and fastness
• Colors are arranged in chromatic order with numbers on pages and a printed index diagram on the inside cover. Each color refers to a corresponding Polyester Swatch Card with the color's spectral data, the standard for color accuracy
APPLICATIONS
• Individually labeled 5 cm x 5 cm mini-swatches are perfect for palette development, mood boards, presentations, and internal color communication
•  Ideal for athleisure, swimwear, hosiery, sleepwear, footwear, juvenile, outdoor sports, soft goods, and kidswear products
Check out our full range of Pantone products here.