For 2021, Pantone has paired up PANTONE 17-5104 Ultimate Gray and PANTONE 13-0647 Illuminating for their Colors of the Year.
Image Source: Pantone, 2020
Moving on from the reliable and thought-provoking Classic Blue 19-4052 of 2020's Color of the Year, the combination of 2021's colours look to embody energy and hope. While the cheery yellow of Illuminating offers warmth and spirit in times of uncertainty, Ultimate Gray represents strength and reliability. Transitioning out of a year of change and lockdown, Pantone's 2021 colours epitomise the resilience and positivity sought in the new year.
Illuminating and Ultimate Gray have been described by Pantone (2020) as a marriage of strength and optimism, in which either colour can take precedence within the apparel, beauty, home, furnishings, product design and packaging.
"The selection of two independent colors highlight how different elements come together to express a message of strength and hopefulness that is both enduring and uplifting, conveying the idea that it's not about one color or one person, it's about more than one. The union of an enduring Ultimate Gray with the vibrant yellow Illuminating expresses a message of positivity supported by fortitude… Practical and rock-solid but at the same time warming and optimistic, this is a color combination that gives us resilience and hope. We need to feel encouraged and uplifted, this is essential to the human spirit." – Leatrice Eiseman, Executive Director of the Pantone Color Institute
The coronavirus pandemic has given many of us a new perspective on life. During a time of collective vulnerability and upheaval, we have faced challenges and uncertainty. Retreating to our homes for refuge and finding a sense of purpose to escape from the chaos has been central to our wellbeing. It is human nature to gravitate towards safety and security in times of crisis.
Illuminating and Ultimate Gray impart a sense of comfort, stability and resilience as we face the unknown and enter into a new year. These colours invite us to look beyond the stresses, fears and uncertainties of life and find strength and positivity.
Two choices for Pantone's Color of the Year 2021
The selection process for Pantone's Colour of the Year is not a simple one: it requires extensive trend analysis and investigation of the way the world is being influenced by colour. Taking inspiration from all over the globe, from films and art to fashion and travel, Pantone has been identifying key colours since 2000.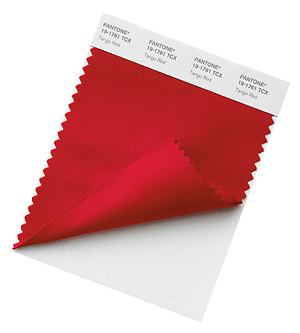 Image Source: Pantone, 2020
2021 brings about only the second time that more than one colour has been chosen as Pantone's Color of the Year, following the selection of PANTONE 15-3919 Serenity and PANTONE 13-1520 Rose Quartz in 2016.
Why have Pantone chosen Illuminating and Ultimate Gray?
During the colour selection process, Pantone must identify the colours that are impacting across all areas of design from fashion to packaging to identify the colour that represents the culture of the year. The colour chosen reflects the events taking place at that moment.
Emotion plays a big role in the selection process. Pantone has described 2021's colours as conjoining deeper feelings of thoughtfulness with the optimistic promise of a sunshine-filled day (Pantone, 2020).
"The Pantone Color of the Year reflects what is taking place in our global culture, expressing what people are looking for that color can hope to answer… As society continues to recognize color as a critical form of communication, and a way to symbolize thoughts and ideas, many designers and brands are embracing the language of color to engage and connect." Laurie Pressman, Vice President of the Pantone Color Institute. "
How will Illuminating and Ultimate Gray be used in 2021?
Despite 2021 having two colours of the year, Pantone points out that these do not need to be used in equal proportions. Using each colour in varying amounts allows them to be easily adapted for different purposes and to cause different emotions.
In fashion & apparel
In the world of fashion, Ultimate Gray will provide a steady base for almost any apparel colour palette. Adding a splash of Illuminating yellow will bring joy to clothing from tops and dresses to scarves and handbags.
In reverse, an Illuminating yellow base interspersed with Ultimate Gray "conveys a message of sunshine and strength" (Pantone, 2020).
Pantone suggests that the contrast of the two colours makes them ideal for activewear and outwear alike.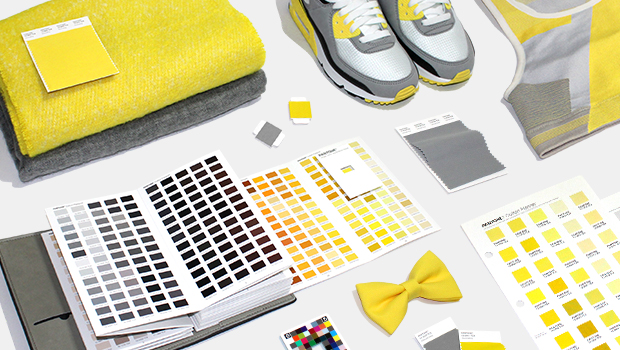 Image Source: Pantone, 2020
In home décor
The juxtaposing colours of Pantone's Colors of the Year 2021 lend perfectly to the creation of warmth and homeliness. Bright tones of Illuminating yellow can be used to bring the sunshine indoors and create a feeling of positivity throughout the home.
Ultimate Gray offers the perfect balance to this cheeriness by providing feelings of dependency and stability.
"Painting a front door in bright yellow Illuminating conveys a warm and welcoming message when supported by solid and dependable Ultimate Gray in the exterior finishes." (Pantone, 2020)
No need to leave these two colours at home either as they work perfectly in an office setting too. As a combination, Ultimate Gray gives the foundation for the brighter Illuminating, creating a welcoming but professional office space. This colour combination will be ideal for office décor, evoking a sense of reliability and friendliness to the working environment. Creating a welcoming office will be essential after the year of upheaval for businesses.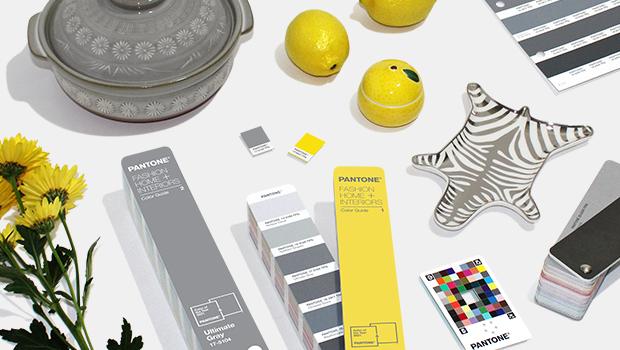 Image Source: Pantone, 2020
In design and packaging
The contrast of warm Illuminating against the solid Ultimate Gray guarantees that any packaging using this marriage of colours will stand out. The combination of these two colours creates a more visible and reflective appearance of the packages and multi-media design, conveying noticeably the message no matter where it appears.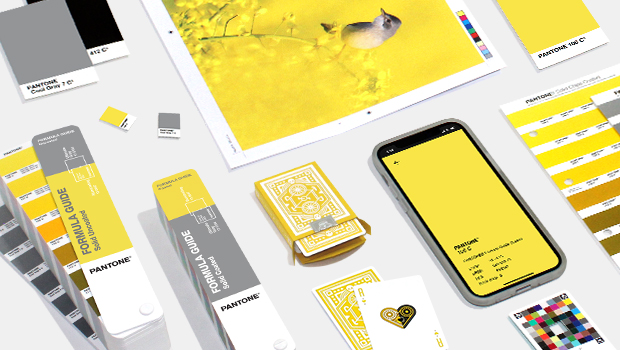 Image Source: Pantone, 2020
Explore Pantone Illuminating and Ultimate Gray even further
Now you have a taste of Pantone's Color of the Year 2021, let's look at some other ways you can experience these colours.
We want you to experience it for yourself, and there are various ways for you to get your hands on the Colour of the Year 2021:
We're excited to see all the different ways that Illuminating and Ultimate Gray are going to manifest in the new year. Following a year of uncertainty, we embrace the intertwining of two perfectly paired colours that evoke a sense of balance and harmony that we hope to see in 2021.
There's so much more for you to browse at our online shop. If you have any questions, please contact us via email at pantone@verivide.com or telephone on +44 (0)116 284 7790.