Food color is an important factor influencing consumers; their verdict is universal: preferring colors to be consistent, accurate, and reliable. If your customers don't like the color of your products, it is likely to be financially damaging your business.
So why gamble on color when you can choose the precise, consistent and repeatable approach of DigiEye?
DigiEye offers you results and data which are accurate, objective and quantifiable, supported with product imagery which can easy be communicated, throughout your global supply-chain.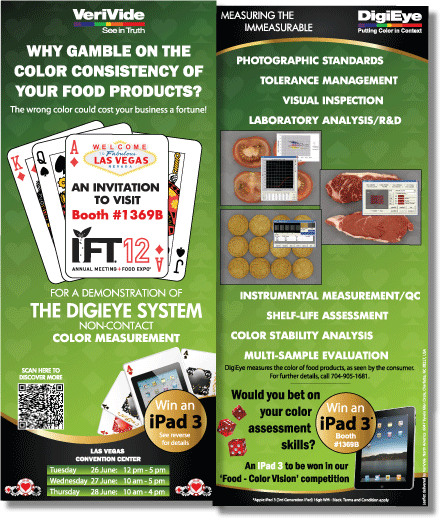 VeriVide will be at IFT12 (Institute of Food Technologists) in Vegas on Booth 1369B from June 26th through to June 28th demonstrating DigiEye – the non-contact, non-destructive, digital colour measurement system.
DigiEye has many proven applications for an exceptionally extensive range of foods and ingredients, these include:
Quality Control
Photographic Standards
Tolerance Management
Visual Inspection
Product Research & Development
Laboratory Analysis
Instrumental Measurement
Multi-Sample Evaluation
Color Stability Analysis
Post-Harvest Storage & Shelf Life Assessment Trials.
Mark Graham, our North American representative will be on our Booth, together with Rowan Fisher and Russell Thorpe from our Sales and Application team in the UK.
So why not come along to Booth 1369B for a demonstration of the DigiEye System and talk to Mark, Rowan and Russell to hear how DigiEye is likely to have applications for your own food products and to hear how we can give your own business that all important competitive edge.
How Good is your Color Vision?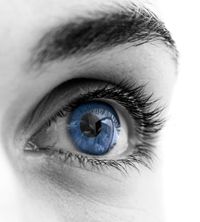 And if seeing a demonstration of the DigiEye System isn't reason enough to come and see us … somebody visiting our booth at IFT12 will win a new iPad 3.
We have a competition to test your Color Vision – all using wonderfully diverse and colorfully vibrant food products.
So if you think you can place seven Bananas in order of ripeness based on their color – you may win an iPad 3.
If you are confident you can remember the color of a vibrant Red Pepper Purée – an iPad 3 could be yours.
If you believe your color vision skills can enable you arrange bread with differing bake levels in the correct color order – you might be on your way to owning an iPad 3.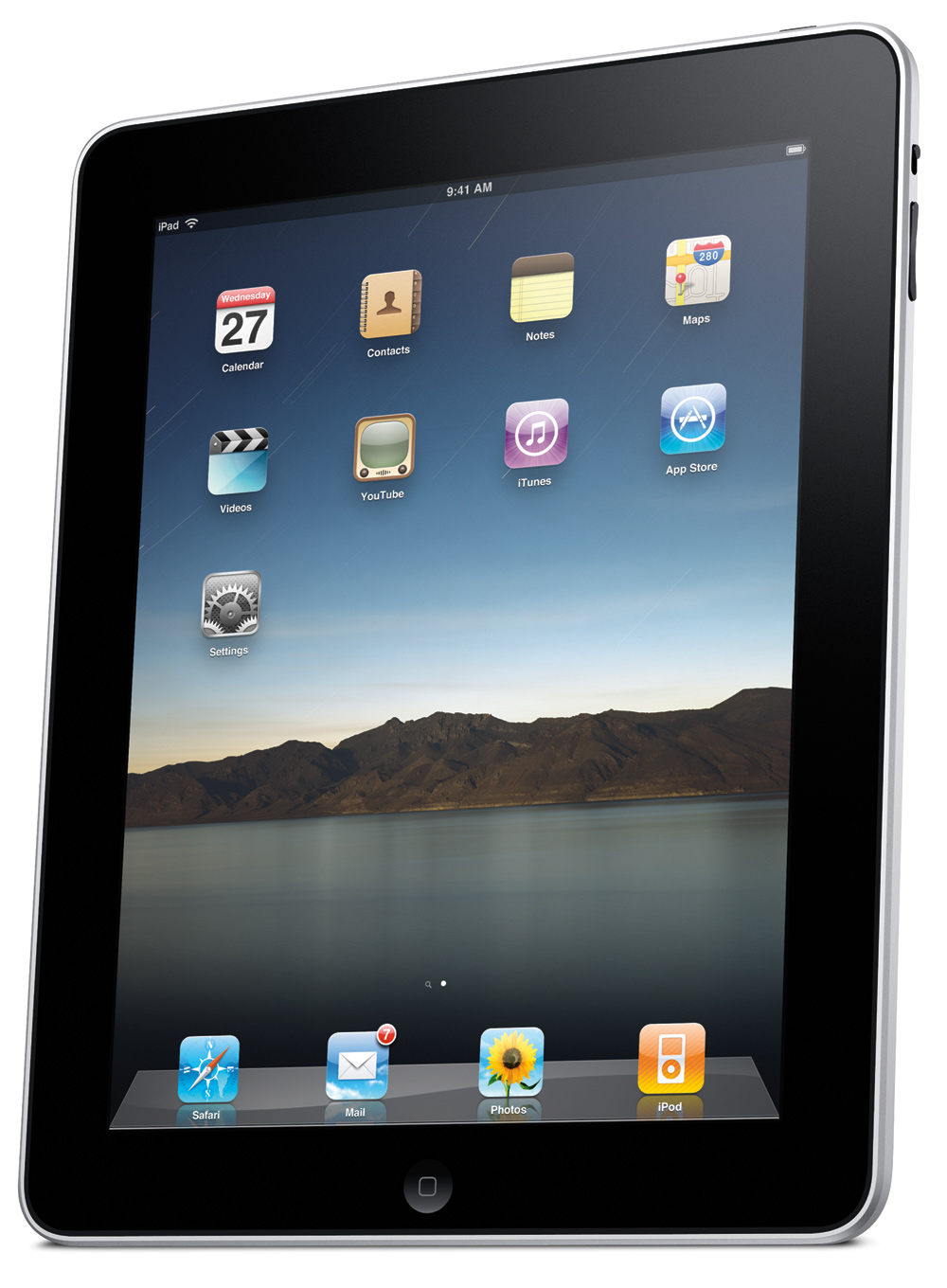 Feeling lucky?
What are the odds on your color assessment being spot on?
Come on and take a gamble, you are in Las Vegas and try your luck and put your visual color assessment skills to the test with our fun competition.
DigiEye – used globally for Diverse Applications and a wide variety of Food Products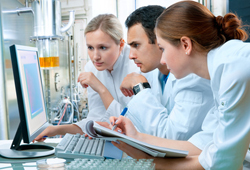 DigiEye is used by an independent food research institute for photographic references and research trials in locations in the UK and within Europe.
A US Cereal manufacturer uses DigiEye for the colour QC of cereals and snack foods for the assessment of the percentage distribution of components on the visible surface of the products, such as fruit and enrobing.

A producer of fruit products and fruits juice, based in the United States, uses DigiEye for the assessment of dried fruit produce that are impossible to measure on a spectrophotometer due to their small, uneven nature.

One of the world's leading premium drinks businesses, based in the UK, uses the DigiEye System to assess the colour QC of packaging and for other end-uses to protect the integrity of their brand.

A multi-national company, based in Europe, uses DigiEye to assess the colour stability of packaged and stored food in shelf-life research analysis.

The DigiEye System is used by one of the world's leading supplier of flavours, fragrances and colourant producer, to assess liquid in bottles and also for the assessment of the colour of small confectionary items that are beyond the measurement capabilities of a spectrophotometer.

A long-establish global food producer, based in the States uses the DigiEye System for the assessment of tinned products; beans, soups and spaghetti, analysing the effects of varying process treatments upon the colour of their product.
A global food producer uses DigiEye in their R&D departments in different European countries, to assess produce that cannot be measured on a spectrophotometer. The System is also used for a major, and successful, research projects into the colour of products such as soup with vegetable and fruit inclusions.

DigiEye is used by a UK multi-site bakery to ensure product consistency though colour accurate photographic imaging of their bakery products and the subsequent production of photographic reference standards forQuality Control.

Large scale, and multi-site bakery & confectionary manufacturer supplying the Nordic regions and Russia, use DigiEye for Quality Assurance through the use of photographic reference standards.

Largest food producer in the UK have multiple DigiEye systems which are used for photographic referencesand for Quality Control of product colour – particularly for Baked Beans and Jars of Cooking Sauce.
German based producer of natural colourants uses the DigiEye System used for assessing the colour of difficult substrates, such as small sweets and confectionary items that cannot be measured using a spectrophotometer.

Seafood processing research institute, based in Scandinavia uses DigiEye for research into the influences of thecolour of fish flesh and also shelf life studies of various products stored in variable conditions.

A producer of cooked and processed meat, based in Colombia, South America, uses DigiEye for Color Quality Control and Color Measurement.

A Swedish food research institute uses DigiEye for analysis of the color of textured, non-solid color andliquidised samples.
Seafood processing research institute, based in Scandinavia uses DigiEye for research into the influences of the color of fish flesh and also shelf life studies of various products stored in variable conditions.

A company in North America, with sites, around the world use DigiEye, for the color assessment of raw, frozen and cooked vegetables.

The UK's largest family owned bakery uses the DigiEye Systems for photographic reference standards for the control during the production of bakery product, using a 'traffic light' system – 'pass', 'attention needed' or 'fail'.

DigiEye is used by a technological research council in Turkey for scientific research projects of food products.

One of the largest beverage companies in Colombia, South America uses DigiEye for the Color Quality Controlof their soft drinks.