VeriVide Limited, the world leader in specialist lighting and digital colour assessment now offer, as an official Pantone® distributor, the ability to buy from Pantone's extensive range of inspirational colour products, safely and securely, via their new online Pantone Shop.
VeriVide, based in Leicestershire, UK, have been working with a wide and diverse spectrum of industry for over 40 years supplying highly specialised colour and visual assessment equipment to sectors including the global Fashion industry and the Graphic and Print sector, and as such, are ideally placed offer advice on, and to sell, Pantone, the globally recognized and accepted colour system.
It is exactly this collective colour & lighting industry knowledge which VeriVide believe is an integral part of their role as a Pantone distributor, with Georgina Boulter, a qualified colourist, overseeing the Pantone operation at VeriVide.
Having accumulated many years of practical experience using Pantone products whilst working to the exacting commercial standards of companies throughout the world, she is an ideal person to offer sound colour advice on product suitability.
As Georgina says "Although people can purchase from our extensive range of Pantone products very easily online, we welcome telephone calls from people who wish to discuss their colour needs and after we have listened to their own specific colour requirements, we are able to give honest advice on the best product to meet both their specific need and their budget".
VeriVide stock a wide range of Pantone guides and chip books and also can provide colour products from the new Pantone Goe™ System. This system offers graphic designers and printers the tools and equipment they need to specify exact colour at every stage of the process. Also available from VeriVide is the new Pantone Colormunki™ Design, a solution which offers the opportunity to design with any colour from the visible spectrum.
VeriVide also distribute Pantone's new SMART Color Swatch Cards.These cards are individual loose fabric swatches, double folded and measuring 4" x 4" which are available from VeriVide in all the 1,925 colours in the Pantone® Fashion + Home range.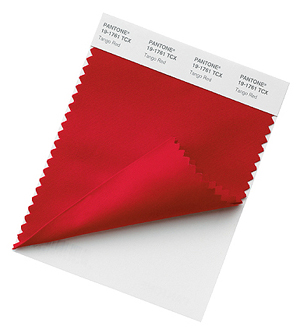 Once unfolded these SMART swatches measure 4" x 8" for optimum colour visualization and instrumental evaluation and are ideal for fashion or interior designers for colour selection, palette development and range building.
They can be used for multiple design projects and across many locations and the loose unbacked design enables fabrics to be easily compared to other materials. In addition they can be sent to dyers and fabric suppliers, as each swatch could be cut into four strips, with each strip retaining the colour name.
VeriVide future plans will ensure their new website remains dynamic with interactive functions which should prove beneficial to both existing and new customers throughout the world.