Until the 5th July 2017 (not long to go!), we're running a special 10% off promotion on selected Pantone products that both Pantone and the VeriVide team love.
Which Pantone products have been chosen?
We have chosen three of the most useful Pantone book sets to promote this month.
Firstly the Fashion, Home +Interior Specifier and Guide Set as this is an ideal package for designers of footwear, accessories and hard goods such as nursery and home products to use both in the office and while visiting clients or suppliers.
The other two products are for Graphic Designers and print professionals, the Solid Colour Set which comprises the popular Formula Guide Set packaged with the corresponding chip books so that chosen colours can be communicated by attaching a chip of the colour to the artwork or specification.
The Color Bridge Guide Set shows side by side the Pantone PMS colour the and the best achievable CMYK version of the colour along with the CMYK percentages.
FHI Specifier and Guide Set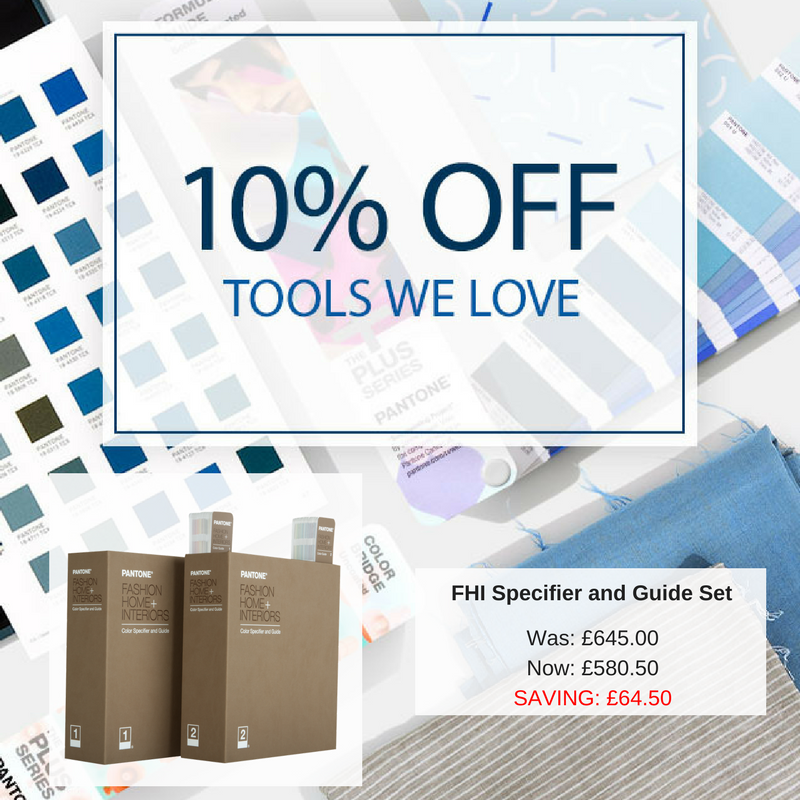 The guide, ideal for non-fabric materials (e.g. footwear, kitchen and homeware, accessories etc.), has been redesigned with ultimate colour selection and control in mind. The specifier features six tear-out chips for each Pantone colour, this makes palette development and presentations easier to create.
Your complete, comprehensive colour library in a compact format, the colour guide is perfect for sample shopping, client meetings, on-site reviews etc.
The new edition of the guide includes the full range of the 2,310 fashion, home and interiors colours, but on a brand new, eco-friendly, textile paper – "green" format, complete with a new look and feel.
Features:
●Split into two sets making it easier to find colours
●Colors have been reformulated to be more eco-friendly
●Fan guide format making it ideal for taking to meetings, shopping and on-site reviews
●2,310 fashion, home and interior colours with a TPG suffix
Benefits:
●Each binder has a pocket for both of the guides
●Individual replacement pages for specifiers are also available
●Six-tear out chips per colour  – 7 colours on each of the pages
Solid Colour Set
Offering graphic designers, pre-press professionals and printers all the colour from the Pantone PMS system, this set also features all the exciting colours added since 2010 on both coated and uncoated paper. The 112 most recently added colours include neutrals, yellows, oranges, blues, greens and purples.
The set has 1,867 chromatically arranged solid colour choices, which are in both fan guide and chip formats. With the fan guides, you can select, specify and match colour, and then use the chip book to attach tear-out chips to artwork or send with digital files for easy and consistent colour communication. All new colours have been specially formulated to print using a uniform ink film thickness, making them easily matched on press. Ink formulations are provided to aid printers in mixing colours. Includes colour index, lighting evaluation tool and design software.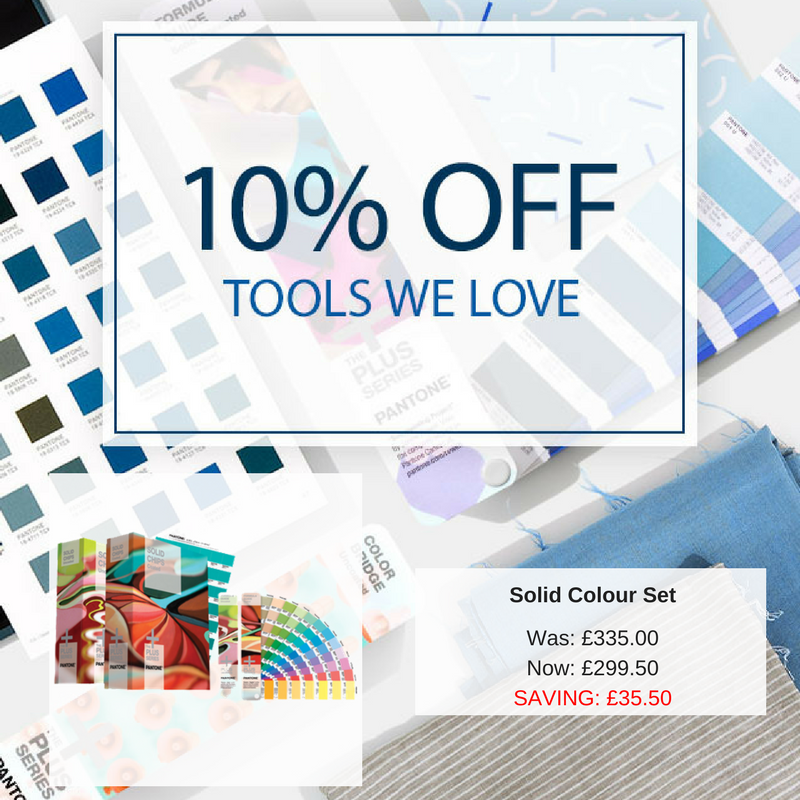 Features:
●1,867 Solid PANTONE Colours
●Fan guides and tear-out colour chips on replacement 3 ring binder pages
●Chromatically arranged
●PANTONE COLOR MANAGER Software included
●112 new colours added this year
Benefits:
●Coated and Uncoated effect on each colour
●All new colours have been formulated to print using a uniform ink thickness
●Replacement pages are available, so your book will never be empty
●Easy to communicate colours by distinct name or number
Colour Bridge Set
Use this guide to select and specify solid Pantone colours, and also determine how a Pantone colour will appear when produced in CMYK or to create optimal display of Pantone colours on monitors and web pages. HTML and RGB values are provided.
The guides contain 1867 colours, including the most recent 112 new colours on both coated and uncoated paper. These Pantone guides are also available individually if only one is required.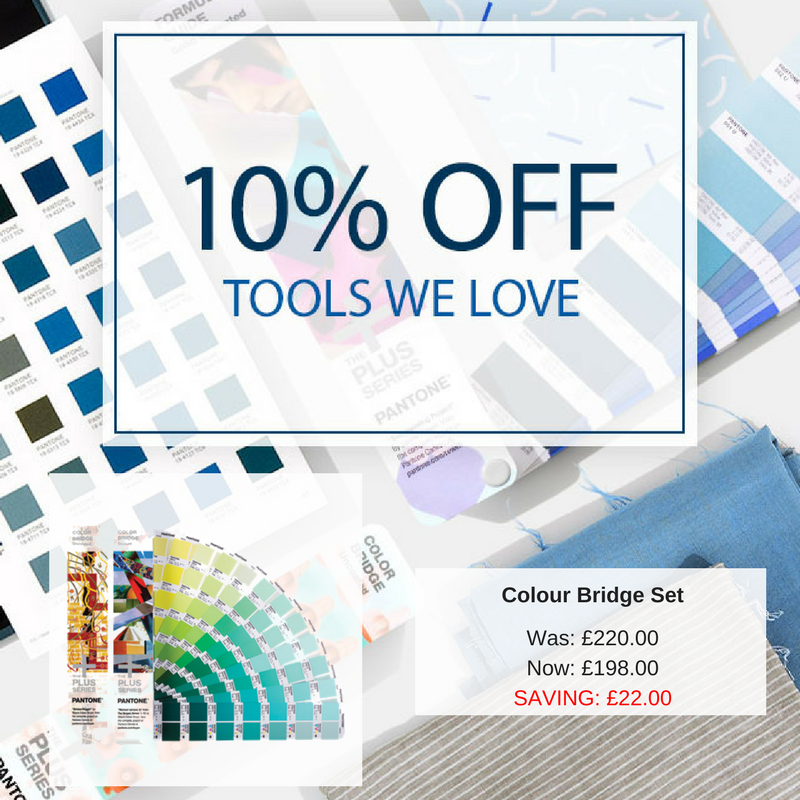 Features:
●Full range of 1,867 colours including 112 new colours, chromatically arranged for ease of selection
●All guides now include a ColorChecker Lighting Indicator to determine if lighting conditions are suitable for colour evaluation
●Text weight paper stock gives closer matching to today's printed work
●Icons mark colours that can be satisfactorily reproduced in CMYK and/or RGB
●Process matches with CMYK screen tint percentages displayed next to each solid colour
Benefits:
●Provides side-by-side comparison of solid colour to closest process colour match
●Saves money knowing when a spot colour can be adequately produced in CMYK
●Screen tint percentages serve as a starting point for adjusting the colour match if desired
●Eliminates undesirable colour surprises before incurring costly pre-production and printing expenses
●Pantone colours are internationally recognised for colour communication and are globally available
●Printed within today's ISO specifications and G7® processes, with exception of more desirable optically brightened paper