We have reached the midway point of ITMA 2015; the world's most established textile and garment machinery exhibition, which kicked off on the Thursday 12th November and will run until Thursday 19th November.
With this in mind, we thought we would run through the key points of ITMA 2015 so far.
ITMA 2015 has attracted its largest number of exhibitors since its launch in 1951.
Hosted at the Fiera Milano Rho, ITMA 2015 is celebrating its 17th year.
This year the exhibition has welcomed 1,691 exhibitors travelling from 46 different countries.
ITMA's last record was set in 2007 where there was 1,451 exhibitors travelling from 38 different countries.
When asked what makes the exhibition so successful, Charles Beauduin, organiser and President of the European Committee of Textile Machinery Manufacturers said: "The key to ITMA's success is its ability to reinvent itself and remain relevant to the industry…"
Exhibitors are grouped into 19 different clusters and the industry sectors range from knitting to texturing and education to textile processing.
The dyeing and finishing industry sector covers most of the exhibition space with 303 exhibitors (23%).
Each ITMA has a theme and this year's is 'Master the Art of Sustainable Innovation'.
Whilst the event showcases technology it also has a focus on sustainability.
This year they have launched the new ITMA Sustainable Innovation Award, which is a new initiative by CEMATEX. This award congratulates those who look into promoting industry sustainability.
Don't forget that we are exhibiting at ITMA 2015, presenting our latest advancements in LED lighting technology for both visual and digital colour assessment solutions. You can find us in Hall 7 at Stand H105. We look forward to seeing you there!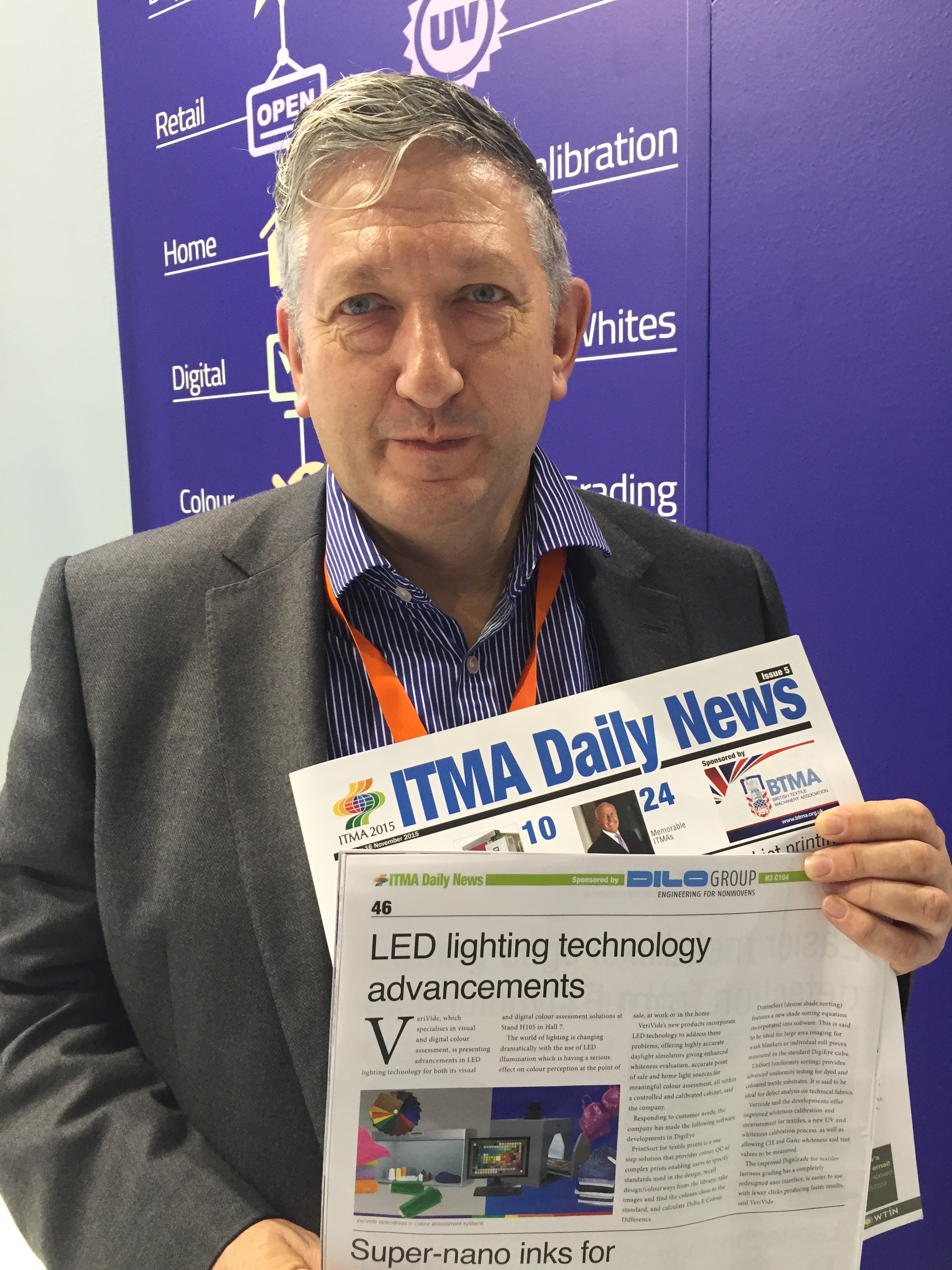 VeriVide were featured in the ITMA Daily News in an article describing how our new products will incorporate LED technology to address the increased use of LED illumination in stores and at home. More information on these very new developments will be available in the New Year.
The article also details the software developments made for DigiEye in response to customer needs, especially for Denim shade sorting, whiteness measurements and QC analysis of complex prints.