Everywhere you look in February you can see the colour red – on social media, in the shops and on TV. It is a colour associated particularly with Valentine's Day and it is also used to illustrate Chinese New Year celebrations.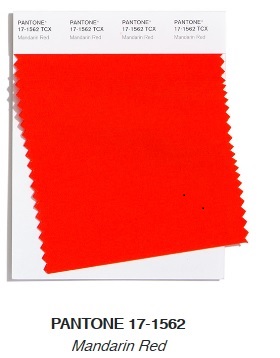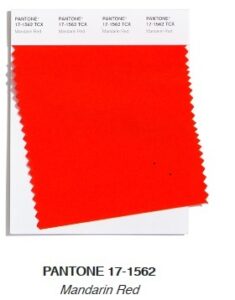 The association of red with Chinese New Year is because red symbolises good fortune and is often worn by brides to symbolise fertility and good luck. This year red is much in evidence at the Beijing Winter Olympics 2022 with the Chinese Knot symbol art installation being coloured in vibrant red and yellow. Two Pantone colour names for red shades celebrate this association: Mandarin Red 17-1562 and Chinese Red 18-1663 which is a stronger example of this scarlet tone.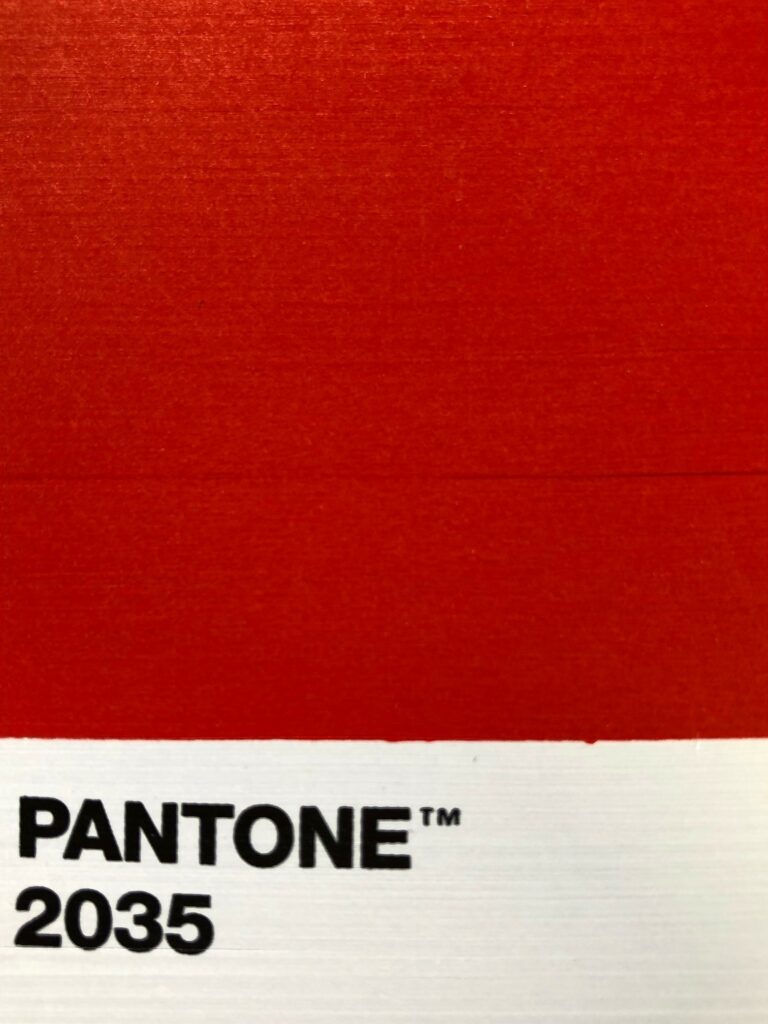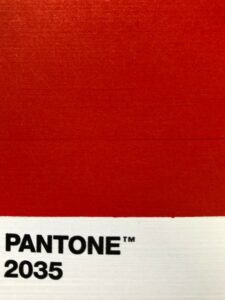 Pantone are saying Happy Valentine's Day this year with Red 2035C from the Pantone PMS range and offering Pantone branded Mugs and Umbrellas in this vibrant shade.
Red is a primary colour and is commonly associated with love and warmth in Western culture as well as warning and danger (red bordered road signs and red traffic lights). It is important in the Catholic Church so the colour cardinal (18-1643) was named after the colour traditionally worn by Roman Catholic cardinals.
I was recently reading an interesting article about The History of the Color Red: From Ancient Paintings to Louboutin Shoes by Jessica Stewart which was published by My Modern Met*
It details the origins of many of the red colours seen in art from cave paintings to all the way through time to the present day.
The red coloured pigments used were named after the materials they came from including minerals and insects and these names resonated with me as Pantone still use the same names for colours of their Fashion, Home + Interior colour standards although they also have a reference number linked to the colour's position in LCH colour space.
Some examples of pigment names in the Pantone FHI range are:
Red Ochre 18-1442, Crimson 19-1762, Cinnabar 18-1450 and Carmine 17-1831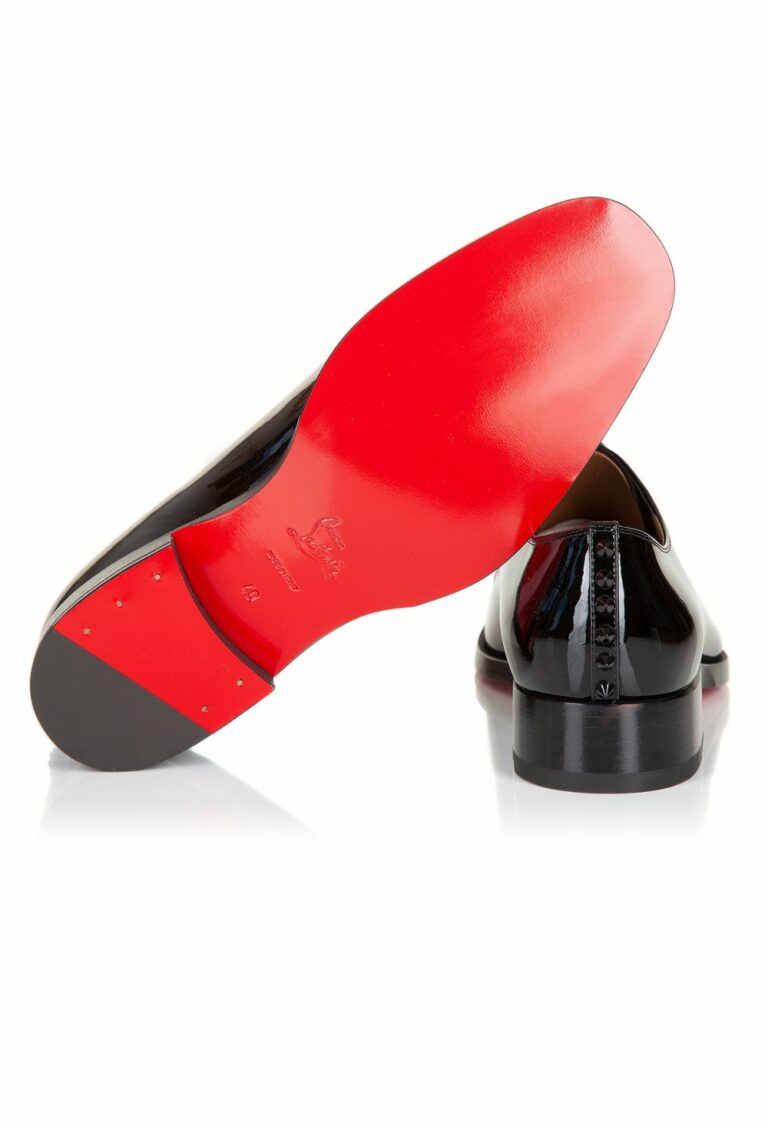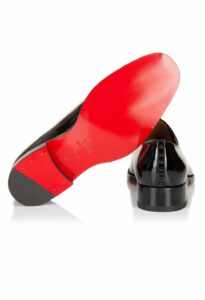 Jessica made the point that a variety of red tones have been revered in fashion throughout history, and that designer Christian Louboutin chose one specific shade of red to use. In 1992, he unveiled his red-bottomed shoes, which quickly became his brand's signature style. This very specific colour (Chinese Red Pantone 18-1663) became synonymous with his brand and led Louboutin to trademark his red soles in several countries. Louboutin's red-bottomed shoes are seen as a sign of luxury and elegance, often worn by celebrities.
Did you know? Louboutin's signature red soles came about by accident- while working on a prototype, he felt it was missing something. and that's when he noticed one of his assistant's painting her nails red and decided to coat the black sole of the shoe's red as well.
Pantone have a much wider range of red shades to select from and some of these have more modern names such as Fire Whirl 18-1453 or are associated with excitement and danger such as High Risk Red 18-1763, Red Alert 18-1559 and Endangered 18-1660. Red is a popular colour for cars  (especially the sportier models) and Racing Red 19-1763 is reminiscent of bright red racing cars.
Jalapeno Red 18-1759 and Tomato Puree 18-1661 remind us of vibrant chillies and tomatoes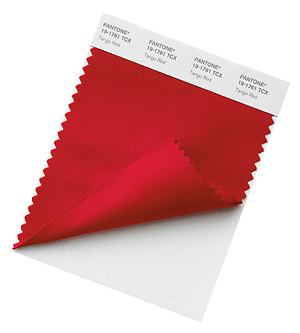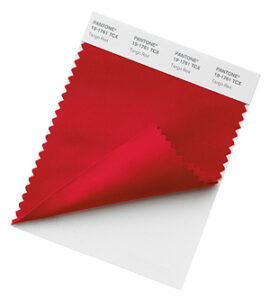 Some other Pantone colour names reference the period in history when they were used such as Etruscan Red 18-1434 or the materials they reference such as Brick Red 19-1453 and Oxblood Red 19-1524.
Lipstick Red 19-1764 reminds us of scarlet mouths on Hollywood starlets and Tango Red 19-1761 the dramatic dance style from South America.
Flowers have also influenced Pantone naming of red tones with Poppy Red 17-1664 and Geranium 17-1753 being amongst them.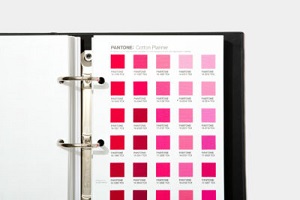 The introduction of synthetic dyes and pigments enables us to continue to enjoy the different tones of red in everything from clothing and footwear, stationery, and tech to cars and home décor.
If you would like to explore the full range of red tones in your designs then individual Cotton swatches may be ordered from VeriVide as can the Fashion, Home + Interior books including the new Paper Traveler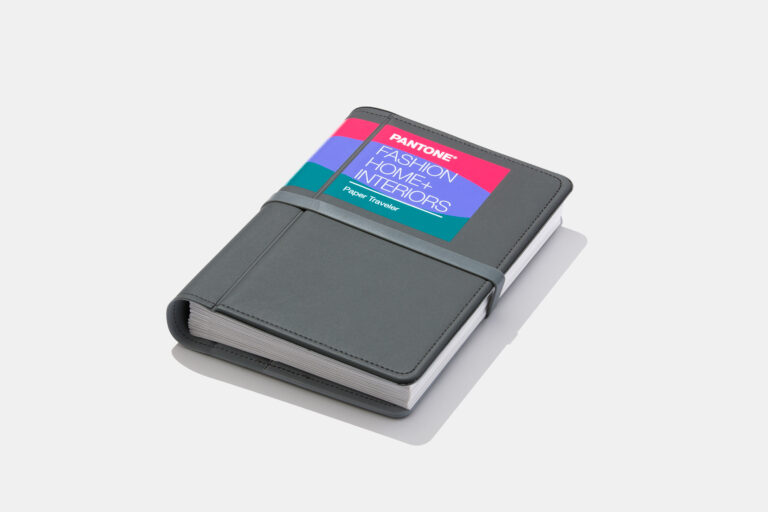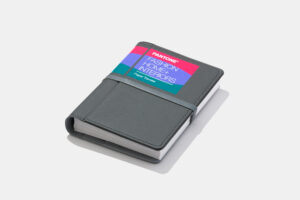 and the PMS books
For more information or help to select the right product for you please contact Georgina on 0116 2847790 or at pantone@verivide.com
*If you wish to read the full article, go to
https://mymodernmet.com/shades-of-red-color-history/?fbclid=IwAR19pknBmNsXpNqj-6E7enYnbWPXGoTEFLbqiCcgO_1jLakTiSMw26luZEU