Each year sportswear and outwear has experienced significant growth, as more and more consumers focus on athleisure and wellness. It is estimated that the UK Sportwear Market will reach over 6 billion in the next five years.
The new trend for alternative textiles is taking over street and runway styles, therefore, the demand for synthetic material is growing, especially in the athleisure, hosiery, sleepwear, swim, footwear, fashion accessories, soft home, outdoor sport and kid's markets.
Keeping up with market demand
To keep up with the market demand, Pantone has added 203 new colours which have been specially developed on polyester, which will be ideal for the markets mentioned above.
It's not just about keeping up with demands but also the current trend for bright and vibrant colours, which cannot be achieved in cotton. The polyester standards will give designers and colourists access to on-trend colours, to accommodate changing market needs.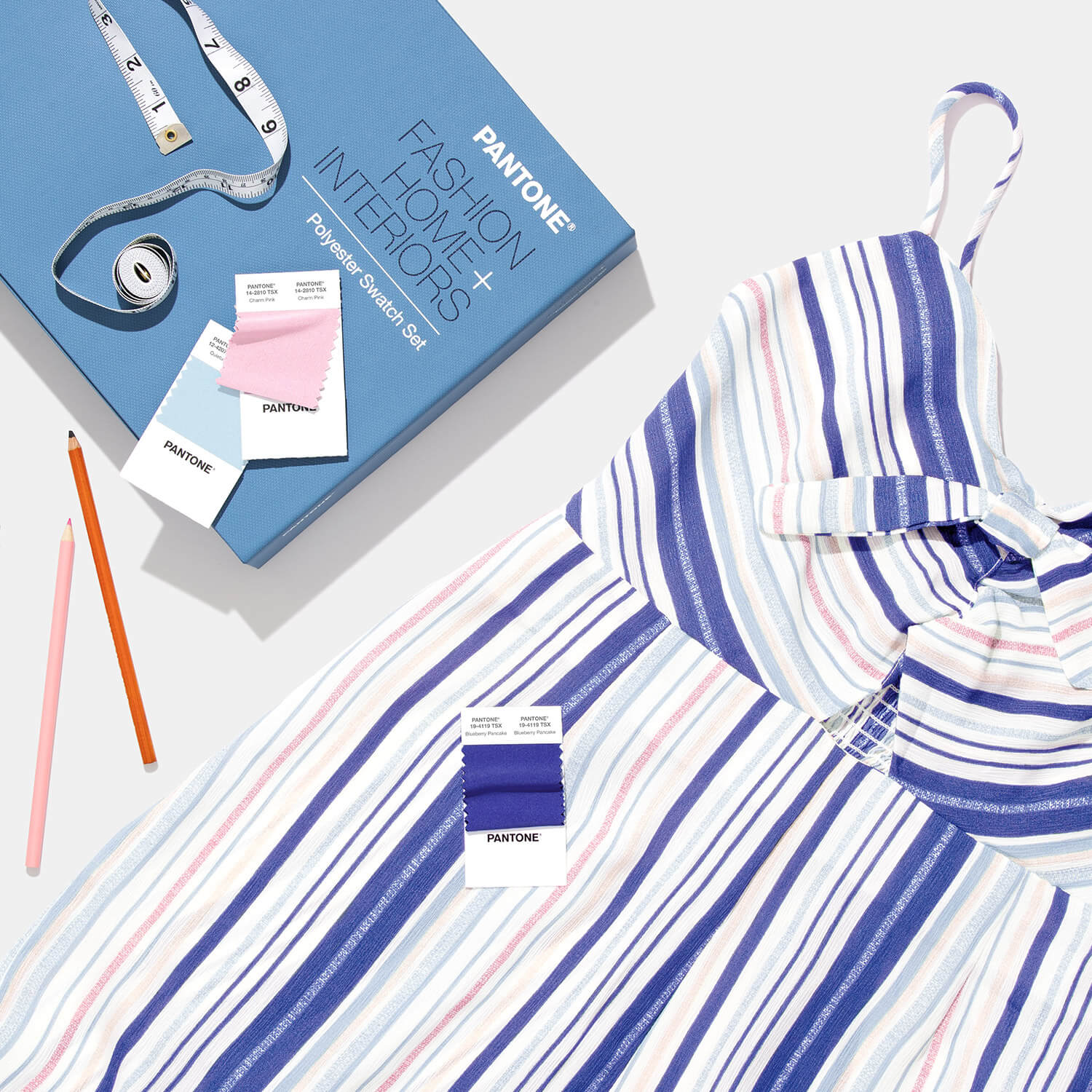 Laurie Pressman's thoughts on the new standards
Laurie Pressman, who is the vice president of the Pantone Color Institute said, "In today's culture where color plays an important part in our visual identity, we see an increasing desire for more saturated colors that help us stand out; colors beyond those formulated for natural fibers; colors whose appearance displays greater hue intensity. Our new polyester offering addresses this demand for a deeper level of coloration, resulting in a comprehensive mix of colors relevant across design industries including all fashion- and lifestyle-driven markets, as well as home furnishings."
Overview and benefits of polyester standards
Dyed on 100% warp knit polyester, these standards are ideal for the colour management of polyester, poly-blends and other synthetic materials.
The 203 colours range from timeless neutrals e.g. Cappuccino Foam 11-0109 TSX, Basalt 19-4002 TSX and Tuxedo 19-4291 TSX  to extend the range of neutral colours in the Pantone Fashion & Home range as requested particularly by customers developing Lingerie and ranges of basic products to the more eye-catching neons e.g. Live Wire 15-1363 TSX and Lounge Lizard 16-0163 TSX. These colours are not available in the existing cotton library nor can they be reproduced in cotton, with the same degree of clarity or intensity.
Main benefits of polyester standards:
Made from 100% polyester.
203 market-relevant colours.
Additional colours which are unique and complementary to the cotton and nylon systems.
Developed, measured, and maintained with the same high-quality standards and requirements as our cotton system.
Comes in a protective pouch.
Easy to use swatch numbering system e.g. use colour number plus TSX – S stands for synthetics.
The polyester standards are intended to complement the existing Fashion, Home and Interiors system and so are available in two formats that fashion and home designers will be familiar with:
Polyester Swatch Set: ideal for colour selection and palette development, this complete set of the 203 new colours also offers a convenient storage case for holding and transporting them. The 2 x 2" (5 x 5cm) removable swatches are stored in three trays in chromatic order and each individual fabric swatch is securely located in a bespoke cardholder.
Polyester Swatch Cards: individual colours in 4 x 4" (10 x 10 cm) swatches that can unfold to 4 x 8" for optimal colour visualisation, specification and instrumental evaluation.
Polyester Swatch Set
This set offers all 203 unique synthetic colours for designers and colourists working in apparel, textiles and soft home, in one convenient, storage case. The 2X2" swatches are secured, double-layered and secured onto 100% polyester fabric.
Colours are easy to review, select and replace in three removable trays. Arranged in colour family, this set is ideal when creating your own colour stories and palettes.
Application:
Use for athleisure, swimwear, hosiery, sleepwear, footwear, juvenile, outdoor sports, soft goods and kidswear products.
Use for palette development, mood boards, presentations, and internal colour communication.
To find out more about the swatch set or to buy click learn more below:

Polyester Standards Swatch Cards
These individual cards are the latest synthetic colour standards for designers and product developers in apparel, textiles, and soft home. Made on double-layered fabric to the most exacting colour specifications, these swatch cards allow designers access to full spectral data. Each swatch comes in a protective pouch for assured colour accuracy in production. The available 203 colours are forecast-driven to complement our other existing Fashion, Home + Interiors reference products.
Application:
Use for athleisure, swimwear, hosiery, sleepwear, footwear, juvenile, outdoor sports, soft goods and kidswear products.
Use for precise visual colour evaluation, spectrophotometric colour reading and specifying colour to production partners.
Use for palette development, mood boards colour communication, specification, and production.
To learn more about the individual swatches or to buy click on the Learn More button below:

We are here to answer in any query you may have or give you colour advice.  So, do not hesitate to contact our Colour Experts at pantone@verivide.com or on +44 (0) 116 284 7790.