The question on many designers' lips has finally been answered as today Pantone have revealed that for the first time ever, two shades have been crowned as Pantone Colour of the year 2016 – Serenity and Rose Quartz, "a harmonious pairing of inviting shades that embody a mindset of tranquility and inner peace" (X-Rite).
Serenity 15-3919 TCX and Rose Quartz 13-1520 TCX are both colours from the 210 new colours that Pantone added to the Fashion, Home & Interiors range in August 2015 in response to the demand for more nuanced neutrals, pastels and softer mid-tones.
Both colours are available as individual SMART swatches and are also included in the Pantone Cotton Supplement books.
Why have these colours been crowned?
We all crave a chance to unwind due to stress that comes with modern day lives and so seek mindfulness and well-being as an antitode. This is why colours that psychologically fulfill this yearning are becoming more and more prominent in todays society.
 "With the whole greater than its individual parts, joined together Serenity and Rose Quartz demonstrate an inherent balance between a warmer embracing rose tone and the cooler tranquil blue, reflecting connection and wellness as well as a soothing sense of order and peace," said Leatrice Eiseman, Executive Director of the Pantone Color Institute™.
Combining these two colours have also allowed the traditional perceptions around colour association to be challenged, "In many parts of the world we are experiencing a gender blur as it relates to fashion, which has in turn impacted color trends throughout all other areas of design," said Eiseman. "This more unilateral approach to color is coinciding with societal movements toward gender equality and fluidity, the consumers' increased comfort with using color as a form of expression which includes a generation that has less concern about being typecast or judged, and an open exchange of digital information that has opened our eyes to different approaches to color usage."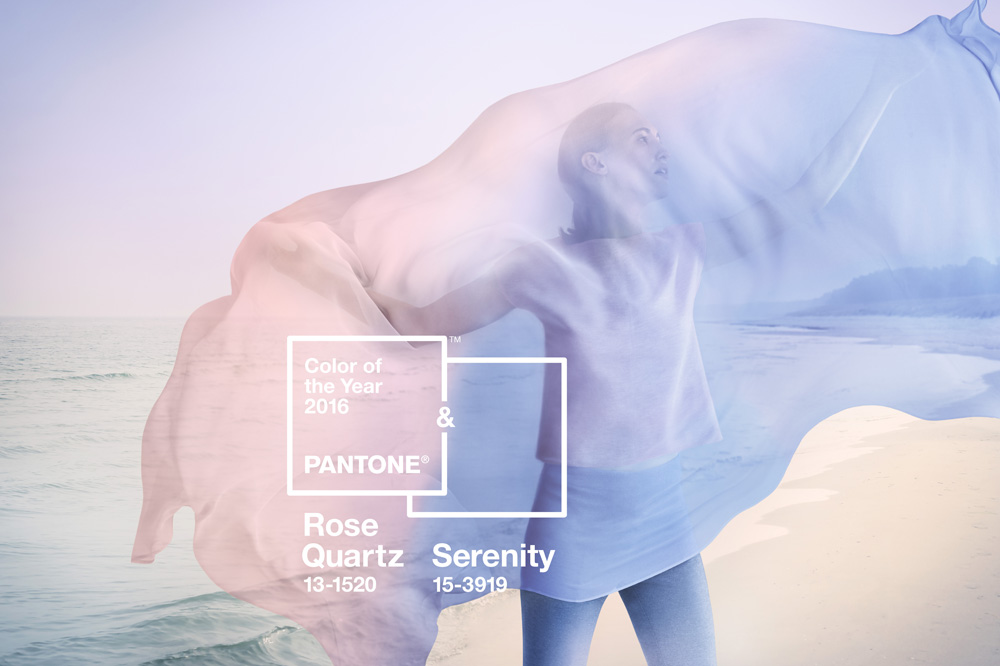 About the Pantone Colour of the Year
Pantone started to nominate their chosen colour of the year back in 2000 and since then (after a lengthy process that involves both thoughtful consideration and trend analysis) have picked one every year. To nominate the chosen shade, colour experts from the Pantone Colour Institute search the world looking for the latest influences in colour.
Influences can stem from:
The entertainment industry
The art industry
The fashion industry
The design industry
Travel destinations
Lifestyles
New technologies
New materials
New textures
Social media platforms
Sporting events
For many years now Pantone's crowned colour of the year has influenced developments of products and decisions in purchasing for fashion, home, interior, industrial design, product packaging and graphic design industry sectors.
Reminder of past Pantone Colours of the Year:
Act now!
Serenity 15-3919 TCX and Rose Quartz 13-1520 TCX are part of the 210 new colours that Pantone launched in August. You can either buy the individual Pantone swatches or the Cotton Swatch Library Volume 7 that includes these two colours from our Pantone Shop.