Following on from the trend in the past couple of years of wearing Rose Gold jewellery instead of white or yellow Gold this colour has helped to popularise metallic finishes in clothing and footwear as well as accessories.
Did you know that Rose gold is a mixture of yellow gold, copper and silver? The copper gives it a redder hue than yellow gold naturally has and then the silver helps to tone down the redness of the copper, achieving a subtle pink shade.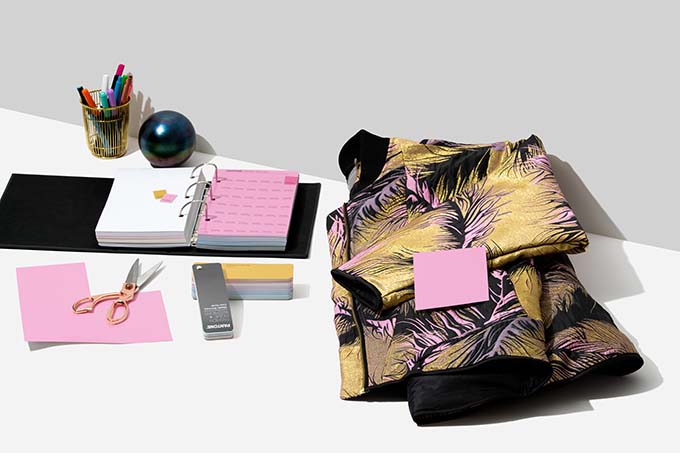 In 2019 Rose Gold and Copper was everywhere and there is no sign of this trend disappearing!  Everything from exposed piping and brass or copper electrical fixings for the industrial finish in your home, to vases and photo frames to give a focal point in your rooms or the shimmering dress and the shining heels for that special outfit.
If you want to specify Rose Gold to your suppliers then tell them 20-0094TPM from the Pantone Metallic Shimmers range. It is just one of the 200 thoughtfully curated colours in the Shimmers range.
Pantone's Metallic Shimmers Color Specifier is helping fashion, home and interior designers from all over the world create incredible items with perfect colour consistency.
The Metallic Shimmers collection is also available in other Pantone products such as the portable colour guide and individual TPM sheets to cover all design needs and budgets.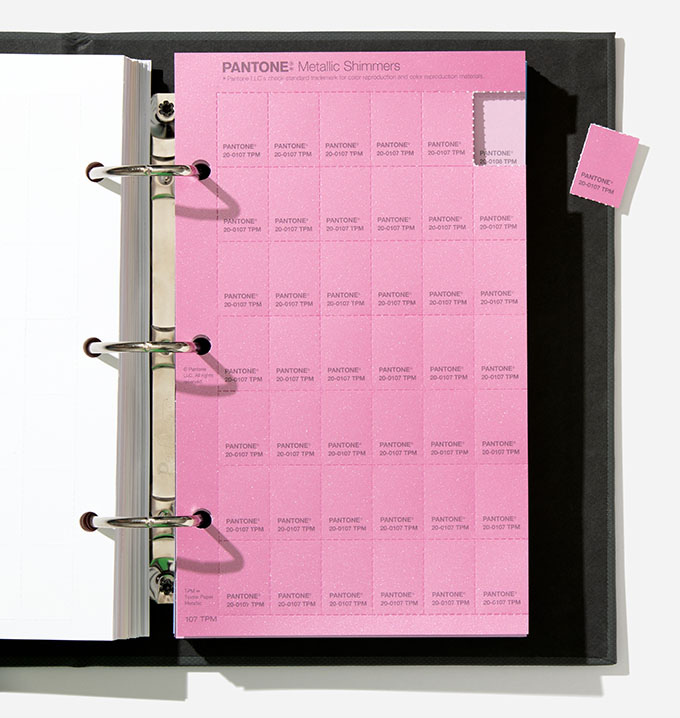 Image: Pantone Metallic Shimmer Color Specifier
For a limited time only the Pantone Coated Colors Set provides the new Metallic Shimmers Guide bundled with the FHI TPG Color Guide for a special price enabling you to have over 2500 colours at your fingertips.
The Pantone Metallic Shimmers products are made using a nitrocellulose coating for a consistent brilliance and lustrous opaque finish which is much easier to match than the PMS metallics which are printing inks.
Where can I use Metallics?
Now you know about the metallics trend and how to ensure the products you create are colour consistent with Pantone's Metallic Shimmers collection, but where can you use these incredible metallic tones? Here are just some of the many, mesmerising metallic design ideas out there.
All kinds of metallics and shiny fabrics graced the Spring/Summer 2020 catwalks, so you're sure to see and want lots of this trend in the New Year. On trenches, dresses, trousers as well as bags and shoes, metallic hues especially silvers and rose golds were everywhere on the SS20 catwalk. "Designers paired sequins, metallics and glitter with simple silhouettes, creating understated, yet bold looks that offered effortless ways to do high-shine wear."
However, it is not just the catwalks and celebrities that have fully embraced the influx of metallic colours in fashion. The high street is bang on trend too, there is a huge offer of metallic products on the high street. The metallic trend is about making a statement whilst remaining understated.
There are many tips and tricks on how to dress for the metallic trend and the outfit options are endless. Whether you want to underline your individuality, show off your sophistication or just need some advice on your first metallic outfit, there are plenty of fashion fixated friends on the internet who are willing to offer their outfit advice.

I

m

ag

e: Pantone

Shim

mers TPM Workspace for fashion design

The metallics trend does not stop at clothing, oh no, nor is it just party heels getting the metallic treatment – it is also being seen in flats and even trainers with pewter and rose gold the preferred shades.

Some years ago, the fashion industry deemed the use of shiny metallics to be cheap and ridiculous. Nonetheless, time has passed, and shiny, sparkly hues are your best friend in the world of fashion. The use of metallic hues is sure to give your products an incredible finish suitable for any occasion.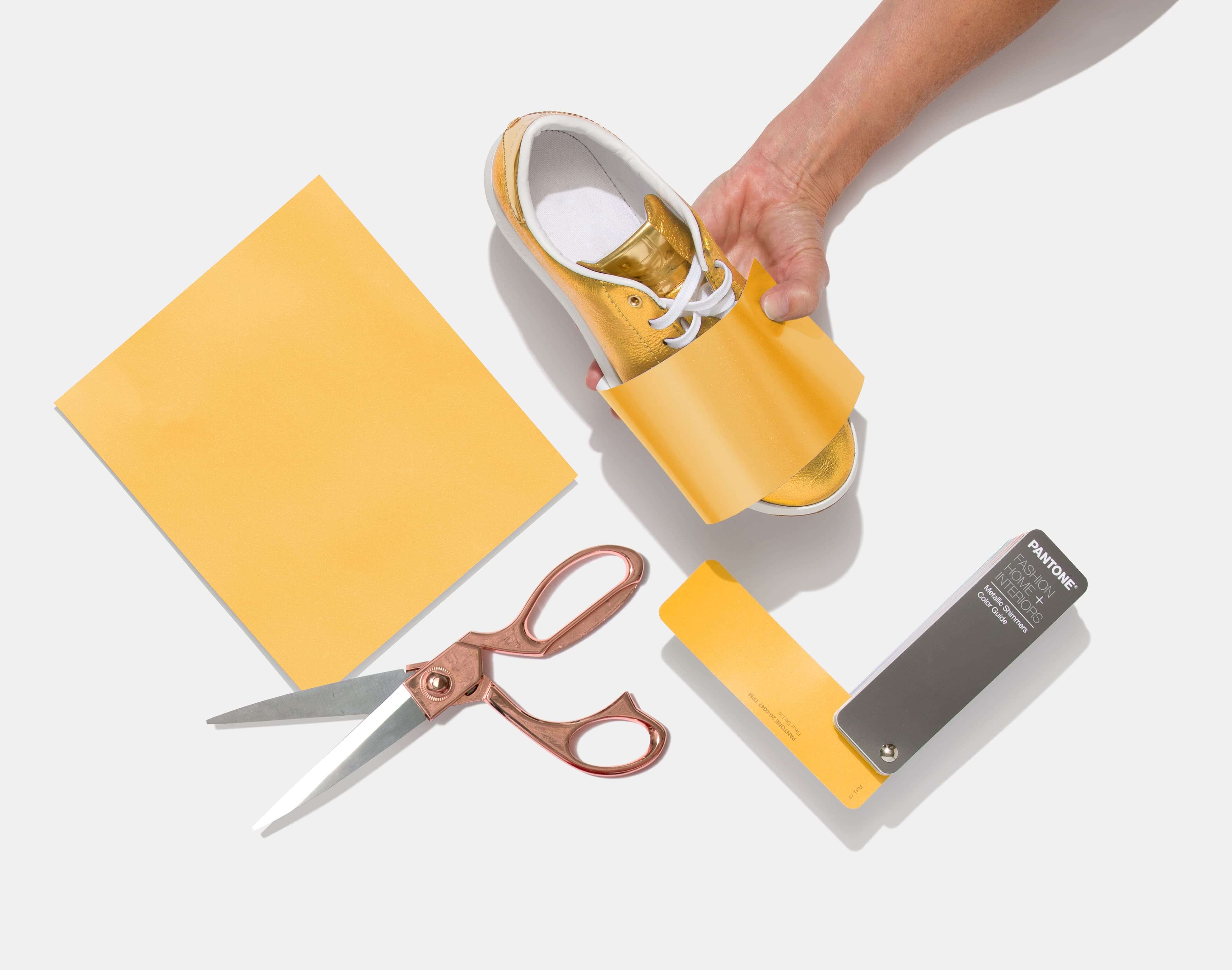 Image: Pantone Metallic Shimmers Color Guide for footwear design
Metallics are being used in a range of cosmetic products. Lip foil was one of the biggest metallic trends in cosmetics last year but it isn't just lips that are receiving the metallic treatment. All over the world of cosmetics the metallic trend is taking hold. Metallic eye shadows are a great way to create that dazzling focal point of your make up.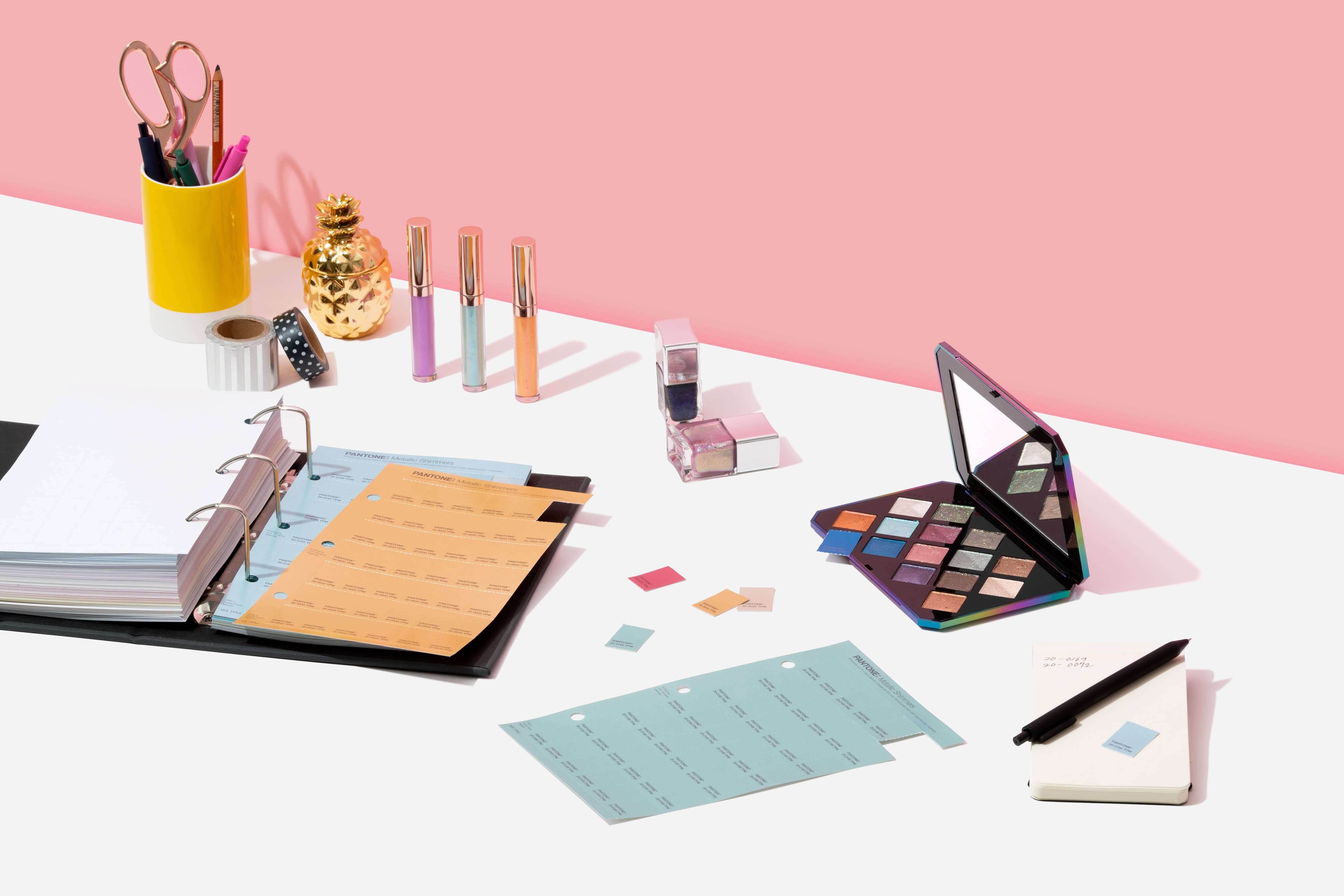 Image: Pantone Shimmers Color Specifier Workspace
The Metallic trend is not exclusive to the world of Fashion though. Home and interior design are seeing a huge rise in the amount of metallic tones and hues being used to create that industrial finish to kitchens, bathrooms and living rooms.
Much like the change in conceptions of metallics in fashion from cheap to sophisticated, the home and interior design industry has seen change in opinion too. Metallics in interior design are no longer deemed to be cold and uninviting, but rather warm and cosy.
The use of metallic colours will help to create a modern, bold look and bring that hint of elegance into your home.
I need of some more interior inspiration? Here are some Expert tips to get the perfect metallic look.
However, it is not just exposed piping and metals that can make your home pop, soft and hard furnishings are also using the metallic trend.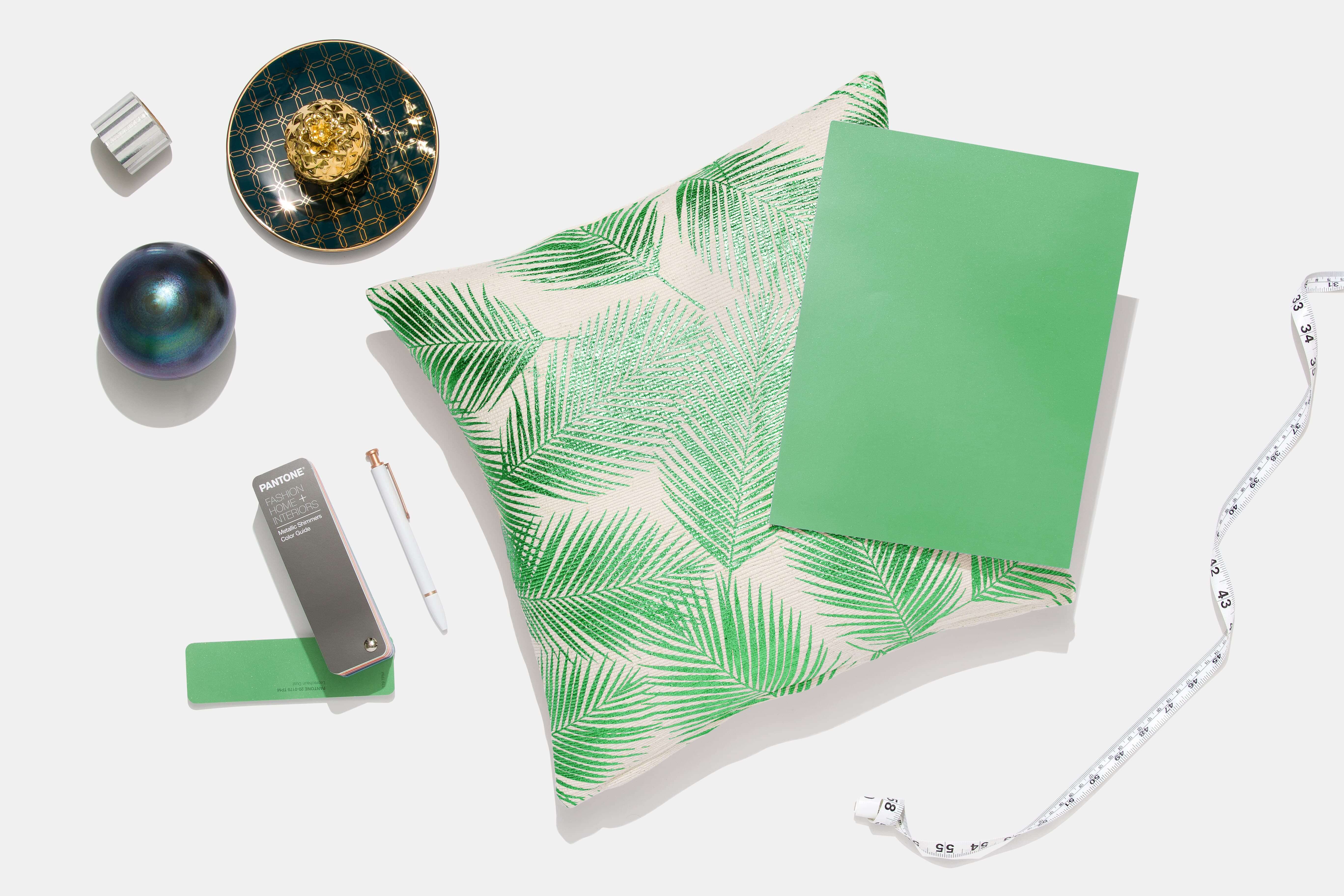 The metallic trend is here and it's all about sophistication and style. Designers need to be able to communicate their thoughts and this is where Pantone Metallic Shimmers range comes into play.
The collection has something for every budget too. The Metallic Shimmers TPM Sheets are £13 each. Perfect for curating mood boards, general inspiration, palette development, colour communication in product design, fashion accessories, footwear and much more.
The Metallic Shimmers Colours Guide is slightly more expensive at £120; however you get an entire collection of 200 colours as opposed to just the one. These are perfect for product design, fashion trim, footwear, home design and interior design as well as cosmetics and consumer electronics for colour communication and specification.
Finally, and last but by no means least the Pantone Metallic Shimmers Colour Specifier, contains a full page of tear-out chips for each of the 200 colours perfect for mood boards and inspiration or for communicating ideas to your clients as well as sending product specification to your suppliers.
If you haven't considered or used them before in your design, we hope this blog changed your mind about metallic shimmers. There's so much more for you to browse at our online shop. If you have any questions, please contact us via email at pantone@verivide.com or telephone on +44 (0)116 284 7790.