The wait is over. Pantone have announced Ultra Violet 18-3838 as Colour of the Year 2018.
Which shade did you think would be crowned? Did you guess right? Are you happy with this result?
Those who love purple, we bet that you're over the moon. The last time we had a purple shade for the COTY was back in 2014, when Radiant Orchid 18-3224 was chosen.
Purple is definitely a colour theme this year as back in August, Pantone and The Prince Estate created a standardised custom colour to represent and honour international icon Prince. The naturally purple hue was inspired by his custom-made Yamaha purple piano. The colour pays tribute to Prince's indelible mark on music, art, fashion and culture.
Ultra Violet 18-3838 was also named on Pantone's Spring 2018 Color Trend Report along with the complimentary purple tones of Spring Crocus and Pink Lavender.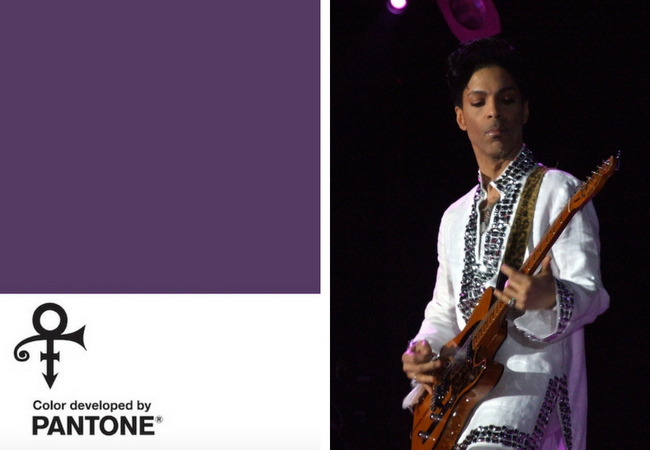 About the PANTONE Colour of the Year
Every year Pantone crowns a particular shade colour of the year. Secret meetings are held where representative from various nation's colour standards groups get together and decide which colour is should be. They take into consideration current trends and prolific events in that year and after 2 days of presentations and debates a colour is chosen.
"The Pantone Color of the Year has come to mean so much more than 'what's trending' in the world of design; it's truly a reflection of what's needed in our world today. As individuals around the world become more fascinated with color and realize its ability to convey deep messages and meanings, designers and brands should feel empowered to use color to inspire and influence. The Color of the Year is one moment in time that provides strategic direction for the world of trend and design, reflecting the Pantone Color Institute's year-round work doing the same for designers and brands." –  Laurie Pressman, Vice President of the Pantone Color Institute.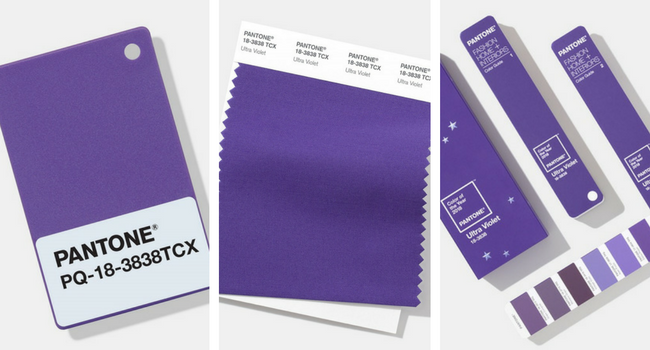 About Ultra Violet 18-3838…
Ultra Violet is an intensely provocative and thoughtful shade which also communicates originality and ingenuity. It is also a visionary colour that helps us to look towards the future and the possibilities it can bring.
Ultra Violet's mysterious nature has been symbolic of artistic brilliance for many years now, with music icons Prince, David Bowie, and Jimi Hendrix bringing shades of this purple to the forefront of western pop culture, allowing personal expressional of individuality. Ultra Violet symbolises experimentation and non-conformity, encouraging individuals to be different and think about their mark on the world. It definitely pushes those boundaries for creative outlets.
Ultra Violet has also been described as having a mystical or spiritual quality. This shade is often connected with mindfulness offering a place for refuge from today's over-stimulated world.
How will COTY 2018 effect different industries?
Graphic design and packaging – packaging design is becoming more and more sophisticated; Ultra Violet offers both complexity and nuance that speaks to our desire for bringing originality in everything we touch. With graphic design, this shade of purple offers a multi-dimensional feeling that helps you to stand out from the competition.
Food – purple fruits, vegetables and starches are considered to be both exotic and enticing whilst also boasting natural health benefits. These on trend foods are rich in all the good stuff e.g. nutrients and antioxidants whilst also bringing vibrancy and sophistication to any dining table!
Fashion – Both on the runway and streets, this purple is enchanting providing a theatrical linkage to both men and women's styles. Stand out from the crowd with unique colour combinations, which are easier to pair than you think! For dazzling luxury, pair this shade with golds or to provoke natural elegance, combine it with deep greens and greys. When it comes to jewellery and eyewear, Ultra Violet shows of the beautiful complexities of natural gems, textures and florals.
Beauty – Ultra Violet allows you to create stunning expressive looks with it's spell-binding and spirituality qualities. It's complex and deep nature is great for beauty designs created using combination, blends and ombres. Adding this purple to the lips, hair or nails screams originality, individuality and non-conformity.
Home décor – Use Ultra Violet for self-expression and watch a room truly transform! This purple makes a statement in any space, whether it's used for a whole feature wall or subtle touches through wall hangings, furniture, cushions, rugs etc.
Saatchi Art
To stay true to the imagination and creativity that Ultra Violet provokes, Pantone have partnered with Saatchi Art to create a collection of prints to celebrate the COTY 2018. The collection will be available at the beginning of the year and will include work by international artists focusing on painting, sculpture and printmaking.
Past Colours of the Year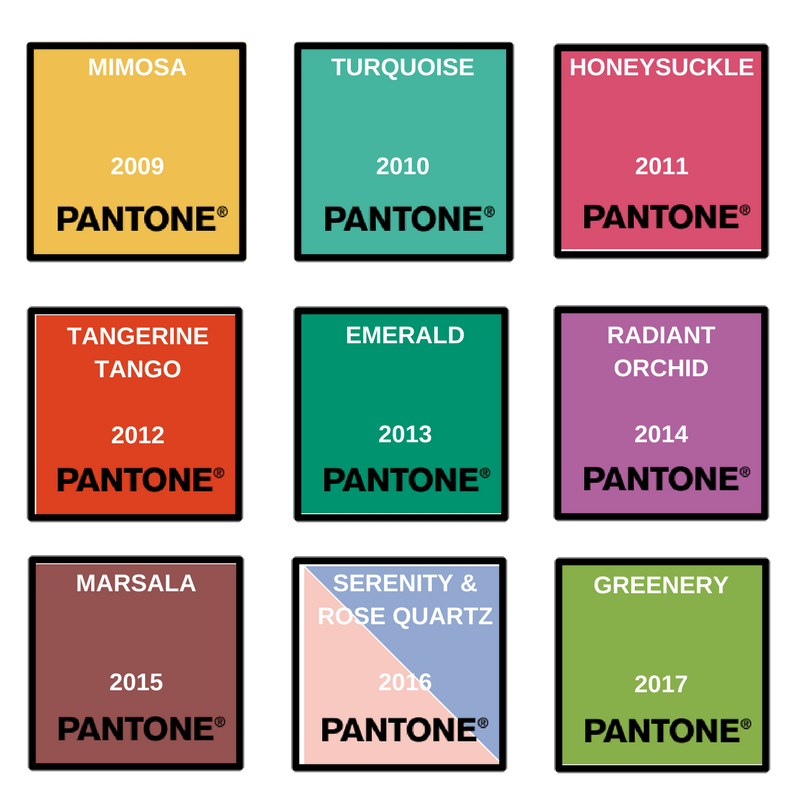 ·         15-0343 Greenery (2017)
·         15-3919 Serenity and 13-1520 Rose Quartz (2016)
·         18-1438 TCX Marsala (2015)
·         18-3224 TCX Radiant Orchid (2014)
·         17-5641 TCX Emerald (2013)
·         17-1463 TCX Tangerine Tango (2012)
·         18-2120 TCX Honeysuckle (2011)
·         15-5519 TCX Turquoise (2010)
·         14-0848 TCX Mimosa (2009)
·         18-3943 TCX Blue Iris (2008)
·         19-1557 TCX Chili Pepper (2007)
·         13-1106 TCX Sand Dollar (2006)
·         15-5217 TCX Blue Turquoise (2005)
·         17-1456 TCX Tigerlily (2004)
·         14-4811 TCX Aqua Sky (2003)
·         19-1664 TCX True Red (2002)
·         17-2031 TCX Fuchsia Rose (2001)
·         15-4020 TCX Cerulean (2000)
About Pantone and the Pantone Color Institute
Pantone LLC Incorporated, is the global colour authority and provider of professional colour standards for the design industries. Pantone products have encouraged colourful exploration and expressions of creativity from inspiration to implementation for more than 50 years.
What now?
Get your hands on the Ultra Violet 18-3838 Pantone Swatch by following this link to our online shop. If you have any questions, please contact us via email at enquiries@verivide.com or phone on +44 (0)116 284 7790.