With so many Pantone colour tools at designers disposal it can be hard to know which one to turn to. It was a hard task, but we have picked our favourites from Pantone's exhaustive list, to review and thus hopefully make your decision easier.
So which tools made it into our list?
Pantone's Solid Color Set – £328.50
Pantone's Solid Colour Set offers designers all the colours from the PANTONE PMS system plus all the exciting colours added since 2010, on both coated and uncoated paper. Added in 2016 a further 112 new colours including more neutrals, yellows, oranges, blues, greens and purples.
The set includes 1,867 chromatically arranged solid colour choices in both fan guide and chip formats.
Fan guides can be used to:
Select colour
 Specify colour
Match colour
You can also attach tear-out chips to artwork and digital files for easy and consistent colour communication.
All new colours have been specially formulated to print using a uniform ink film thickness, making them easily matched on press and the ink formulations are provided to aid printers in mixing colours.
Set includes:
Colour index
Lighting evaluation tool
Design software
Features:
1,867 Solid PANTONE Colours
Fan guides and tear-out colour chips on replacement 3 ring binder pages
Chromatically arranged
PANTONE COLOR MANAGER Software included
112 new colours added this year
Benefits:
Coated and Uncoated effect on each colour
All new colours have been formulated to print using a uniform ink thickness
Replacement pages are available, so your book will never be empty
Easy to communicate colours by distinct name or number
Interested in getting your hands on the: Pantone Solid Color Set?
Pantone's Plastics Standard Chips Collection – £4320.00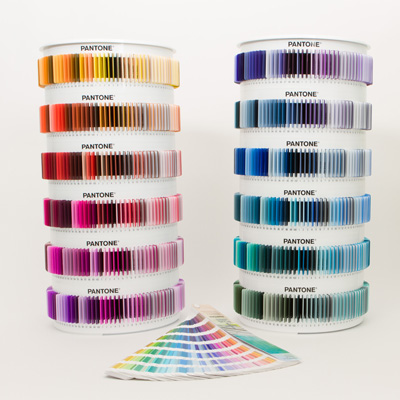 Yes, we may have done a slight price jump from the last tool, but we couldn't not mention this tool!
Pantone's Plastics Standards Chips Collection includes the full set of the 1,755 Pantone Plus Series Colours as Plastic Standard Chips. Unlike the Pantone Plus Guides which are guides to the colours these are mathematical standards.
Plastic Standard Chips have both a matte and a gloss surface and different thickness.
The collection is presented on three rotating carousel towers, with each tray holding 100 chips each.
These chips allow precise colour specification and matching of any hard goods:
Toys
Consumer electronics
Home furnishing
Appliances
Accessories and much more…
If required, replacement chips can be bought separately.
Interested in getting your hands on the: Pantone's Plastics Standard Chips Collection?
Pantone's Metallic Chips – £139.50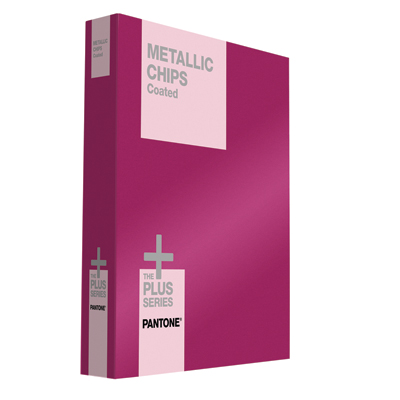 This includes 301 of Pantone's metallic colours and the chips are coated and chromatically arranged with their unique Pantone number.
Each page contains 6 tear-out strips of each colour and replacement pages are available too.
Metallic chips can be used to match:
Accessories such as zippers and buckles
Foil printing on cards or packaging
Coloured metallic home wares
Stationery
Jewellery and hair accessories
Features:
Broad palette of 301 new colours
Six tear-out chips per colour
Six glimmering colours per page
COLOUR MANAGER SOFTWARE included, for free
Benefits:
Loose-leaf format for easy use
High lustre for greater impact
Chromatically arranged, making it easier to locate your colours.
Interested in getting your hands on the: Pantone's Metallic Chips?
Pantone's Premium Metallic Chips – £139.50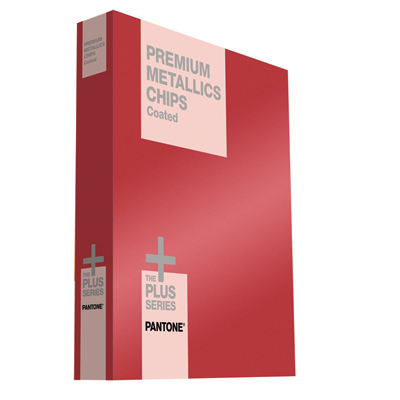 The Pantone Premium Metallic Chips are coated and includes 300, non-leafing, high lustre metallic in addition to the 301 in the standard Pantone Metallic Chips.
Arranged chromatically, each colour is displayed with its unique Pantone number and replacement pages are also available for this product.
Features:
300 glimmering Premium Metallic colours
Chromatically arranged, for quick and easy use
Replacement pages available to purchase separately
Identifying each colour by PANTONE name and number
Benefits:
Higher lustre for greater impact
Replacement pages available, so your book will never look dull
Small and easy tear-out strips on each page, which are ideal for mood boards, artwork or any other files
Simple index system for easy referencing
Interested in getting your hands on the: Pantone's Premium Metallic Chips